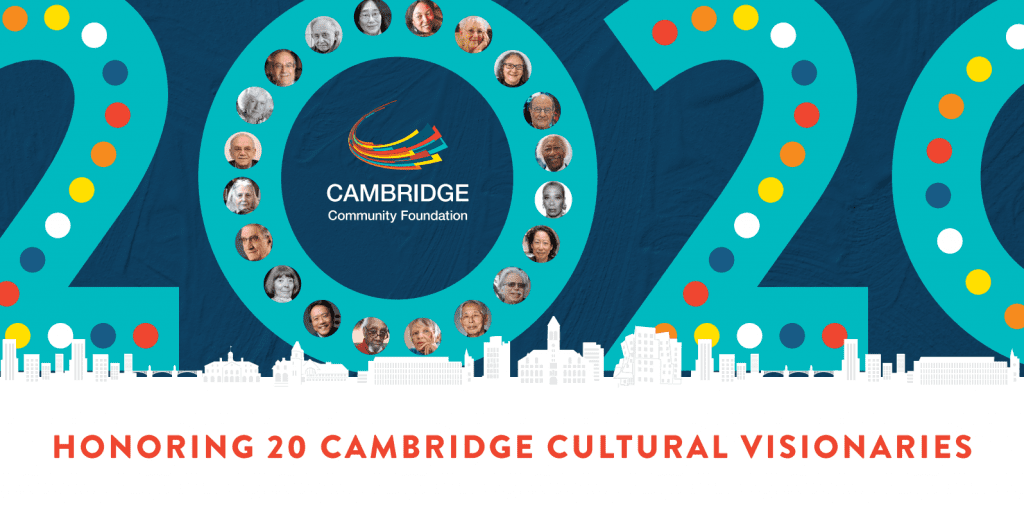 Thursday, April 16, 2020 6:30pm to 9:00pm
Boston Marriott Cambridge
50 Broadway, Cambridge, MA
The Cambridge Community Foundation supports three visionary goals in our city: shared prosperity, social equity, and cultural richness. Join us for a lively evening focused on our city's cultural richness to:
honor 20 Cambridge Cultural Visionaries who are artists of national distinction and also our neighbors;
celebrate our city's vibrant, colorful cultural fabric;
launch the Foundation's new Cultural Capital Fund to cultivate creativity, build community, and support future generations.
The 20 Cambridge Cultural Visionaries
Rosanna Yamagiwa Alfaro
Playwright, Huntington Playwriting Fellow
De Ama Battle
Founder and artistic director of the Art of Black Dance and Music, Inc., educator
Phyllis Bretholtz
Photographer, activist, English teacher at CRLS
Elsa Dorfman
Photographer known for large-format Polaroid portraits
Wally Gilbert
Artist, scientist, Nobel Laureate
Marvin Gilmore
Musician, founder of The Western Front
Adrienne Hawkins
Modern jazz dancer, choreographer, teacher
Gish Jen
Novelist, essayist, Cantabridgophile
Frank Kramer
Owner emeritus of landmark Harvard Book Store
Tunney Lee
Architect, urban planner, MIT Professor Emeritus
Lois Lowry
Author, two-time Newbery Medal-winner
Frank Lucas
Graphic designer, director of art and marketing design
Yo-Yo Ma
Cellist, founder of Silkroad
Barbara Norfleet
Photographer, curator, social scientist
Robert Pinsky
US Poet Laureate, founder of the Favorite Poem Project
Betsy Siggins
Co-founder of Club 47 (Passim), Folk New England, Culture for Kids
Alberto Vasallo, Jr.
Founder and publisher of El Mundo Boston newspaper
Clara Wainwright
Quiltmaker, creator of First Night
Bill Warner
Founder of Avid Technology, Inc., inventor of Media Composer
Frederick Wiseman 
Documentary filmmaker
Celebration curated by Linda Chin, Arts and Culture Fellow, Cambridge Community Foundation