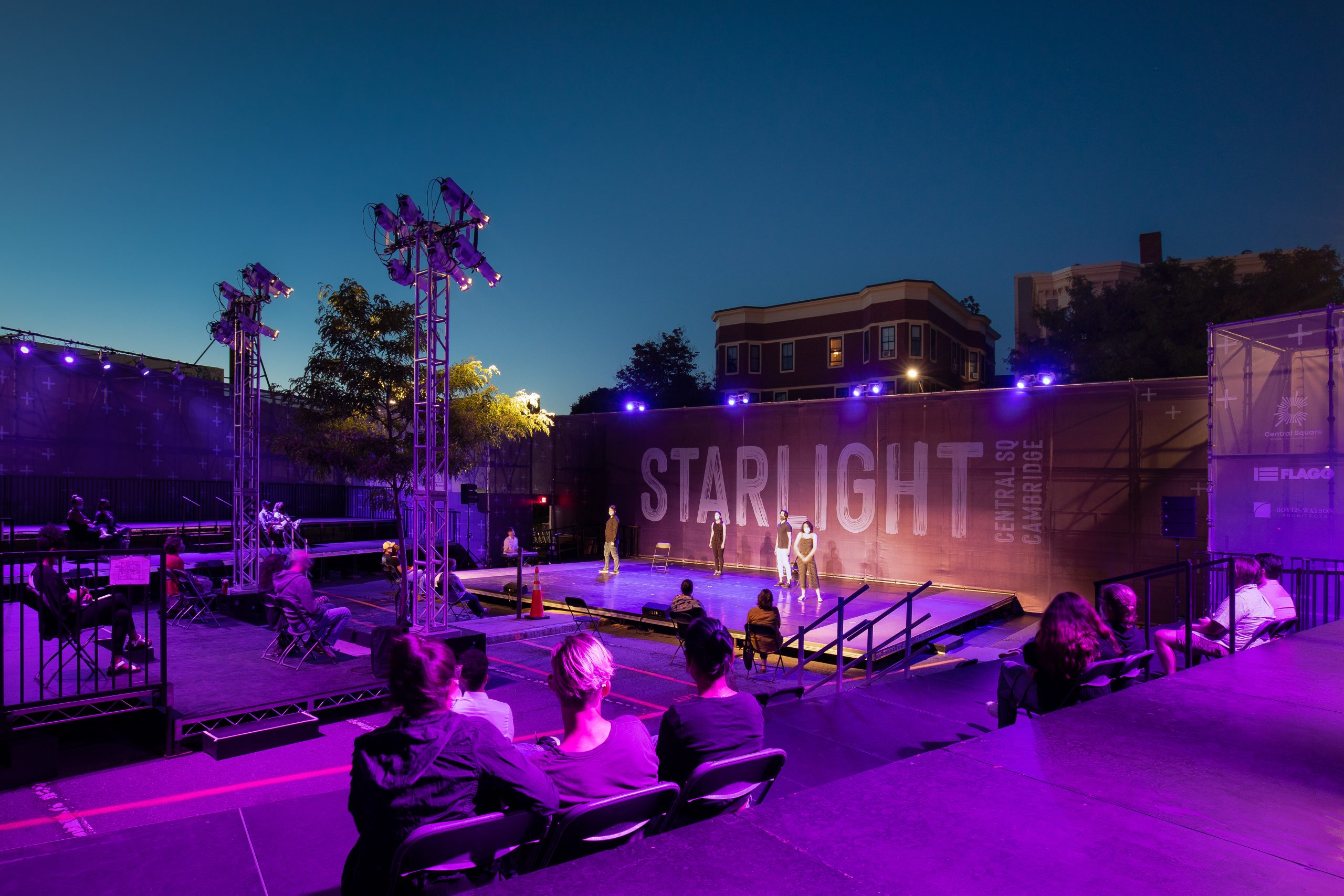 "Starlight Square". Photo courtesy of the Central Square Business Improvement District.
The Cambridge Community Foundation (CCF) and the City of Cambridge have joined forces to launch a new Cultural Capital Fund with over $600,000 to address urgent needs in the local arts and culture sector as an initial step. The Foundation also commits to building an endowment for the arts and culture sector, targeting $5 million over five years, to protect the city's cultural richness over the long term. 
As the first major donor to the Cultural Capital Fund, the City of Cambridge has allocated $500,000 from the Mayor's Disaster Relief Fund to provide grants to local arts organizations of up to $25,000 for capital improvements necessary due to the COVID-19 pandemic and up to $10,000 for operations and programming during the COVID-19 pandemic through the new Fund. 
In this first round of grantmaking, the Foundation will distribute funds through the Mayor's Disaster Relief Fund and additional grantmaking rounds will follow as new funding becomes available. CCF is thankful to also receive a generous $100,000 gift from the Wagner Foundation, a long-time supporter, to address urgent needs in the local arts and culture sector, with a focus on the Central Square Cultural District.   
For anyone interested in contributing to the Cultural Capital Fund, please scroll down to learn more. 
Applications from organizations with 501(c)(3) status or a fiscal sponsor with 501(c)(3) status will be accepted on a rolling basis, beginning Wednesday, October 28, and the first round of grants will be administered in mid to late November. 
Please send any questions to [email protected] 
Frequently Asked Questions
What are the criteria for eligibility for grants?
2020-10-28T12:51:25+00:00
Applicant's primary mission must promote access, excellence, diversity or education in the arts and culture.
Be tax exempt under Section 501(c)(3) of the Internal Revenue Code or apply through a 501(c)(3) fiscal sponsor and be in good standing with the Secretary of the Commonwealth.
Be an arts organization that has provided public arts or cultural programming for both 2018 & 2019 in the City.
Offer public cultural programming in and have a history of year-round operations in the City.
Must describe any funds the arts organization has previously received in COVID-19 relief funding from the City, including other grants from the Mayor's Disaster Relief Fund or CARES Act.
Arts and media organization applicants such as community tv stations shall have over 50% of programming time for arts and culture and/or the core business is related to youth programming or workforce development in arts and culture.
Applicants seeking capital grants must, in addition to the requirements above:

have had minimum cash expenses of $50,000 for both calendar years 2018 and 2019; and
include two written quotes for the capital needs funding requested.
The Fund – the first of its kind – serves as a central channel for donors and other stakeholders to pool their resources into a common purpose: to meet the immediate needs of artists and arts organizations and to preserve the viability of the arts ecosystem.  
Before the pandemic, the arts and culture sector was a $174.8 million per year contributor to the Cambridge economy and central to its vitality. We must act now — together, we can preserve and nurture the arts and culture vital to our community. Please support the arts through the Cultural Capital Fund. Donate here. 
Frequently Asked Questions
Where does my donation go?
2020-12-02T19:07:22+00:00
The Foundation is currently raising dollars to support the Cultural Capital Fund's dual purpose: to support to arts and culture organizations for urgent needs and to grow an endowment to support and preserve arts and culture in Cambridge in longevity. 
Funds currently collected though our through our Cultural Capital Fund online giving portal, support the immediate needs faced by local arts and culture organizations. 
Offline gifts are split between immediate needs and the endowment track. 
In addition, donors may make specific designations for their gifts to the Cultural Capital Fund. To learn more on how, please contact: [email protected] 
Who may I contact with more questions about giving to this fund?
2020-12-02T19:09:45+00:00