Equity and Innovation Report
Chapter 3: Middle Quintile


Overview
The middle quintile, where millennial-age workers have overtaken older adults as the core demographic, is the heart of the new Cambridge. Still majority white, this quintile has increased in diversity more than any other. The majority of households are married couples, nonmarried partners, and adult roommates with no children — and nearly half of them have moved within the past two years. This quintile has experienced the most growth in workers employed in the innovation sector.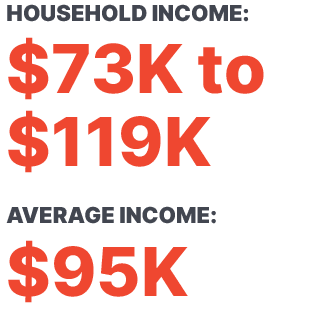 Neighborhoods with the greatest share of households in the middle quintile



Chart 3.3: Share of Residents Living in Current Home for Less than Two Years, 2018
The middle quintile is the most mobile.
People and Households (2009-2018)
Though still majority white, the middle quintile experienced the largest increase in racial and ethnic diversity among all tiers over the past decade, with the percentage of people of color growing from 27.2 to 36.5. The Asian population nearly doubled, and the Latinx population increased as well, although the Black population declined. More than 40 percent of this quintile is between the ages of 25 and 34, making it the epicenter of the millennial workforce. This tier has the lowest percentage of children. In this quintile, 55 percent of households are families without children and nonfamily groups living together, up from 44 percent a decade ago.
The average income of households in the middle quintile rose by 27.5 percent from 2009 to 2018, the greatest growth of any quintile.
Race/Ethnicity
Quintile with the largest growth in racial and ethnic diversity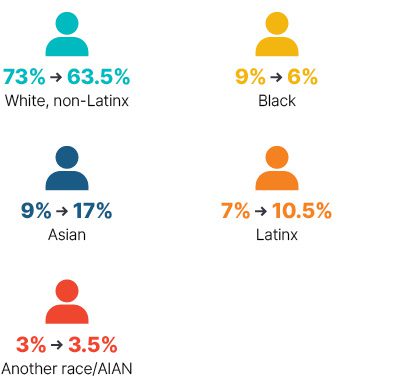 Age
Core of Cambridge's young workforce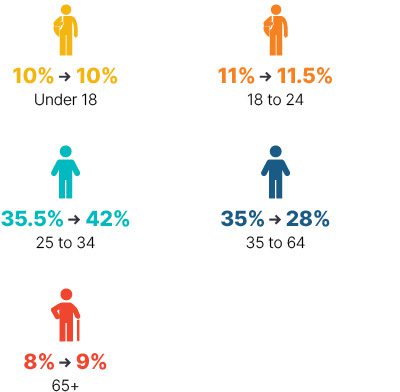 Household Type
More roommate households and families without kids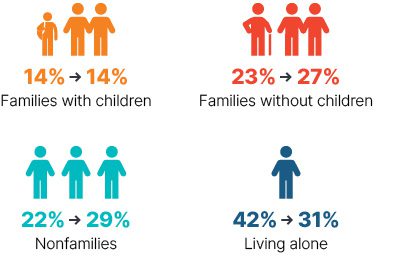 Housing and Community (2009-2018)
Renters in the middle quintile are far more cost-burdened than owners. Just over a quarter of renters pay less than 30 percent of their income for housing. Among owners, the opposite situation prevails, with nearly three-fourths putting less than 30 percent of their income toward housing. Residents in this quintile are highly mobile: 46 percent have lived in their current home for less than two years. Movers are likely be from another country; 19 percent of those who moved within the past year came from outside the U.S. In fact, a fifth of those who recently moved from abroad are in this quintile.
Tenure
More renter households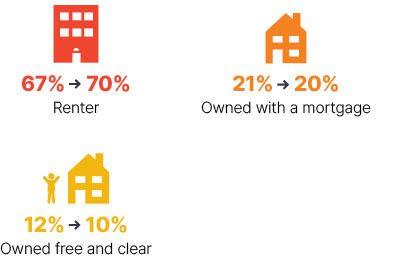 Cost Burden (>30%)
Fewer cost-burdened owner households

Lived in Current Home for
Decline in long-term housing-stable residents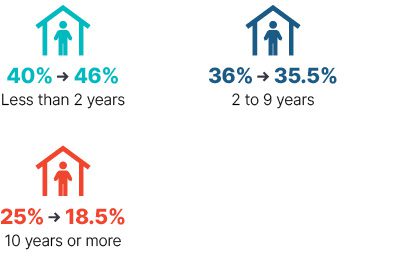 Movers Coming from
More recent movers coming from another country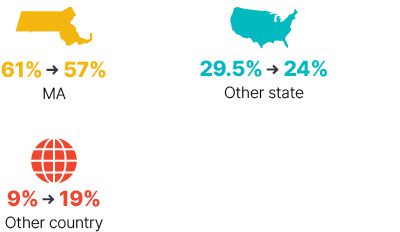 Education and Jobs (2009-2018)
High educational attainment is more crucial to this quintile than to any other. A decade ago, more than 15 percent of adults in this group held a high school diploma or less. Today, that population is below 7 percent. While nearly all working-age adults in this quintile are employed, the nature of their work has shifted over the past decade, with the share of self-employed workers declining and the share of nonprofit workers falling more than in any other tier. This quintile has experienced the greatest change in occupations from the growth of the innovation economy.
Educational Attainment

Major increase in very highly educated adults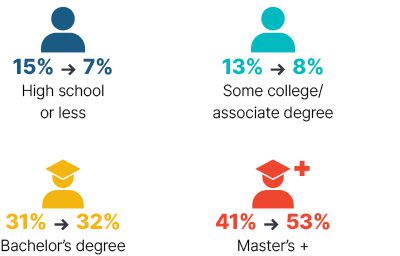 Top Occupations

Most growth in innovation-sector employment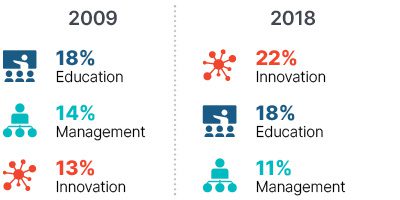 Employment Sector
Large increase in private-sector employment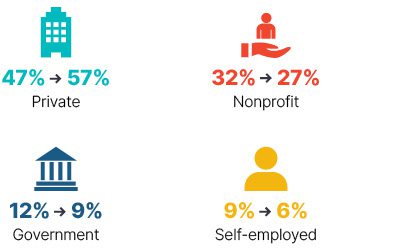 We have adjusted the standard naming conventions established by the U.S. Census Bureau in the following ways: "Hispanic/Latino" ethnicity is referred to as "Latinx"; "Black" refers to "Black/African American"; "Asian" includes "Native Hawaiian/Pacific Islander"; "Multiracial" refers to "Two or More"; and "Another race/AIAN" includes "Some Other" and American Indian/Alaska Native." For more about our terminology on race and ethnicity »