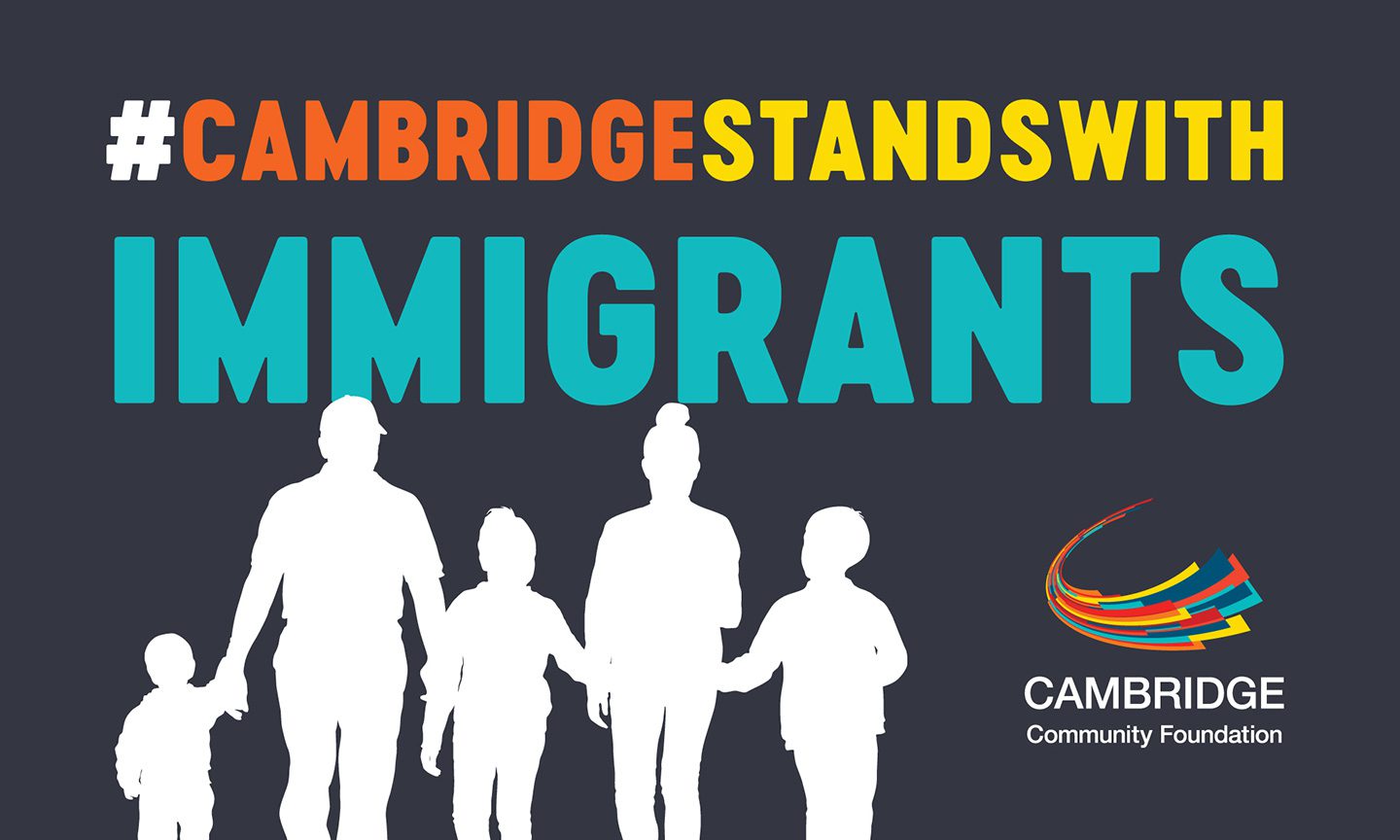 Cambridge Legal Defense Fund for Immigrants
The Need
Many immigrant families, children and workers in our community are caught up in a humanitarian crisis that could tear families apart, deport DREAMers from the only home they have ever known, and expose asylum seekers to the persecution and abuse they faced in their home countries. Help us help our most vulnerable neighbors with a tax-deductible contribution to the Cambridge Legal Defense Fund for Immigrants.
One in four immigrants in America are undocumented. Pew Research Center data states 210,000 undocumented residents in Massachusetts, of which over 180,000 are in Cambridge, Boston and surrounding communities. 
In Massachusetts, there are approximately 19,000 students eligible for DACA status, over 12,000 are workers with Temporary Protective Status, thousands more are Asylum Seekers. While there is no city-specific data on the numbers of undocumented immigrants in our community, proxy data for Cambridge shows 27% of the population is foreign born; 40% of children have at least one foreign born parent; and approximately 25% of high school students and over 100 Harvard students have DACA status.
Currently, only 37% of all immigrants and 14% of detained immigrants go to court accompanied with a lawyer. Deportation proceedings are considered civil matters, so lawyers are not provided by the court. Those with legal representation have a five times higher chance of achieving a favorable outcome.
The Fund
The Cambridge Community Foundation, working in partnership with Mayor Marc C. McGovern, has an ambitious goal of raising $500,000 to help immigrants get the legal services they need to stay, legally, in our country. Your donation will support grants that will be distributed to local legal assistance nonprofits to help:
Support young adults previously protected by Deferred Action for Childhood Arrivals (DACA) who are now at risk of deportation;
Prioritize cases involving asylum seekers, unaccompanied minors/juveniles, and other highly vulnerable persons including victims of trafficking, sexual, and/or domestic violence;
Provide family legal services to ensure protection for children left behind.
The Dollars
The visa process for illegal and legal immigrants can be complex and confusing. Local legal assistance nonprofits provide invaluable information and support, and can help with costs associated with the process:
$200 medical exam: Immigration proceedings require medical examinations performed by a civil surgeon who has been designated by USCIS. This is not paid by the court.
$465 DACA fee: The fee covers first time and renewal applicants of Deferred Action for Childhood Arrivals (DACA). The cost of the application has been one of the major barriers to the DACA program.
Translation costs: Immigrants may need translation services, and pro-bono attorneys don't necessarily provide them.
$6,000 for Asylum: It costs approximately $5,000 to $6,000 in attorney fees for a single client to get through the Asylum process.
Pro-bono attorneys carry a caseload of 150, and while they offer their services for free, their time on cases requires human capital:

The Asylum process requires 70 to 120 hours of legal work.
To help one youth gain special immigrant juvenile status requires 50 to 70 hours of legal work.
To help one victim of trafficking requires 40 to 80 hours of legal work.
Our $500,000 goal means four non-profit legal assistance organizations can add another full-time attorney to their staff to provide legal representation for 400 to 500 people; pay for medical exams and ensure 200 applicants can pay for DACA application fees or post bail.
The People
While names have been changed to protect privacy, these are just a few real stories of real people in our community who are currently navigating this process with legal assistance.
Ama, a young woman from East Africa, suffered abuse at home, was told at the age of 13 that she had to marry a man, 20 years her senior. She fled to the United States and applied for Special Immigrant Juvenile status, a form of legal relief available to child survivors of abuse, abandonment or neglect.
Maria fled Honduras with three young daughters to escape the abuse of her husband as well as gang violence. With just a few personal items and $27 in cash, they crossed through Guatemala, then into Mexico, where they were abducted by two Zetas who beat Maria for two weeks and demanded thousands of dollars for their release. Maria and her girls escaped, reached the U.S. and are now seeking Asylum protection so she can gain a work permit and build a new life.
Sandra was violently attacked at work but too afraid to talk to the police for fear of deportation and the risk of leaving her young daughter, a U.S. citizen, behind. Even though she'd worked in the area for more than 10 years, she had no path to obtain legal permanent residence. Then came the attack, which resulted in panic attacks and depression and ultimately led her to a legal aid organization to get help. Sandra is filing for a U Visa, a protection to victims of crime who cooperate with law enforcement.
David, a graduate of Cambridge Rindge and Latin School and the director of the Boys and Girls Club in Somerville wasn't a legal resident because he was brought to the United States at a young age. David realized how vulnerable he was when he was detained by U.S. Customs and Border Protection agents in New York state because he didn't have his citizenship papers. Through pro-bono legal assistance in Cambridge, David, a DACA recipient, has successfully renewed his work authorization for another two years.
To Give
More dollars mean more resources for threatened immigrants.  Make your tax-deductible gift now. Please make checks payable to Cambridge Community Foundation for Cambridge Legal Defense Fund for Immigrants and mail to 99 Bishop Allen Drive, Cambridge MA 02139 or donate online.
Click here to learn more about the fund and need.
What You Can Do
The livelihoods of many immigrants in our country hang in the balance. It's time to put our privilege and our bodies on the line to protect those communities whose voices are marginalized. These suggestions are adapted from a list of remarks made by Yale Law School professor Michael Wishnie at the community forum Cambridge Community Foundation hosted on June 27, 2018.
Give money.

Whatever your capacity is, we all must do a little bit more than we're used to. Give to the organizations that are engaged, full-time, in supporting and protecting immigrant households in Cambridge and beyond.

Voice your concerns.

However many protests you used to attend, you have to show up to more.

Get out there.

Bear witness at the border. Be present at an Immigration and Customs Enforcement (ICE) pickup or checkpoint, or attend an immigration hearing in a courtroom. Join

#Not1More

campaigns, which are mobilized when one person is under immediate threat of removal.

Vote for representatives who reflect your values.

It may seem that in Cambridge, we cannot do any better with our elected officials, but elections in nearby Maine and Connecticut do matter. Get on the campaign trail. Get engaged in political work.
How Cambridge and Massachusetts Can Help
The fight goes beyond the efforts we can make as individuals. Beyond that, we must push our local and state leaders to make decisions that protect immigrants in our communities. These are only a few suggestions.
Cambridge could adopt a municipal ID program, like many other cities have, protecting the identities of its residents.

Massachusetts should de-link its Department of Motor Vehicles (DMV) databases from ICE, seeking to re-negotiate its relationship with the Federal Bureau of Investigation (FBI) to better protect residents.

Massachusetts should ensure that the police department is separated from ICE in de-linking databases and information sharing.

The Massachusetts National Guard should not allow ICE to use its training facilities.

Massachusetts could make driver's licenses available without regard to immigration status.

The Port Authority, which controls the physical space at Logan Airport, could insist that people arriving have access to legal counsel behind Customs lines.

Massachusetts could expand the availability of state financial aid for residents who attend college.
Local Nonprofits Supporting Immigrant Populations
Boston Immigrant Justice Accompaniment Network
Volunteers providing accompaniment support for Immigrants in legal process
857-308-2527
Catholic Charities of Boston—Refugee and Immigration Services
Asylum, DACA, employment, visas
www.ccab.org
Centro Presente
DACA
www.cpresente.org
Community Legal Services and Counseling Center (CLSACC)
Asylum, Special Immigrant Juvenile Status, U visas,
Violence Against Women Act petitions
www.clsacc.org
English for New Bostonians
ESOL Programs
www.englishfornewbostonians.org
Harvard University Law School—Immigration and Refugee Clinic
Asylum, DACA, Removal, Special Immigration Juvenile Status,
Temporary Protected Status, U visa, Violence Against Women Act petitions
www.harvardimmigrationclinic.org
Irish International Immigration Center (IIIC)
Asylum, DACA, Special Immigrant Juvenile Status, Removal,
Violence Against Women Act petitions
www.iiicenter.org
Kids in Need of Defense (KIND)
Adjustment of Status, Asylum, Removal, Special Immigrant Juvenile Status,
T & U Visas
www.supportkind.org
Massachusetts Immigrant and Refugee Advocacy Coalition (MIRA)
Naturalization, Citizenship
www.miracoalition.org
Political Asylum/Immigration Representation Project (PAIR)
Adjustment of Status, Asylum, DACA, Employment, Habeus Corpus, Removal,
Special Immigrant Juvenile Status, Temporary Protected Status, U visa,
Violence Against Women Act petitions
www.pairproject.org
For additional resources, go to www.harvardimmigrationclinic.org