The Cambridge Community Foundation is a convener, connector, and catalyst for change in Cambridge, drawing on our deep-rooted relationships and long history as an independent civic leader to bring together neighborhoods, organizations, and economic sectors to ensure our city promotes shared prosperity, social equity, and cultural richness.
To accomplish our civic leadership goals, we draw upon a number of tools and strategies. The Foundation:
Offers an independent voice
Commissions research to examine key issues;
Convenes stakeholders, change-makers, and experts to spark innovative and effective solutions;
Engages donors as core investors in community development; and,
Builds and strengthens networks to create collaborations.
The Foundation combines its convening and connecting activity with grantmaking to help catalyze ideas into action. In the 1930s, the Foundation partnered with the Red Feather Charity to generate philanthropy. Working with City Hall in the late 1990s, the Foundation launched the Agenda for Children. Since 2015, we've been bolstering nonprofit collaboration through the Cambridge Nonprofit Coalition. In 2016, the Foundation gathered community-wide Science, Technology, Engineering, Arts and Math (S.T.E.A.M) partners to explore pathways to today's innovation economy, and continues to hold these conversations and promote STEAM development in Cambridge. These activities are supported by annual donations to our Civic Leadership Fund, which funds the Foundation's grantmaking,  research on the state of shared prosperity in Cambridge, and a range of convenings to promote conversations around civic issues facing Cambridge residents.
In early 2018, the Foundation launched the United Legal Defense Fund for Immigrants (ULDFI). Funds raised for the ULDFI were distributed by the Foundation in October 2018 and again in November 2019 to local nonprofit, legal services organizations supporting immigrants in Cambridge and Somerville. The ULDFI is a prime example of how the Foundation's grantmaking and civic leadership are intricately connected, deepening our commitment to serving the people and organizations of Cambridge.
New research released April 2021
Click here to explore our latest research, or download the report as a PDF.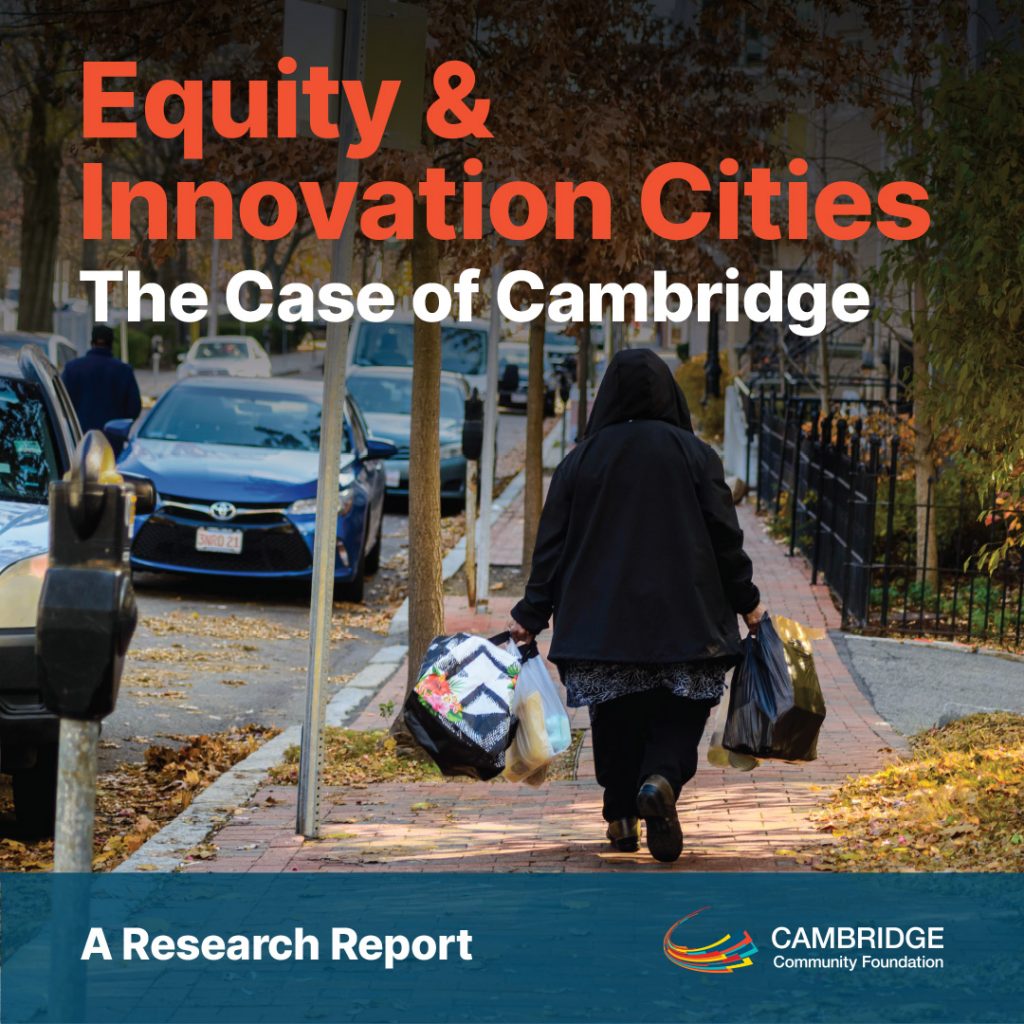 Our new research report confirms Cambridge, Mass. is a leader among the nation's innovation cities, and through a decade of data, tells the story of how the city's unprecedented prosperity has benefitted some residents, while others, primarily Black and low-income residents, are being left behind. We're convening a series of community conversations around the research to help drive the development of a new civic agenda for Cambridge. Learn about our upcoming events >>