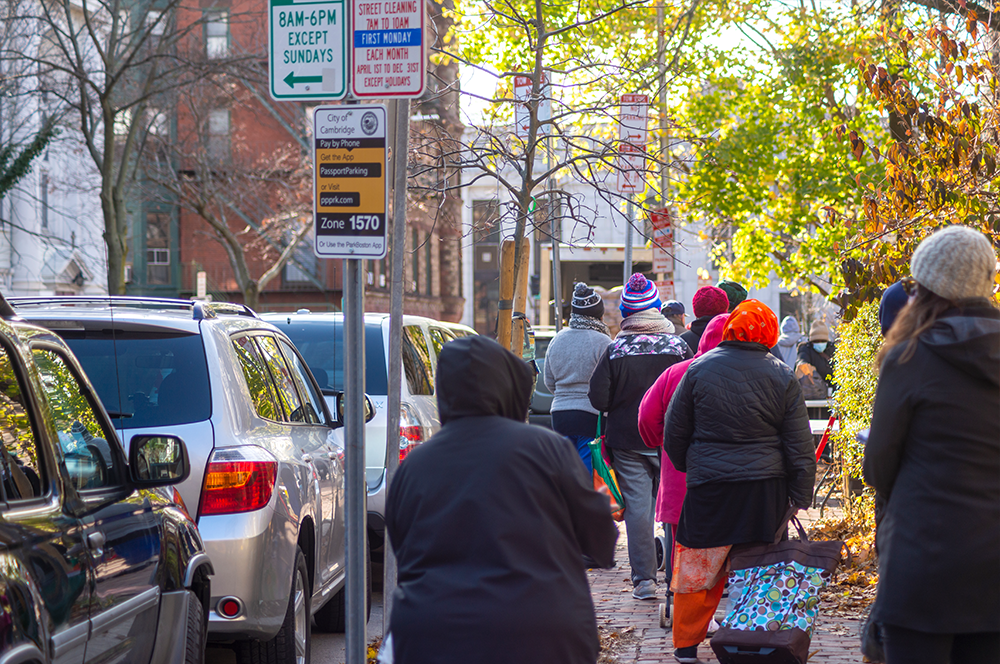 Photo of a food pantry line by lou jones.
About the Initiative
The Cambridge Community Foundation is committed to thinking big and pursuing bold, innovative ideas to solve our city's most pressing problems. This fall, we will announce our new strategic direction for making a greater impact in the community. The new Food Access and Security Initiative, our first step, aims to build a safety net for families in crisis by strengthening Cambridge's emergency food system. This work will be done in partnership with community stakeholders.
The Food Access and Security Initiative is driven by the Foundation's commitment to social equity, and grounded in our ever-growing understanding that food insecurity is a critical obstacle that intersects with income disparity, financial and economic uncertainty, racial inequity, and other complex issues. With 1 in 8 Cambridge residents experiencing food insecurity as of 2021, complex issues require thoughtful, strategic solutions.
We will invest in nonprofit organizations and collaborative efforts to improve and make changes to the Cambridge food system. CCF has a history addressing food access and security. This new Initiative builds on past work and focuses on sector communication and collaboration, program sustainability and expansion, and capacity building. For information on how you can support Cambridge through the Food Access and Security Initiative, please contact Michal Rubin, Vice President of Development at [email protected].
Applying for a Grant
Please read below for more details on eligibility requirements for this new round of grantmaking and details on what we are looking to fund.
NOTICE: The deadline to submit a LOI to the Food Access and Security Initiative has passed. Current applicants may access their request details using the portal.
Frequently Asked Questions
When does the Food Access and Security Initiative grant cycle take place?
Jenny White
2023-07-19T16:46:24+00:00
Starting July 14, 2023, interested organizations can submit a Letter of Interest to the Foundation's Food Access and Security Initiative. All applicants will be notified if they have been invited to submit a full application by August 18, 2023. Final grant decisions will be made by October 1, 2023. Please note that not all organizations that submit a Letter of Interest will be invited to submit a complete proposal and an invitation to submit a full proposal does not imply a guarantee of funding.