June 2023 | The Cambridge Community Foundation's new data brief reveals startling facts on the pressures low-income families face in a city whose cost of living is 73 percent higher than the national average. Our nine-page brief provides statistics on the makeup, income levels, educational attainment, race and ethnicity, and more of the families that are eligible for Rise Up Cambridge*, a $22-million City of Cambridge program that supports families with children making up to 250 percent of the federal poverty line—$66,250 for a family of four.
These resilient families constitute a significant and largely unseen population in Cambridge. Read the data brief to learn more.
*The Rise Up Cambridge program is the only one in the country that's not lottery-based, offering all eligible families $500 cash assistance for 18 months. It is a City of Cambridge program run in partnership with Mayor Sumbul Siddiqui, the Cambridge Community Foundation, and Cambridge Economic Opportunity Committee.
Equity & Innovation Cities Report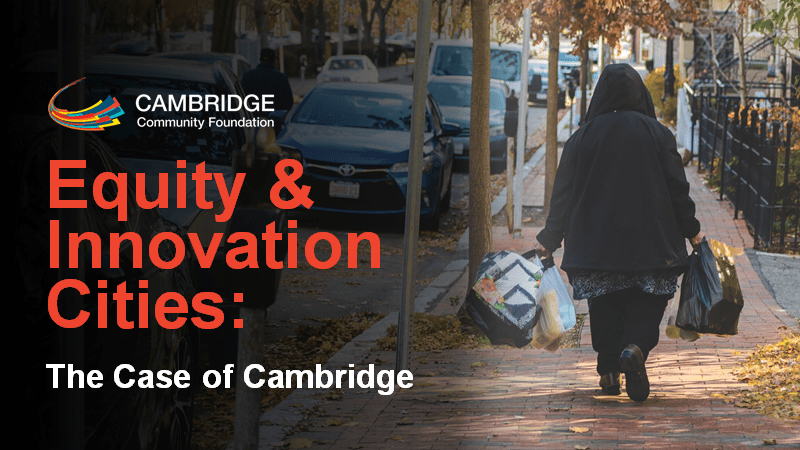 Released April 2021, this CCF research report confirms Cambridge, Mass. is a leader among the nation's innovation cities, and through a decade of data, tells the story of how the city's unprecedented prosperity has benefitted some residents, while others, primarily Black and low-income residents, are being left behind.
For years, people have anecdotally observed disparities in Cambridge and noted the incredible growth in the innovation sector and its impact. The new report, Equity and Innovation: The Case of Cambridge, puts numbers behind speculation, confirming Cambridge as an innovation powerhouse and providing tangible evidence of growing disparities among residents. It also serves as an invitation to the community to come together and leverage the city's unique assets to reverse troubling trends.
Boomtown/Hometown Report
In 2017, the Foundation released a report titled Boomtown/Hometown: What the Numbers say about Income, Housing and Education in Cambridge Today.
This report draws attention to three powerful trends shaping our city's future: increasing income inequality, rapidly rising housing costs and persistent educational disparities. Where are these trends taking Cambridge? Can our city-with its booming innovation economy and exceptional community assets-keep its historic commitment to social justice and create a future in which prosperity is shared across the entire community.