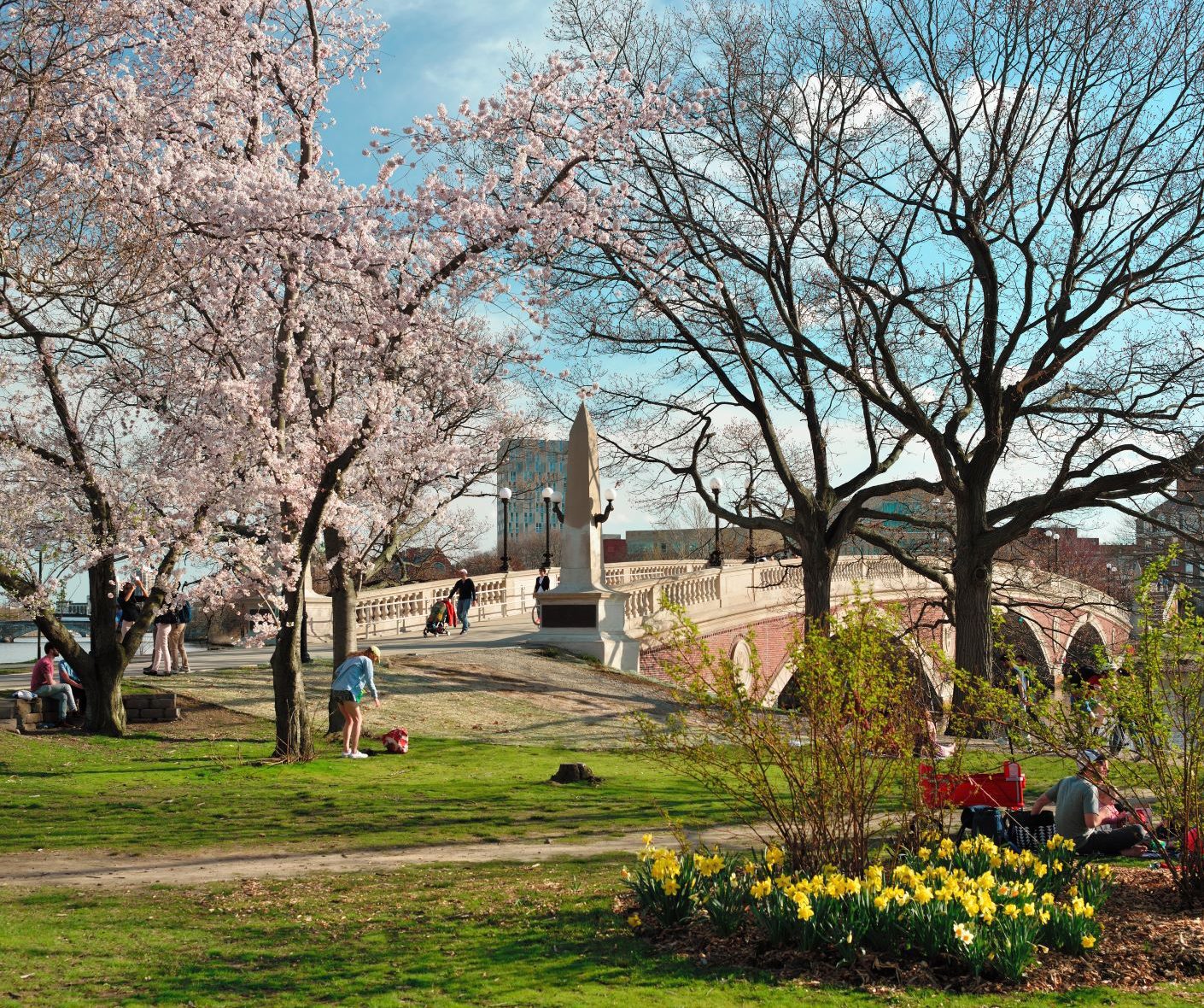 Your gift helps sustain our community.
Drawing on a century of experience, the Foundation works to achieve an inclusive and vibrant Cambridge for all. Three visionary goals drive our work: shared prosperity, social equity, and cultural richness.
The Foundation's deep connections across the city, independent voice, and commitment to action have made it a strong, local philanthropic partner. A gift to the Cambridge Community Foundation helps ensure opportunity and access for the people who call it home.
Donor services
For over a century, the Foundation has served as a trusted and independent advisor to donors. We bring deep knowledge of our community and expert service to all our donor partnerships. We invite you to join us in supporting opportunity, equity, and progress in Cambridge.
Our donors have a wide range of giving options, from supporting our community endowment or field of interest funds to opening your own donor advised fund or legacy fund. We work one-on-one with donors to help them create a giving plan that supports their philanthropic goals, now and in the future.
We'd love to start the conversation with you. Please contact our vice president of development, Michal Rubin, [email protected].
Open a fund
Through the Cambridge Community Foundation, you can establish a charitable fund that allows you to realize your philanthropic objectives and create lasting impact. We offer personal attention and years of experience to help you make the most of your charitable giving. The Cambridge Community Foundation stands ready to share our knowledge about philanthropy locally and globally with our donors.
Donor advised funds
A donor advised fund (DAF) is a flexible and effective vehicle to manage your charitable giving. Contributions to the fund are tax-deductible upfront, giving you the time to think about your philanthropic goals. You can support any 501c3 organization on your own schedule, or choose to follow the Foundation's spending policy.
You also have the unique opportunity to co-invest in the community when you open a donor advised fund at the community foundation. Fundholders have access to the foundation's expertise on community, and national issues. Twice a year, fundholders can choose to co-invest by contributing additional dollars to our two grantmaking cycles, amplifying community impact. Learn more about our most recent grantmaking cycle.
Designated funds
A designated fund supports an issue area or a nonprofit you love, now and in the future. The fund can be set up in various ways to support your philanthropic goals and fundraising strategy.
Field of interest funds
A field of interest fund allows you to support a specific area of interest such as the arts, education, or other, now and in the future. Donors may choose to set up a new field of interest fund or contribute to the Foundation's arsenal of funds. You can fundraise for this fund through a crowdfunding page built by the Foundation. Did you know you can give your Qualified Charitable Distribution to a field of interest fund? Learn more here.
Scholarship funds
A scholarship fund supports students in their post-secondary education endeavors. The Foundation works with a school partner who chooses the recipient(s) based on criteria you can contribute to. You can fundraise for this fund through a crowdfunding page built by the Foundation.
Nonprofit endowment funds
An endowment can provide a supportive backbone to a nonprofit organization. It is an important step in planning for their sustainability. The Foundation welcomes the opportunity to partner with donors or nonprofit Boards and teams to create a lasting endowment. Quasi-endowments are also available for nonprofits that seek that flexibility.
We'd love to talk with you about supporting your philanthropic goals. To set up a conversation, please contact Michal Rubin, [email protected].
Investment tracks
The Cambridge Community Foundation has two trustee banks: Cambridge Trust Company and Bank of America. Permanent funds are invested with one of these co-trustees. When setting up a fund, you can choose between the two. The Investment Committee chaired by Daniel S. Kern (Chief Investment Officer of Nixon Peabody LLP) of the Board of Directors monitors our investment performance.
Planned gifts and bequests
Planned and estate giving offers unique opportunities to make a significant and lasting legacy in your lifetime and well beyond. Our foundation rests on the strengths of planned gifts over the past century and we welcome the opportunity to include your vision in the endowment that supports Cambridge. Learn more here.
Start your conversation
The Cambridge Community Foundation accepts cash, securities, insurance benefits, real estate, and other assets. In many cases, gifts of securities and other assets offer additional tax benefits. We would love to talk with you to start your giving plan today. Please contact our vice president of development, Michal Rubin, [email protected] to start the conversation.
For other ways to give, learn more here.