An episode of The Art of Black Dance & Music's legacy program.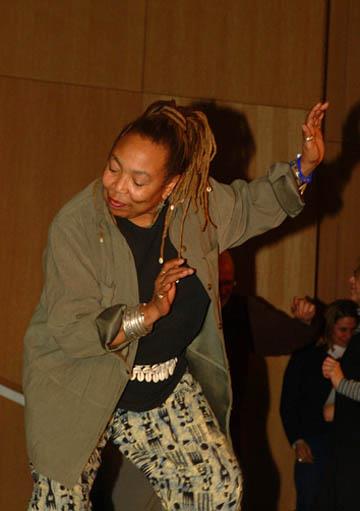 Born in Cambridge, De Ama Battle is an arts educator and the founder/artistic director of the Art of Black Dance and Music, Inc. (ABDM), formed in l975. As a teaching company at the Martin Luther King, Jr. Elementary School, ABDM conducted the Kwanzaa Celebrations every year for about 40 years.
Classically trained in American and cultural dance forms, Battle accepted faculty positions at Wellesley College, Boston Conservatory of Music and Dance, Roxbury Community College, the Cambridge Schools, and at national and international teaching facilities. Battle's arts education programs brought cultural experiences to the Cambridge school system, teaching the connections of the African diaspora that spread via the Atlantic slave trade, to Europe, the United States, the Caribbean, and South America. Battle has studied with master dancers from West Africa, Brazil, Haiti, Jamaica, and Cuba. One of her teachers and mentors was Baba Chuck Davis, a leading African American teacher of traditional African dance. Her research has probed deeper, into the fields abroad through dance-study tours to Guinea, Mali, Jamaica, Ghana, Senegal and Cuba. Battle regards modern dance pioneers Pearl Primus and Katherine Dunham, who studied the cultural traditions of West Africa and the Caribbean as role models. As a dance historian and arts educator, she developed one of the company's goals, to unify people of African descent "through the study of African-rooted dance, music, and folklore" to highlight "cultural similarities within the African Diaspora."
Battle's work in Cambridge spans four decades and all ages and includes teaching at the Dance Complex (Joy of Movement). She was also involved in the development of the Cambridge Multicultural Arts Center as a performing space for local artists. Battle's research materials have been placed at the Harvard University's Radcliffe Institute for Advanced Studies / Schlesinger Library.