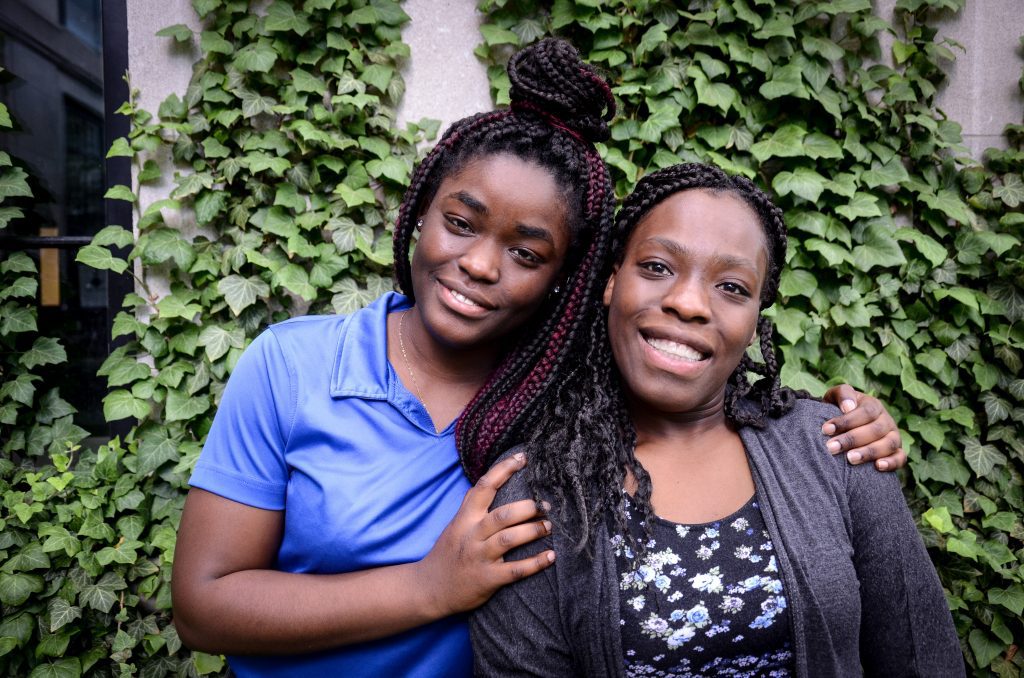 Falcon Pride Scholars and 2021 college grads Narinka (left) and Roodeline (right) Guichette. Photo by Kristen Joy Emack.
Envisioned by parents and alumni of Cambridge Rindge and Latin School (CRLS), in partnership with the Cambridge Community Foundation, the Falcon Pride Scholarship is designed to support CRLS students who have the determination and passion to pursue postsecondary education but do not have the needed financial resources. The Scholarship was founded by parents of children in the Cambridge public school system who were specifically struck by the income disparity between students' families, and observed how income gaps greatly impacted post-graduation academic and vocational opportunities for CRLS graduates. The Scholarship fits squarely in the Foundation's visionary goal of shared prosperity: It is supported by Cambridge parents who can afford to give back so that their children's classmates, fellow CRLS grads, can pursue post-secondary degrees without financial barriers. 
The Falcon Pride Scholarship is unique as it is a multi-year scholarship. Each year, the Scholarship works in close collaboration with CRLS to select eight graduating seniors who can benefit most from this support. Among the eight scholarships are two affiliated with nonprofits serving youth: one graduate of the CRLS Breakthrough program receives the Falcon Pride Bushner Breakthrough Scholarship and a CRLS graduate from Enroot receives the Falcon Pride Enroot Scholarship. All Falcon Pride scholars receive $1,000 in their first year of college; and $3,000 in each of their following three years of study. In 2020, with the help of 66 generous donors, the Falcon Pride Scholarship expanded to become a four-year, $6,000 scholarship; and in 2022, it became a $10,000 scholarship. Since the Fund's founding in 2017, 33 scholars have been supported by this award.
But the scholarship is more powerful than the dollars; Falcon Pride is a community. Donors to the fund stay in touch and check in with the scholars throughout their college careers. Recipients feel a strong vote of confidence and the sense that their community is behind them all the way. 
The Scholarship donors are actively raising additional funding, as well as non-monetary forms of support. To date, 75 generous donors have contributed and the Fund has raised more than $600,000, plus the Foundation's $50,000 seeding. To join us in supporting Cambridge scholars, visit the donation page or email Michal Rubin, [email protected].
By the numbers
years of support through college
Meet the Scholars
Photography by Kristen Joy Emack.
Join in supporting Cambridge scholars
Your gift to the Falcon Pride Scholarship Fund will enable us to fulfill our goal of ensuring that graduates of CRLS who depend on financial aid to attend – and persist in – postsecondary education, can receive it. Working closely with the school, we ensure that our targeted, multi-year scholarships reach the kids that are most in need of them – kids who have not received aid through other scholarships and whose financial circumstances would likely be a barrier to completing their college degrees. Donate today.
Donor spotlight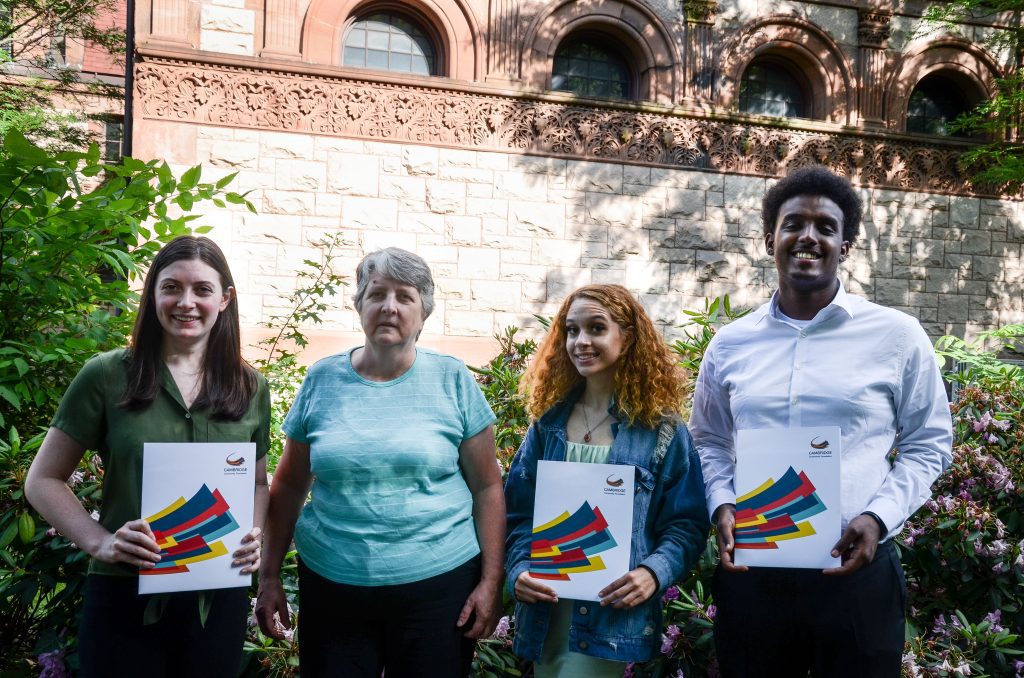 From left to right: Naomi Brook, Liz Keating, Alysia O'Brien, and Amanuel Gebru. Photo by Kristen Joy Emack.
For Liz Keating, becoming a Cambridge Rindge and Latin School (CRLS) parent was a wake-up call. 
"There is such inequity in this city that I only really understood when my oldest son started high school at CRLS," said Liz. 
At CRLS she met many talented children born in other countries, saw college readiness challenges for families, and witnessed the ongoing hunger for some families exacerbated by the pandemic. "There were quite a few kids in our school system for which their free or reduced lunch was their main meal of the day," she said. "One of my son's friends mentioned his family had little food in the house over school breaks, so I got some food cards for them." 
This is who Liz is: compassionate, aware, action-oriented, and bridging the gaps where she can.  
Liz became involved with CCF while raising funds for the Falcon Pride Scholarship, a unique multiyear scholarship for CRLS graduates supporting college persistence. Through Liz and co-founders Andus Baker and his wife Rowan Murphy's initial investments, a CCF grant of $50,000, and the additional support of dozens of donors, the fund is evolving into an endowed fund that will serve low-income students for years to come. The fund distributed the first round of scholarships in 2017 and has supported 20 scholars so far.  
"I realized CCF was an important organization, and I wanted to get involved with helping it realize its potential," says Liz. "To me, the shared prosperity framing of what the Foundation is doing is spot on." 
Liz joined the CCF Board of Directors in 2017, bringing a strong finance background and decades of teaching and consulting with nonprofits to bear on the Foundation's work. She is currently the finance manager of Campus Child Care Inc., the merger of the six Harvard-affiliated childcare centers. She is also  Chair of CCF's finance committee, where she's involved in the behind-the-scenes work of the Foundation. 
In addition to college access and hunger, Liz has been an advocate for immigrants' rights. For her, equity and opportunity are key. 
"The Foundation is making a ladder, so people have better access to opportunity," said Liz. For an innovation hub like Cambridge, that could take many forms: economic, research, social, or simply supporting people with lots of potential—like our very own CLRS students. 
Watch how it all began
Our Grantmaking and Nonprofit News
For more information on our impact and nonprofit partnerships, explore our past press releases and sign up to receive newsletters.
Nonprofits serving Cambridge are invited to apply to the Community Fund until September 25.
We're supporting 18 summer sports programs designed for Cambridge youth who face barriers to access.
We joined Food For Free to celebrate a product of our partnership: a refrigerated truck that will get millions more meals to neighbors.