OUR VISION 
Cambridge should be a bright beacon of…
…shared prosperity, where residents invest in one another's economic potential; where poverty is reduced; and where children are equipped to succeed in a knowledge- and technology-driven economy.
…social equity, where there is equal justice; where no one goes hungry; and where everyone can afford a stable home.
…cultural richness, where diverse communities spark ethnic, spiritual, social, and artistic exploration; where innovation thrives; and where connections are deepened across neighborhoods and sectors and among residents.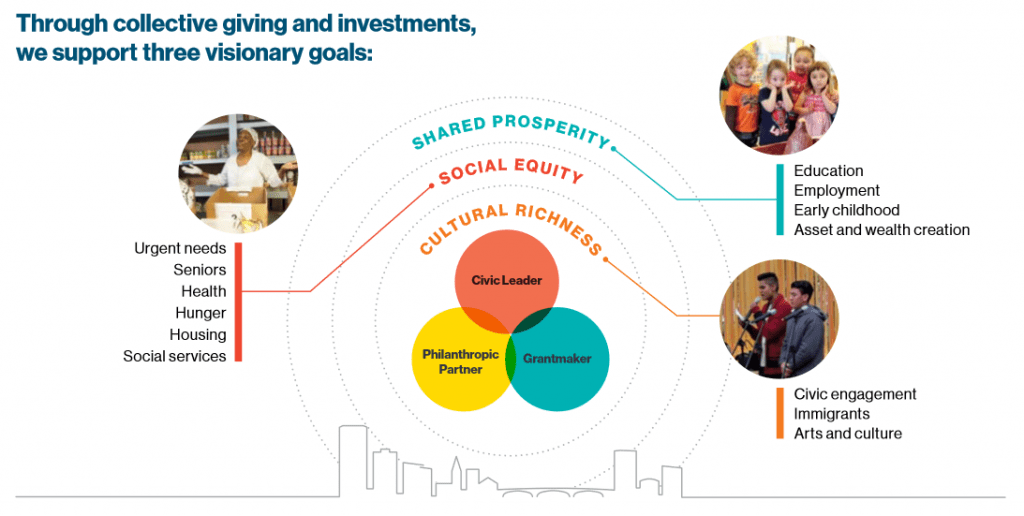 WHAT WE DO
The Cambridge Community Foundation is a 501(c)3 public charity. We are Cambridge's local giving platform – built, funded, and guided by residents since 1916. We are a convener and catalyst for transformative change.
As a civic leader we offer an independent voice, convene individuals and organizations, and commission research to help identify priorities, set shared goals, spark innovative and effective solutions, and organize collaborations to pursue them.
As a grantmaker we fund nonprofit organizations and collaborative initiatives to preserve Cambridge's strengths and address its challenges. We foster the collective giving of thousands of generous donors and invest in organizations that provide social services, academic support, cultural enrichment, and economic mobility and opportunity.
As a philanthropic partner we work with donors to help them address their charitable goals in Cambridge and beyond, and offer information, advice, and opportunities for collective impact.
THE FOUNDATION THEN AND NOW
The Cambridge Community Foundation was one of the first community foundations in the nation, established to make a difference in the lives of Cambridge residents. Created in 1916 to serve as a vehicle for local giving and to address local needs, the Foundation has expanded its commitment to the power of philanthropy and to civic leadership over the past century.
A founding gift from cattleman Jonathan Maynard Parmenter was dedicated to college scholarships, and has since enabled generations of students to study at Harvard College.
As the Foundation's endowment grew through gifts and bequests, it expanded its range of activity. Since the 1950s, organized grantmaking to support nonprofit organizations has steadily increased. Last year, the Foundation awarded $1.7 million in grants to nonprofits and scholarships. That support has also grown more strategic over time, focused on long-term impact and addressing critical community needs.
Today Cambridge stands as an epicenter of a global innovation economy. Yet many residents continue to struggle, and there are unintended consequences of our growth: escalating real estate costs, increases in evictions and homelessness, and loss of the middle class. Too many youth grow up ill equipped to thrive in the very economy that drives the city and the region.
To address these critical challenges, the Foundation works to support systemic change for shared prosperity, social equity, and cultural richness. Help us protect our city's time-tested values. We need community participation to help Cambridge be a diverse, inclusive, and vibrant city for all.