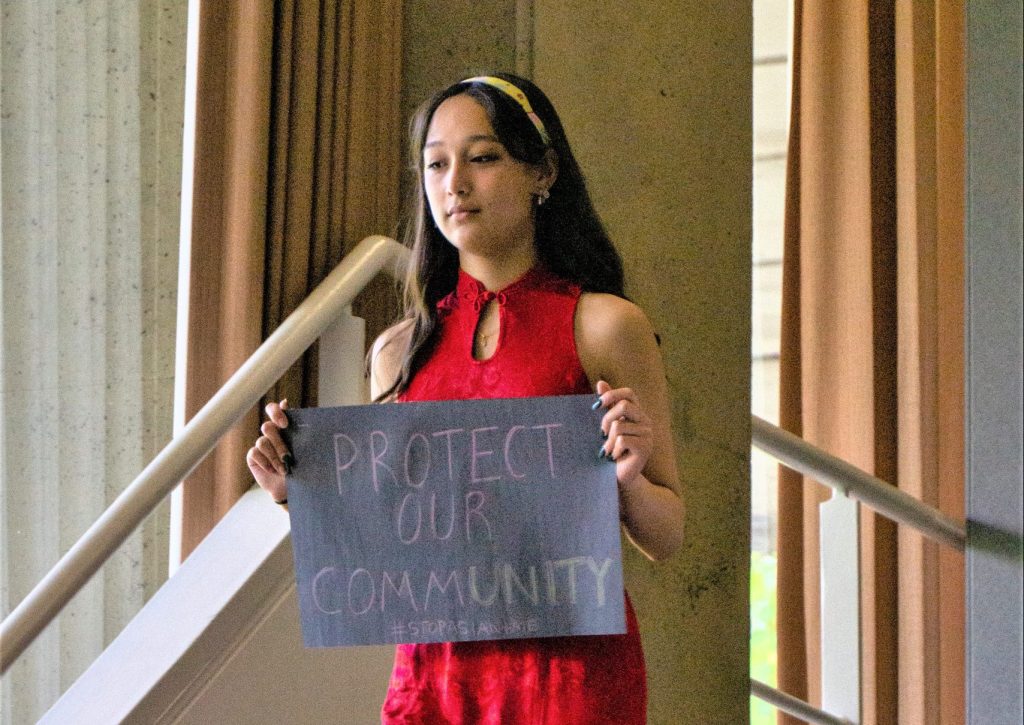 A student model holds a sign reading "Protect our community" at Sisters on the Runway's fashion show fundraiser in May. Photo by Kate Wheatley.
CRLS students held signs like #metoo, #StopAsianHate, and #BlackLivesMatter as they strutted down the runway in vibrant outfits last month at Sisters on the Runway's fundraiser. From the fashion show and a month of fundraising, this student-run organization exceeded their $5K goal, raising $5,708 to support two local nonprofits, Transition House and Cambridge Women's Center. The Cambridge Community Foundation matched their first $2,500 raised through our Teaching Philanthropy Fund.
"It's so critical to be supporting women's shelters and organizations addressing domestic violence, especially now after rates of intimate partner violence went up during the pandemic," said Isabella Lozada, who served as club president this past school year. "I'm thankful to all our members for their dedication and to everyone in the community who supported these organizations that create meaningful impact."
Sisters on the Runway fights for solutions to domestic violence by educating peers and community on healthy relationships, supporting similarly aligned organizations, and (aside from a pandemic hiatus) running its annual fashion show fundraiser.
At this spring's show, the students packed the room with friends, family, and community supporters and used the opportunity to raise awareness not only about domestic violence but a whole spectrum of current, mostly youth-led social movements, from climate change to racial justice.
"It was great to see everyone come together, raise awareness of important issues, and help our local community," said Junee Manandhar, the club's rising co-president. "I hope more people now know about resources in Cambridge like Transition House and Cambridge Women's Center, so they or someone they know can access them when they need to."
We are so impressed by the youth leaders at Sisters on the Runway and congratulate them for standing up against entrenched issues in our community and igniting awareness and change.