Published On: February 16th, 2022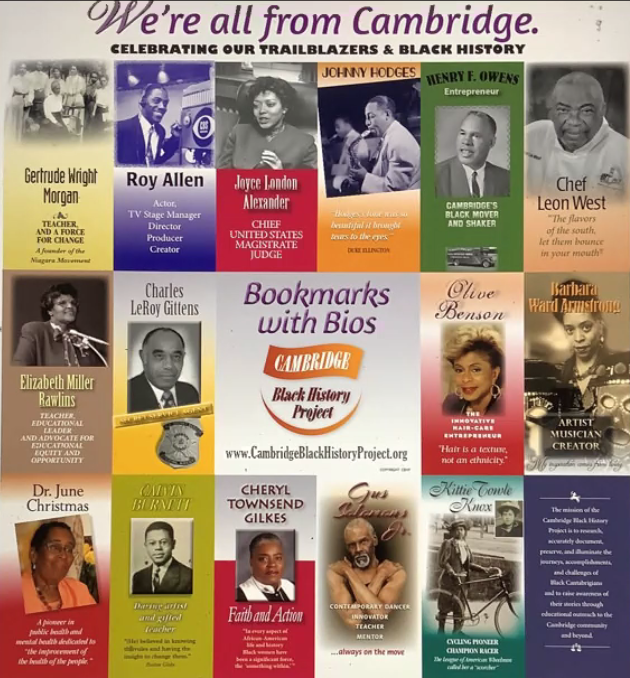 A snapshot of the Cambridge Black History Project's Black Trailblazers bookmarks, designed by Cambridge Cultural Visionary Frank Lucas.
This Black History Month, we're following and lifting up Cambridge nonprofits – whether they help educate our community on Black trailblazers who came before us or are blazing their own paths to support the Black leaders of tomorrow. We're grateful to each of these organizations – and many more not listed here – for their visionary and critical work year-round to honor our past and move us toward an equitable, just Cambridge today.
Honoring History
Black History in Action for Cambridgeport based at St. Augustine's African Orthodox Church, offers recordings of all its past podcast episodes with experts on local Black history including a conversation with Dr. Kerri Greenridge on a people's history of Black Cambridge and Boston. Watch the episodes.
My Brother's Keeper Cambridge Task Force each day throughout February is paying homage to Black icons in our city. Follow their Instagram as they recognize beloved Cambridge leaders, educators, and trailblazers of past and present.
Cambridge Black History Project is the all-volunteer organization that illuminates the contributions of Black citizens to the history of Cambridge. They created the Cambridge Black Trailblazers bookmarks, designed by Cambridge Cultural Visionary Frank Lucas, as well as a virtual walking tour of African American Women of 19th Century Cambridge such as Maria Baldwin, Charlotte Hawkins Brown, and Harriet Jacobs. This fascinating walking tour was made in partnership with a history department course at Harvard College.
History Cambridge has compiled a rich and comprehensive Early Black History Resource Hub with a wide range of learning opportunities made available by Harvard University, Tufts University, Cambridge Historical Commission, and more. Another great History Cambridge resource is their self-guided walking tour of the Caribbean community in the Port.
Creating new paths
Community Art Center has been an anchor in the Port community for more than 80 years, making quality art education accessible to children and youth in the neighborhood. CAC's teen artists organize Do It Your Damn Self!!, the longest running (25 years!) youth-produced film festival in the country. Also, you can find murals by CAC Teen Public Art Program artists all around Cambridge, from Kendall Square and MIT to River Street, Starlight Square, Harvard Square, and more – view the map!
The Loop Lab is a BIPOC-led nonprofit training young people of color for jobs in audio/visual and media arts fields and connecting them to career opportunities. Last year, thanks to their new, second space in Kendall Square, the organization's capacity expanded, too, to support even more emerging creative workers. Watch some of the amazing video work produced by their studios.
Innovators for Purpose is a movement for educational equity, providing diverse Cambridge youth with opportunities to engage with innovative technology and develop a critical lens on their world. Their latest report, 2 Blocks, was beautifully written and illustrated by the iFp teens to share their perspectives on how Cambridge schools can help students become innovative, curious learners prepared to pursue innovation careers in Kendall Square and beyond. If you care about education in Cambridge, this is a must-read.
Front Porch Arts Collective is a Black, nonprofit theatre company committed to advancing racial equity in Greater Boston through theatrical arts. Their upcoming production, Ain't Misbehavin', will be performed at Central Square Theatre this spring, and their fall production Queens Girl in the World earned a glowing Boston Globe stage review. They run a Young Critics Program to help foster the next generation of arts critics, and are currently exploring more community engagement programs – be sure to follow them!