Published On: September 6th, 2018
Brownies for Immigrant Legal Defense
Meet Amanda Formica, a new CCF donor
The people of Cambridge answer the call for donations when it comes to supporting people who are being oppressed or are in need, Mayor Marc McGovern recently said, adding: "That's part of who we are as a caring community." We agree. To date, more than 250 people have donated to the Cambridge Legal Defense Fund for Immigrants. Amanda Formica, a graduate student at Tufts is one of our new donors. Amanda attended our CCF Forum, Lives in Limbo, on June 27th and after hearing more from local scholars and lawyers, she wanted to help.  She organized a bake sale in Harvard Square in August and with the help of Caroline Hedberg, fellow graduate student in international affairs at Fletcher, and Katharina Quecke, a local artist, she raised $350 for the fund.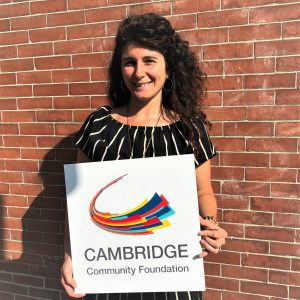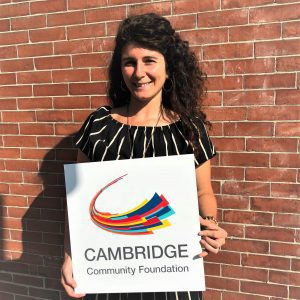 How did you get involved with CCF?
I met CCF staff at the Central Square Flea this summer. I was interested in the Cambridge Legal Defense Fund for Immigrants because of my background in immigration (I spent four years in El Paso, Texas, volunteering in a migrant shelter, and later in Mexico).  CCF staff invited me to the Lives in Limbo Forum on June 27 and I was really interested in seeing the speakers lined up for the event.  I think it's really important that community foundations convene events like this, bringing the different stakeholders together, and I was excited to see that in action.  And more personally, I feel that it is important to give back to a community that helped make me who I am today.
What did you take away from the CCF Lives in Limbo Forum?
After hearing the different statistics and info from the expert speakers, people, lawyers, working directly on these issues, I wanted to do something.   I could donate money, but I thought it was better to organize something so I could bring in more than I could as an individual and spread the word to more people. A bake sale seemed like the easiest thing to do, in terms of time and commitment.
What did you hear from the community at the bake sale?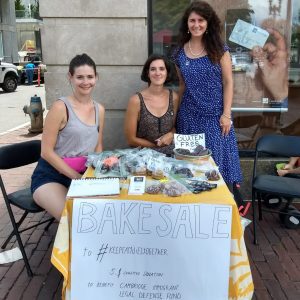 It was nice to be part of the fabric of the neighborhood. Every single person was positive.  One young woman was from Puerto Rico and her Dad's wife was an immigrant trying to normalize her status.  She said it has already cost over $22,000 dollars and she still hadn't completed the process successfully.  It's been a major financial burden on the family. Another construction worker gave $25 and took a few brownies, and then he came back for a few more for another $20.  He didn't want anything else. He just thanked us for being there.
What interests you about community foundations?
I like that community foundations are transparent.  They can be much more democratic and much more driven by what communities actually want; the path of influence is very clear.  I know there are areas of the world and our nation that don't have many funding opportunities, and there you can see the importance of giving circles and helping people see how we can have access to wealth in an equitable way.