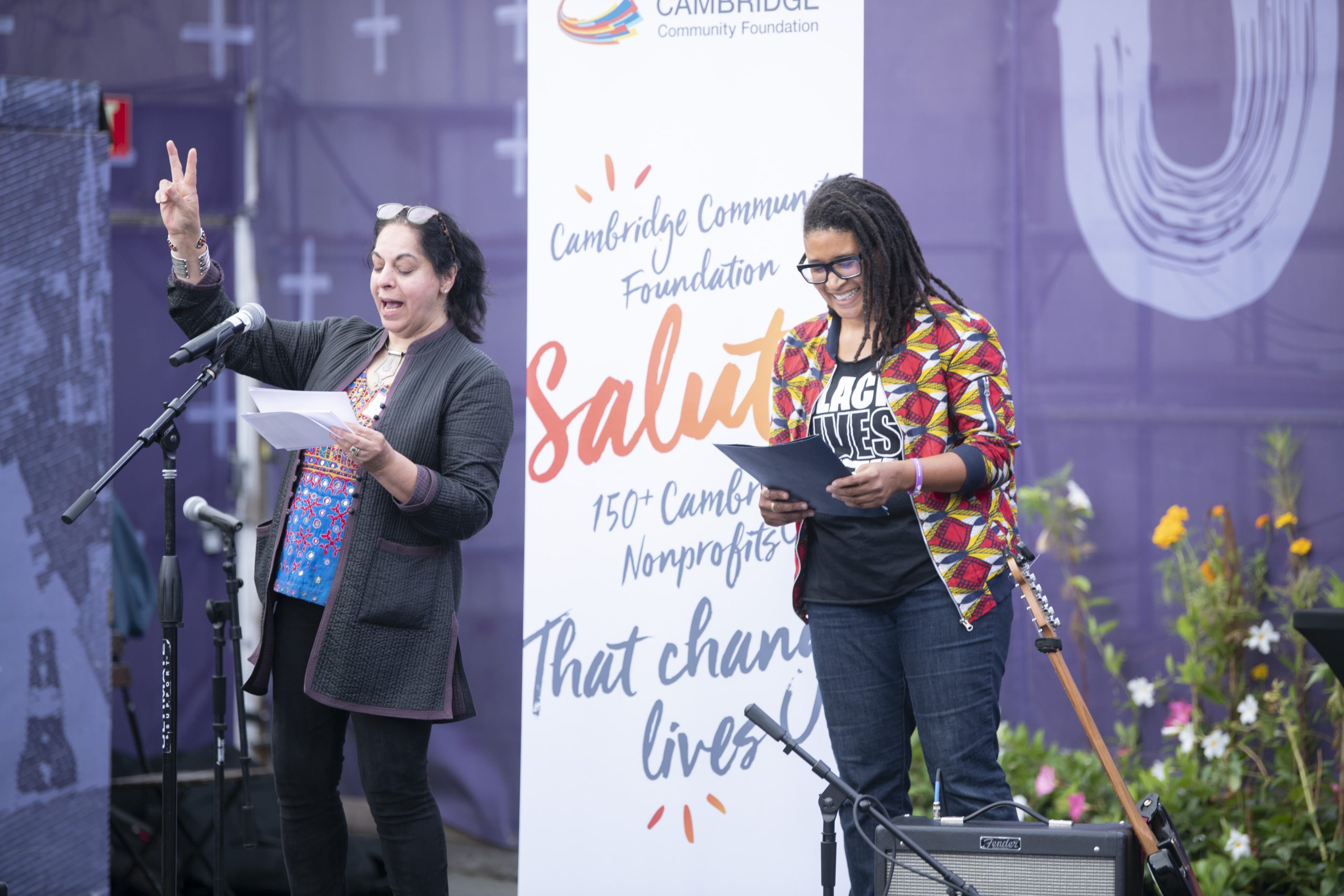 Geeta Pradhan and Ashley Herring speak at CCF Salutes, October 15 in Starlight Square. (photo by Tony Rinaldo)
$25,000 

goes to

 grassroots projects tackling social problems

 
At a lively celebration of the city's nonprofit sector in Starlight Square on Friday, October 15, the Cambridge Community Foundation announced five winners of its third annual Imagined in Cambridge! Social Innovation Award and nearly tripled its investment in this year's grassroots solutions to big social problems with a $5,000 grant to each winner. 
The 2021 winners are: 
HEART Jr.:

 an idea for peer-to-peer mental health supports, including safe spaces and training, created by a 10-year-old Kennedy Longfellow elementary school student who saw friends struggling with internal and interpersonal conflict and brought her idea to the school principal, gaining her full support; 

 

The Triggered Project Presents Watch, Talk, and Heal

: an actor's proposal for mental health supports for Black boys and men who are survivors of abuse that uses art to heal and build community; 

 

R.O.C.K. (Remembering Our Cambridge Kids and Kin): 

a healing

 

program for supporting grieving Cambridge families impacted by community violence

and by suicide created by a mother who had to find support outside of the city following the violent death of her daughter and wants to make sure others can find support within their community; 

 

Cambridge Bike Give Back

: a volunteer effort spearheaded by two Cambridge men who collect donated bikes, fix them, and give them out for free to anyone who needs them – begun as a way to give back to their community after George Floyd's murder; and 

 

GenUnity:

 

A civic leadership training program created by recent Harvard graduate students to support diverse adults, especially those from underrepresented communities, to overcome structural barriers to civic engagement – like uncompensated time, poor civic education, or obscure governmental decision-making processes – and drive systems change.

 
"We launched our Imagined in Cambridge! Social Innovation Award competition three years ago to support impressive grassroots innovators in our community who draw on lived experience and take action," said Geeta Pradhan, president of the Cambridge Community Foundation. "As a city defined by innovation and in an era of change and racial reckoning, it's an important time to surface new ideas and original ways of thinking about emerging and age-old problems." 
Three winning ideas tackle mental health, a top need in Cambridge reported in the 2017 Cambridge Needs Assessment that has only deepened since the pandemic. According to a national report from Mental Health America, youth mental health is worsening, with those identifying as more than one race ranking among the highest at risk, and mental illness in adults increasing. Sixty percent  of youth with major depression did not receive any mental health treatment in 2017-18. The other two winners empower people from all racial and socio-economic backgrounds through free bikes and civic leadership training that comes with a stipend. (For individuals juggling responsibilities at home and work, possibly more than one job, uncompensated time is a huge barrier to civic engagement or trainings.)  
Ashley Herring, last year's Imagined in Cambridge! first prize winner and founder of blackyard, a creative co-op for Black and multi-racial youth and teenagers, announced this year's winners to a crowd of Cambridge nonprofit leaders, staff, and civic leaders. 
"It doesn't matter how old you are, how big your idea is, if you experienced troubles that make you feel worthless; you're not worthless, you have something to offer to yourself and community," said Herring. "We all have the potential to be innovators. But these exceptional people have taken on the challenge and will create ripples that bring great change to their communities. It takes a lot of work and sacrifice to do what they are doing, and we need to support them." 
This year, all award amounts were increased to $5,000. (Previously the winner received $5,000, with $1,000 awarded to four runners-up). In addition, the Foundation launched an Imagined in Cambridge! Fund in January 2021, which benefited from the early support of Verizon, and two Cambridge families. To date, the fund has provided 28 microgrants totaling $14,000 to past applicants of the Imagined in Cambridge! Social Innovation Award. These $500 microgrants have been used to cover a wide range of costs that grassroots innovators often face, like website improvements, social media and marketing, stipends for volunteers, and more. The projects supported include a civic engagement workshop and podcast, public art projects, mentorship programs, and a range of other community-centered efforts. In line with the Foundation's century-old mission of creating a more equitable and just Cambridge for all residents, this ever-growing group of creative, local entrepreneurs has something important in common with one another and the nonprofit ecosystem in Cambridge: a commitment to improving the community. 
"Cambridge is Cambridge because of our nonprofits," said Pradhan to the crowd of nonprofit workers, who gathered together for the first time in two years to celebrate their sector. "I strongly believe that our nonprofits are our true representatives of the community. You have been here for the longest time, have the trust of the people, and are the closest to our community, and you never stop fighting for it. Thank you for all you do for Cambridge." 
About the 2021 awardees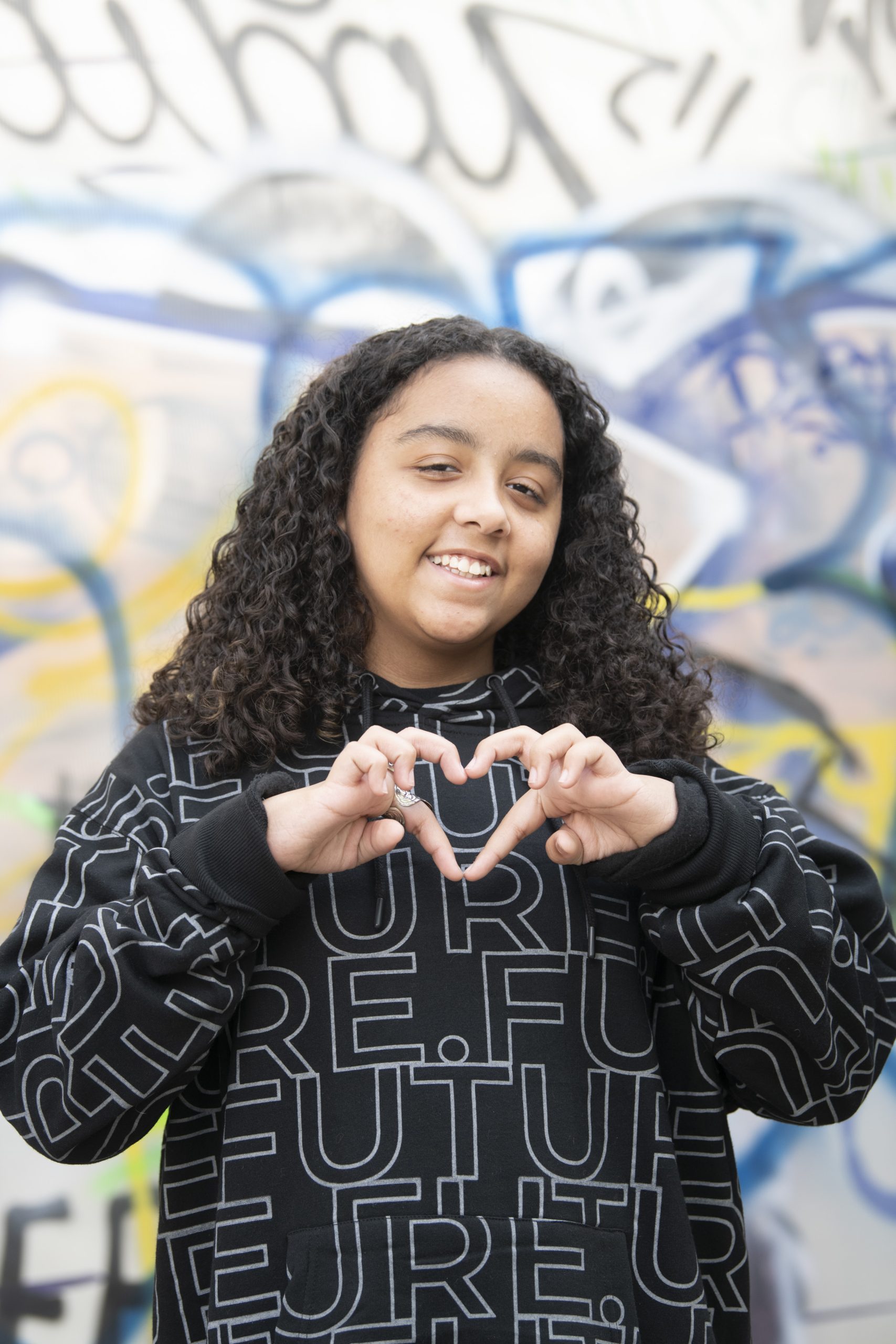 Aviana Dupee.
HEART Jr.: Kennedy Longfellow 5th grader Aviana Dupee saw many of her peers experiencing depression, bullying, and conflict. Kids her age, she believes, are suffering but are not always taken seriously by adults and/or don't have access to mental health programs like ones offered for middle school and high school students. That's why Aviana is launching HEART Jr., using a peer-to-peer model to create a safe space in her elementary school where kids can learn coping mechanisms, how to handle conflict, share emotions, have a fun time together, and feel better about themselves.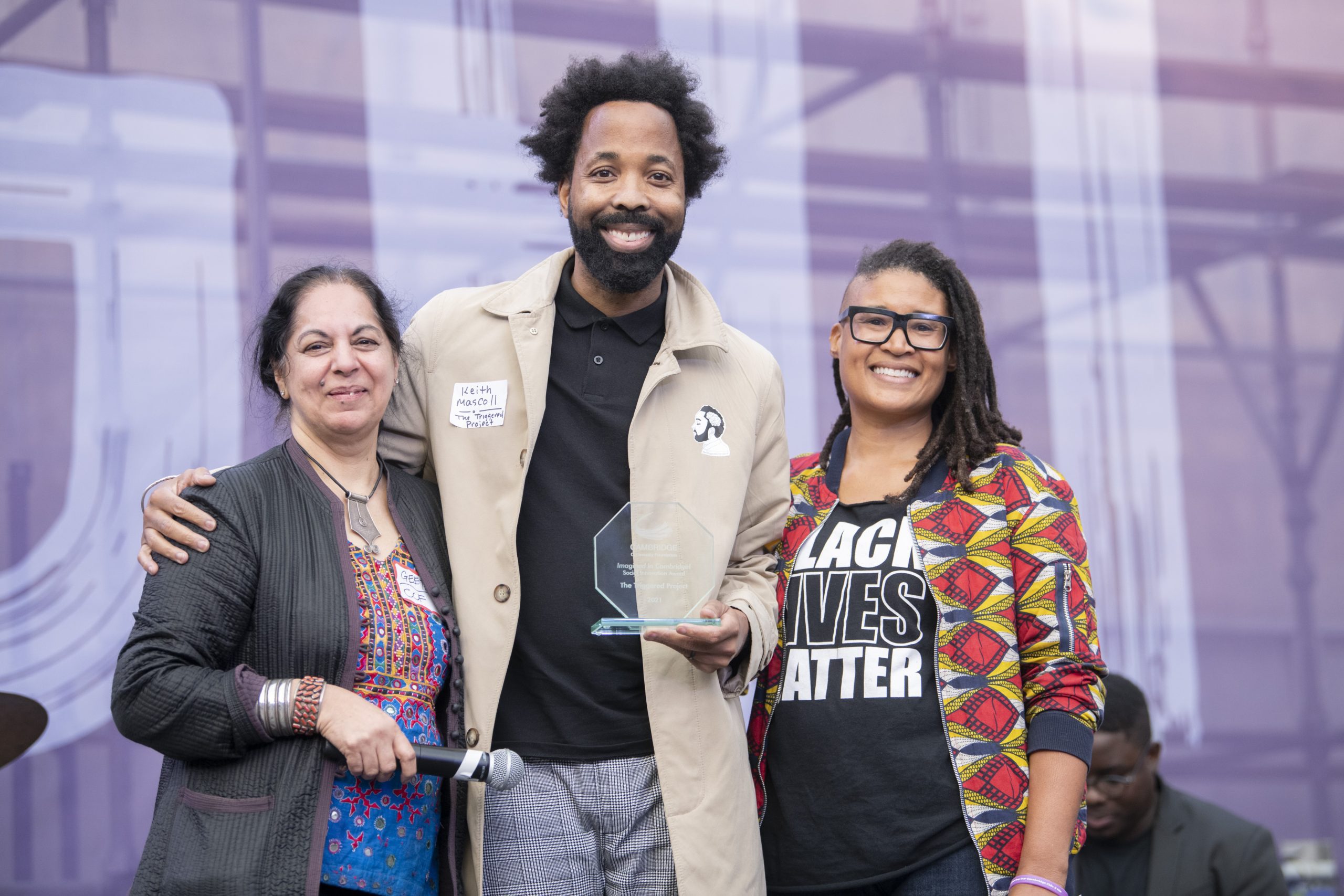 Geeta Pradhan, Keith Mascoll, Ashley Herring.
 The Triggered Project Presents Watch, Talk, and Heal: Keith Mascoll is a dynamic Cambridge actor, producer, and mental health advocate who is founding this project to address something Black and Brown men and boys don't talk about—abuse and mental health—and nurture healing through the use of art. Through interactive performances, he is getting a multigenerational community, but especially youth, to open up into discussion, channel their pain into creativity, and get access to the mental health supports they need.  Learn more on their website.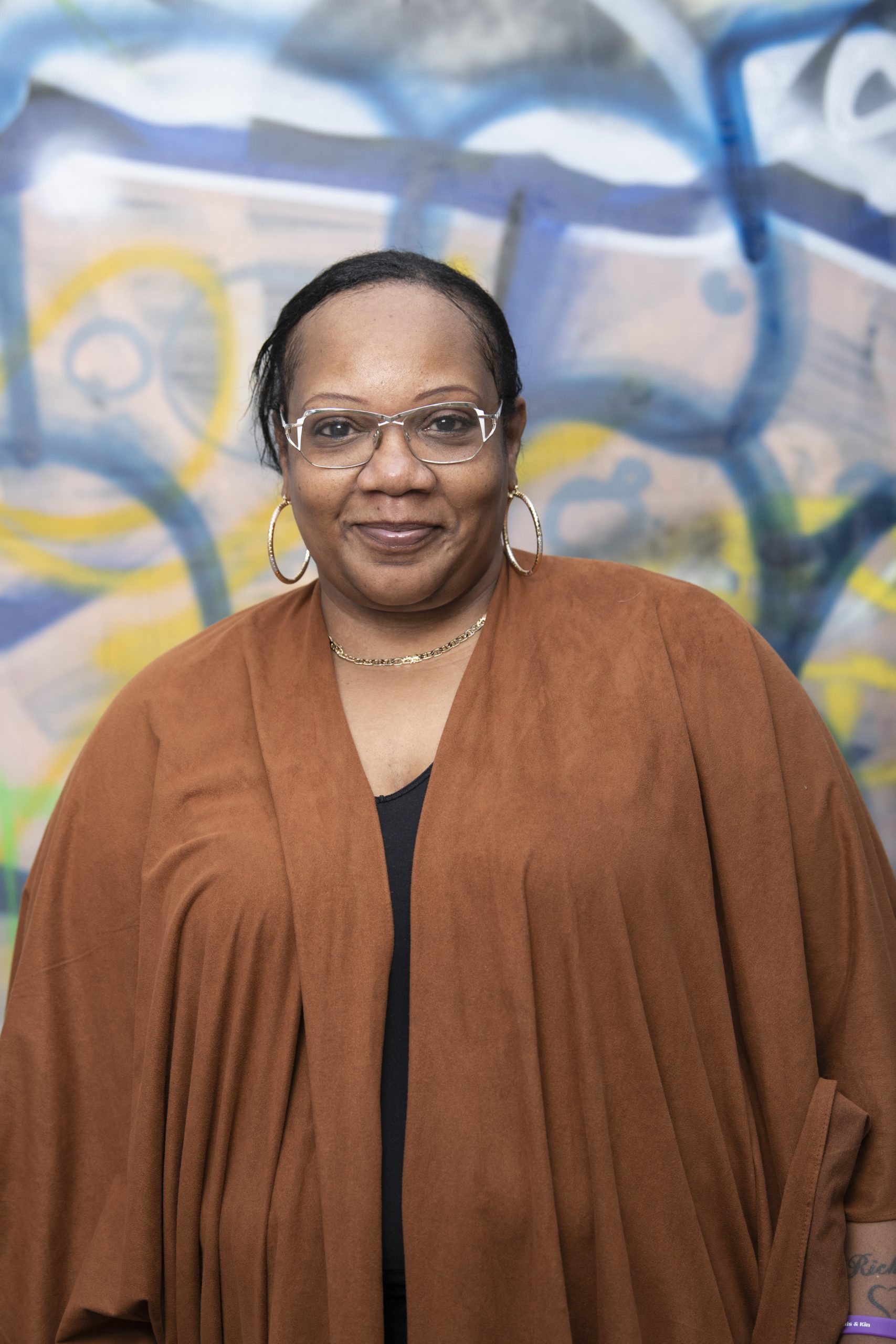 Celia Wilcox.
R.O.C.K. (Remembering Our Cambridge Kids and Kin): R.O.C.K.'s creator, Cambridge mother Celia Wilcox, devastatingly lost her daughter Richelle Robinson to street violence in 2018. For a long time, Celia felt alone in her grief in Cambridge and had to seek support in Boston and beyond. Out of this experience, she started R.O.C.K. to build a Cambridge healing community for families and friends affected by community violence and suicide. She will be creating workshops that address topics from bullying, suicide, and domestic violence prevention to recognizing mental illness and holding healing circles and support groups.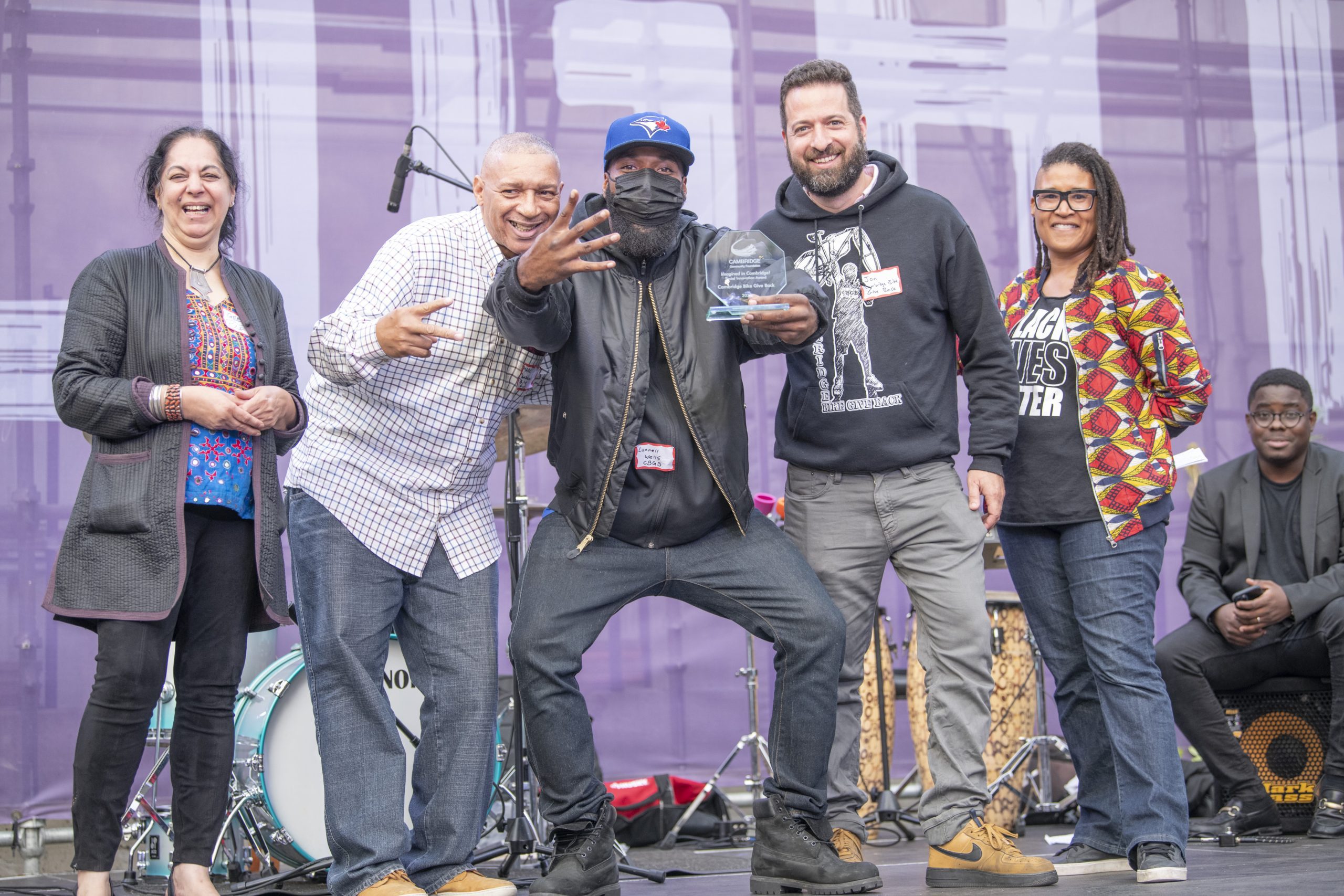 Left to right: Geeta Pradhan, Marc Roberts, Lonnell Wells, Jon Anjaria, Ashley Herring
Cambridge Bike Give Back: In the wake of George Floyd's murder, Cambridge-born Lonnell Wells wanted to do something good for their community, specifically The Port neighborhood. He started to collect old, unwanted bikes, repair them, and give them out for free to local kids and anyone who needed them, and added friends Marc Roberts, Jon Anjaria and other volunteers to the effort. Over the past year, they have given out 350+ free bikes and have set up a repair studio at CambridgeSide. Recently, one of their free bikes enabled a formerly incarcerated man returning to the community with the transportation he needed to find and keep a new job. 100% powered by volunteers, CBGB turns bikes into vehicles for change. Learn more on their website.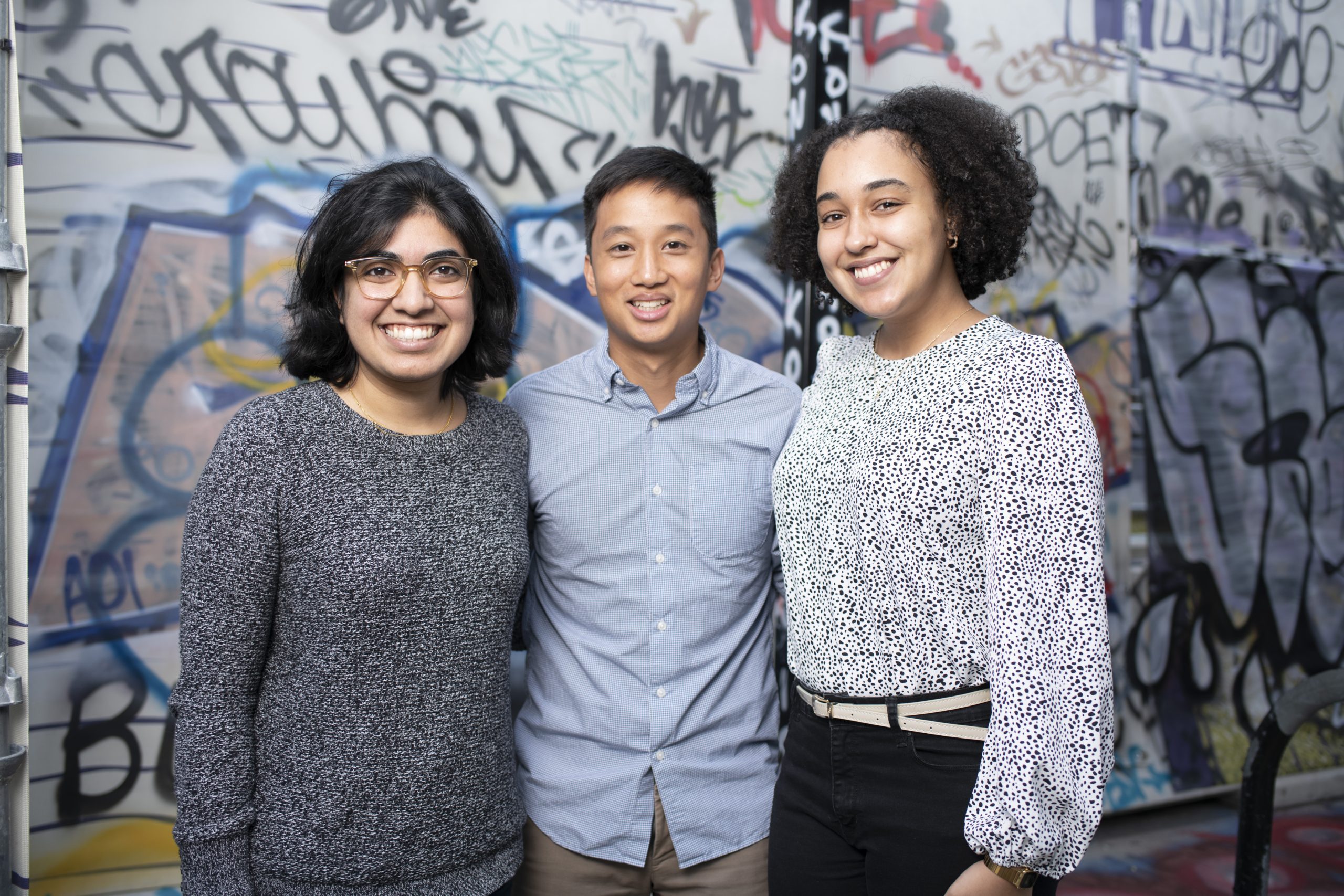 Left to right: Nimisha Ganesh, Jerren Chang, Gina Morales-Taveras
GenUnity: To tackle local issues – from housing to health equity and racial justice, we need everyday people, who stand in solidarity with the community's needs and use their power to push for justice. But, many people, especially from underrepresented communities, face structural barriers, like uncompensated time, poor civic education, or obscure decision-making processes, that limit them from exercising their power as community leaders. GenUnity's 3-month, 2-3 hour/week community leadership programs support diverse adults to learn a 'civic practice' – unpacking local issues and taking action to drive change. GenUnity's model centers diversity and equity, including recruiting a diverse cohort and providing stipends to support members who otherwise wouldn't be able to participate. Founders Jerren Chang and Nimisha Ganesh are recent HKS and HBS graduates who live in Cambridge.  Learn more on their website.
More about the Imagined in Cambridge! Social Innovation Award:
Recipients were selected unanimously by a judging panel, including: Cambridge Vice-Mayor Alanna Mallon; C.A. Webb, president of Kendall Square Association; David Parker, CEO of Entrepreneurship for All; Debbie Bonilla, co-founder of Friday Night Hype (one of last year's Imagined in Cambridge! Award winners) and founder of The Spot; and Erin Muirhead McCarty, executive director of Community Art Center. The process was guided by Lori Lander, artist, co-founder of Many Helping Hands 365 and Cambridge Community Foundation Board member.  
All photography by Tony Rinaldo.