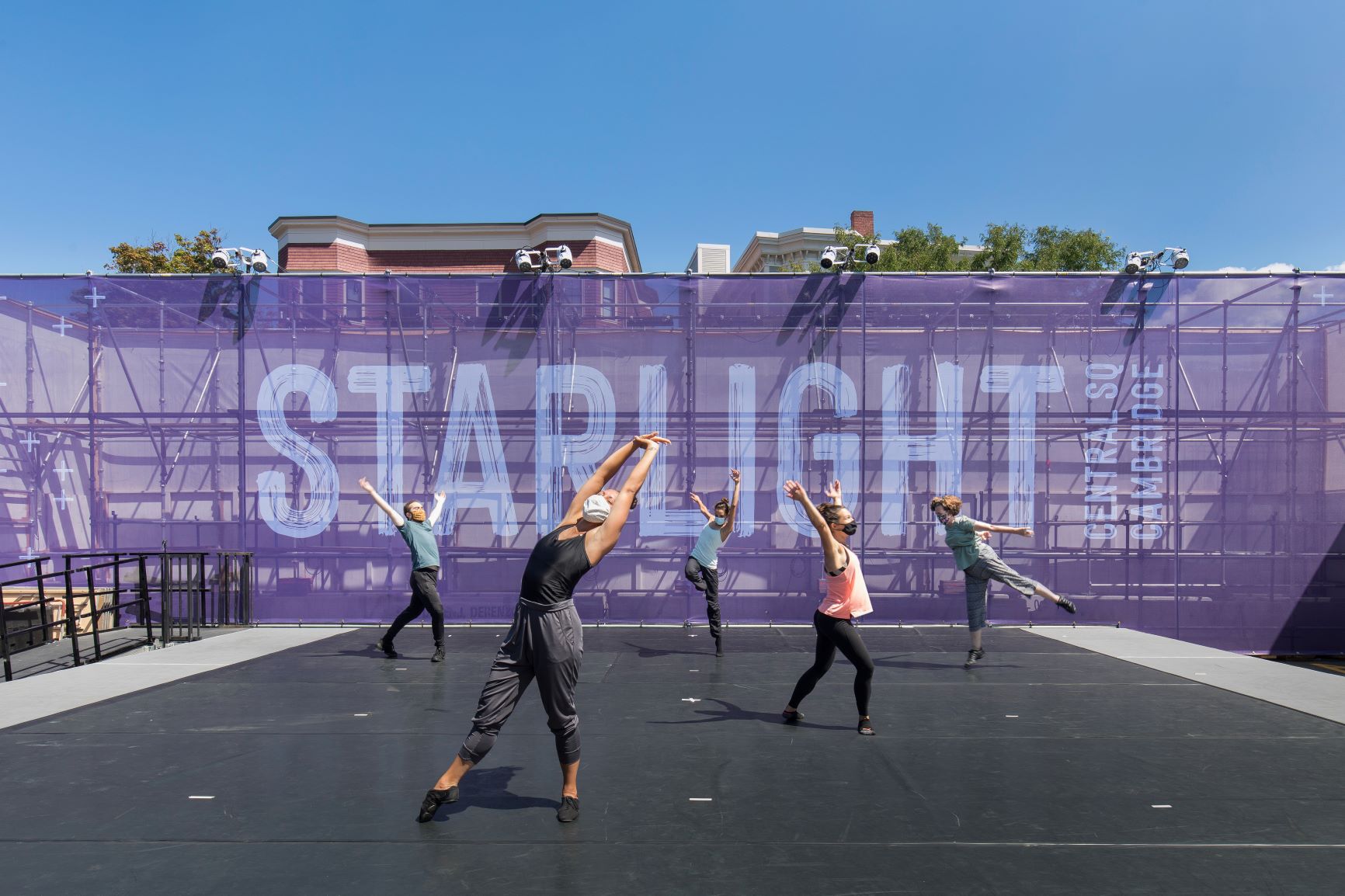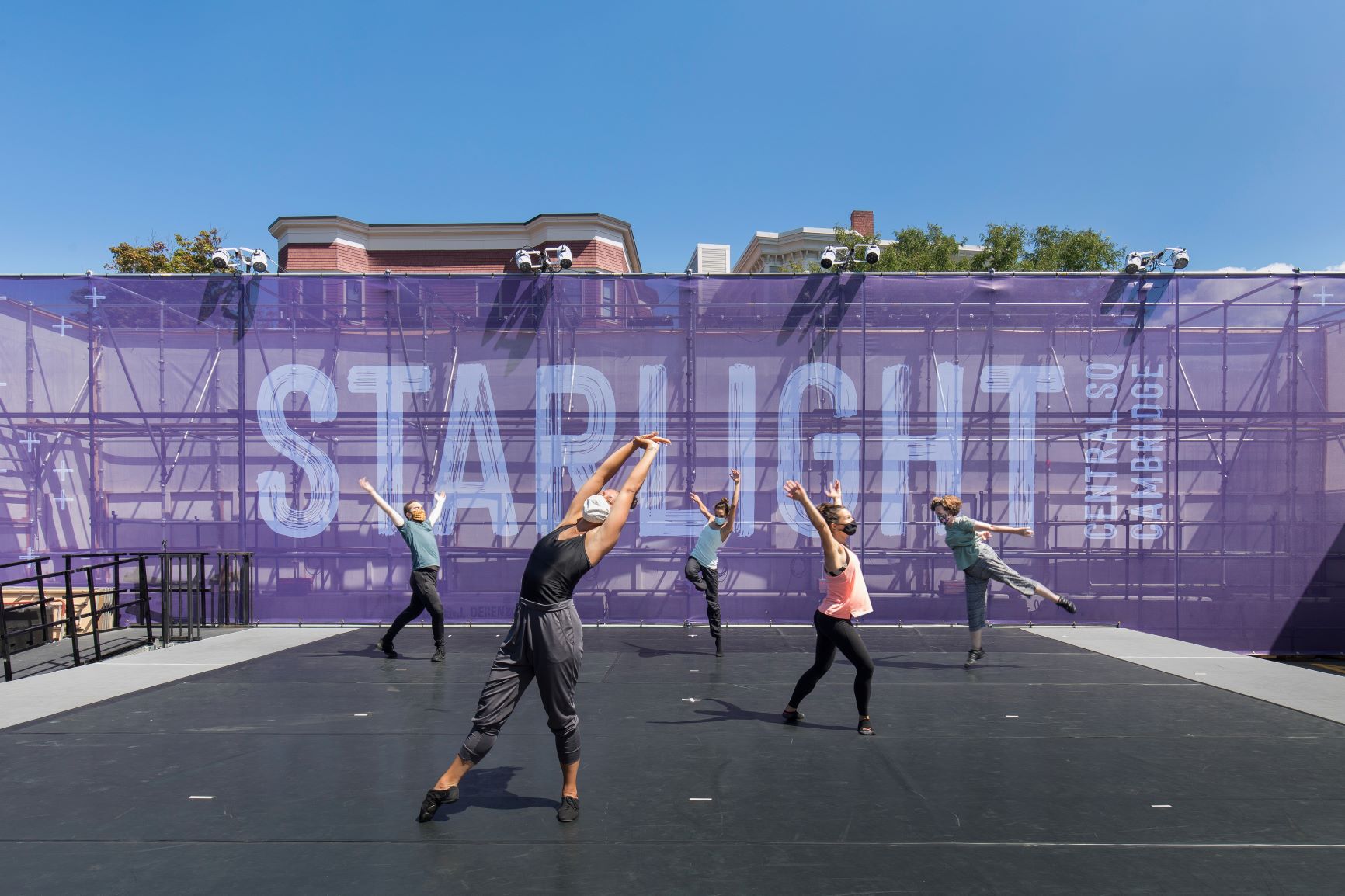 Photo courtesy of the Central Square Business Improvement District.
October 28, 2020—Cambridge, MA 
The Cambridge Community Foundation and the City of Cambridge have joined forces to launch a new Cultural Capital Fund with grant funding of over $600,000 to address urgent needs in the local arts and culture sector due to the COVID-19 pandemic as an initial step. The Foundation also commits to building an endowment for the arts and culture sector, targeting $5 million over five years, to protect the city's cultural richness over the long term. 
The City has allocated $500,000 from the Mayor's Disaster Relief Fund to provide grants to local arts organizations of up to $25,000 for capital improvements necessary due to the COVID-19 pandemic and up to $10,000 for operations and programming during the COVID-19 pandemic through the new Fund. The Foundation has also received a $100,000 gift from the Wagner Foundation, a long-time supporter, to address urgent needs in the local arts and culture sector, with a focus on the Central Square Cultural District. The Cambridge Community Foundation will begin accepting grant applications from organizations on October 28 and expects to distribute first round grants by mid to late November. 
The new Cultural Capital Fund, is Cambridge's first, central channel for donors and other stakeholders to pool their resources into a common purpose: provide immediate support to arts organizations at risk due to the COVID-19 pandemic and to protect the viability of the arts ecosystem for years to come.  
"We're incredibly fortunate and extremely thankful to have the City of Cambridge's partnership and the Wagner Foundation's support in addressing the urgent needs of our arts organizations who are near closure due to the pandemic," said CCF President Geeta Pradhan. "This work is a testament to the fierce commitment to our City's cultural vibrancy that we've seen in our residents' advocacy and our City's leadership, including Mayor Siddiqui, City Manager Louis DePasquale, Vice Mayor Alanna Mallon, and Jason Weeks, executive director of Cambridge Arts. We invite our donors and partners to join us in supporting these organizations and creating a lasting endowment to support the vitality of Cambridge's arts and culture sector for years to come."   
"We are grateful for the partnership of the Foundation and our residents who have joined us in supporting Cambridge's arts and culture organizations and nonprofits, when they need it the most," said Cambridge City Manager Louis A. DePasquale. "Cambridge's nonprofits, small businesses, and the arts and culture organizations contribute deeply to our City's economic wellbeing and vibrancy. We will continue to invest in these sectors and forge and maintain partnerships, like our longstanding one with the Foundation, to keep these core pieces of Cambridge's identity alive and well."  
The new Fund builds on the work of the Cambridge Artist Relief Fund, an emergency fund formed by the Foundation in March 2020 with significant support from the City and more than 100 local donors, to address urgent needs in the arts sector. 
In addition to continuing to address urgent needs due to the COVID-19 pandemic, the Cultural Capital Fund will help strengthen and sustain our arts and culture ecosystem, foster creative placemaking with a focus on our cultural district, and invest in the next generation of Cambridge's cultural creatives.  
"In addition to being drivers of economic activity, our arts and culture organizations are a core component of our community that we rely on, especially now, to bring us joy, connection and healing. As a City, I know we will work together to help keep our arts sector strong through these trying times, ensuring every child and resident in Cambridge has the opportunity to be inspired and engage with the world creatively," said Cambridge Mayor Sumbul Siddiqui. "I thank the Cambridge Community Foundation for their partnership, and Vice Mayor Alanna Mallon for her work elevating the arts and culture sector in our city through her leadership in the Arts Task Force." 
Over the first four months of the pandemic, the Foundation received a $75,000 gift contribution from the City of Cambridge toward a total raised and awarded of just over $270,000 through the Cambridge Artist Relief Fund, providing grants to 270 artists and groups, who were among the first workers to lose their livelihoods, and 37 Cambridge-based arts organizations, which had to suddenly close their doors.  
Grantees included dancers and musicians, instructors and choreographers, photographers and painters, writers and playwrights, jewelry makers and sculptors,  street performers and fashion designers—and many more. The arts organizations supported included cultural hubs and employers of artists,  such as studios, education providers, theaters, orchestras and other performance groups.  
At a time marked by the economic devastation of the Pandemic and a national racial justice reckoning, the Foundation has made supporting BIPOC (Black, Indigenous, and People of Color) artists and BIPOC and women-led arts organizations advancing racial justice in communities a special focus in its grantmaking and will continue to do so through the Cultural Capital Fund.  
"Supporting the local arts organizations that sustained us before, and during the COVID–19 pandemic is critical to the future of arts and culture in Cambridge, and to a strong economic recovery. Arts organizations were the first to close in March and will be among the last to open their doors. Without this financial support from the City, and other donors, we can expect sector-wide closures with staggering ripple effects to ensue," said Cambridge Vice Mayor Alanna Mallon. "I'm incredibly excited that the City has partnered with the Cambridge Community Foundation as the first major donor to their Cultural Capital Fund, which is intended as a long–term sustainability solution for the arts in Cambridge." 
In creating the long-term endowment for the arts and culture sector, the Foundation draws inspiration from its Cambridge Cultural Visionaries, a diverse and talented group of artists and creators who unanimously credit the city with fostering their creativity. 
About the Cambridge Community Foundation: The Cambridge Community Foundation (CCF) is the local giving platform for Cambridge supporting our city's shared prosperity, social equity, and cultural richness, with roots that go a century deep. A grantmaker, philanthropic partner, and civic leader, the Foundation connects sectors across the community to highlight emerging and critical needs and catalyze efforts to ensure resources are focused where they can make the greatest difference. CCF and its donors distribute $1.3 to $1.5 Million in grants to local nonprofits each year. This year, in addition to distributing grants to 150 nonprofits serving the Cambridge community involved in human services, workforce training, housing, hunger, homelessness, elder services, youth and early childhood services, education, the Foundation raised and distributed an additional $1.9 million in COVID-19 relief funds and distributed them through several efforts. In March 2020, the Foundation established the Cambridge COVID-19 Emergency Fund and the Cambridge Artist Relief Fund raising over $1.2 million in partnership with its donors. Within four months all dollars raised were distributed to 1,475 individuals, families, and artists; 27 nonprofits offering cash assistance to our vulnerable populations; and 36 arts organizations. The Foundation also partnered with the Massachusetts COVID-19 Relief Fund, distributed $695,000 in grants supporting nonprofits in Cambridge, Somerville, and Medford. Its initiative Feeding Our Hometown Heroes funded the delivery of 4,000 local, nutritious restaurant meals to overworked frontline hospital staff spring 2020, while supporting restaurant workers affected by COVID-19. Through its annual Imagined in Cambridge Social Innovation Award, CCF supports the next generation of emerging social innovators.  
About the Mayor's Disaster Relief Fund: The Mayor's Disaster Relief Fund collects and distributes donated funds to provide relief to the City of Cambridge in times of disaster. In response to the public health crisis created by the COVID-19 Pandemic, the Mayor's Disaster Relief Fund is providing emergency assistance to residents, small businesses and arts organizations in Cambridge who are experiencing financial hardship caused by current Pandemic–related issues.  
Contacts: 
Lauren Marshall, director of Marketing and Civic Engagement, Cambridge Community Foundation
[email protected]; 617-872-6543 
Lee Gianetti, director of Communications and Community Relations, the City of Cambridge
[email protected]; 617-349-3317