Published On: May 2nd, 2023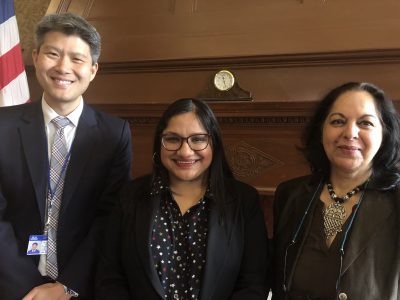 City Manager Yi-An Huang, Mayor Sumbul Siddiqui, and Geeta Pradhan
When the Foundation looks at problems in Cambridge, we seek big, bold solutions.
That's why we partnered with the City of Cambridge to develop the program for Rise Up Cambridge, the first non-lottery cash assistance program in the country supporting all eligible families at or below 250 percent of the federal poverty line. Cambridge has about 1,200 families with children living at or below 100 percent of the federal poverty line and this program takes a big leap forward in stabilizing our poorest families.
The new program, announced by the City of Cambridge May 2, will offer $500 a month for 18 months to 2,000 families with children in Cambridge, with payments beginning July 1. Working with the City and our community partners, CCF helped design the program, the implementation plan, and communications strategy, and will be measuring the impact over the life of the program. Applications open June 1.
"We have always seen the role of the Foundation to address our most challenging problems, and we do our work through partnerships," said Geeta Pradhan, CCF's president. "In this case the City, the Foundation and our community partners saw the opportunity to make measurable impact on the lives of the people who need it most. While there are other guaranteed income programs, this one is unique – it will serve every eligible family that applies for funds."
Through Rise Up Cambridge about 7,000 people, of which more than half are children under the age of 21, will have additional funds to help with whatever their families need.
Cambridge is a high-cost city. According to the Economic Policy Institute, it costs $130,740 for a two-parent household with two children to live in Cambridge, and the 2023 federal poverty level for that household is just $30,000.
"The poverty standards in this country are unrealistic and outdated," said Geeta. "Our hope is that the data from this city-wide, non-lottery program, and the stories and insights that emerge will shed important light on the current poverty standards and shift the narrative on poverty and those who live in poverty."
"It is simply unacceptable that in the wealthiest country on earth, residents who work two and three jobs can't afford basic necessities," said Mayor Sumbul Siddiqui, "but we know that is the reality here in Cambridge. Families living in poverty simply do not have enough money to make ends meet and cash assistance changes that circumstance and empowers residents to decide how best to meet their financial needs and goals."
CCF first joined the guaranteed basic income movement in 2021 with Mayor Siddiqui to develop Cambridge RISE, a guaranteed income pilot program that provided $500 a month to 130 single caregivers for 18 months. The pilot ended in February 2023; families used the money to cover utilities and bills, childcare, and after school activities for children; some single mothers used the funds to pay for college courses and meet their career goals.
"The Cambridge RISE program showed community and philanthropy at its best – instigating change, innovating, and pushing a great idea forward," said Geeta. "These sorts of partnerships, that engage our city, our nonprofit partners, our universities – like Harvard and MIT — and business community, and generous donors — are essential as we tackle the big social problems our city faces."
For CCF, Rise Up Cambridge is an opportunity to help families move from scarcity to stability. Poverty is very complex, and the program offers a short-term respite for local families. But CCF is committed to working with our progressive city to identify great ideas and build up bold solutions and strategies rooted in dignity.