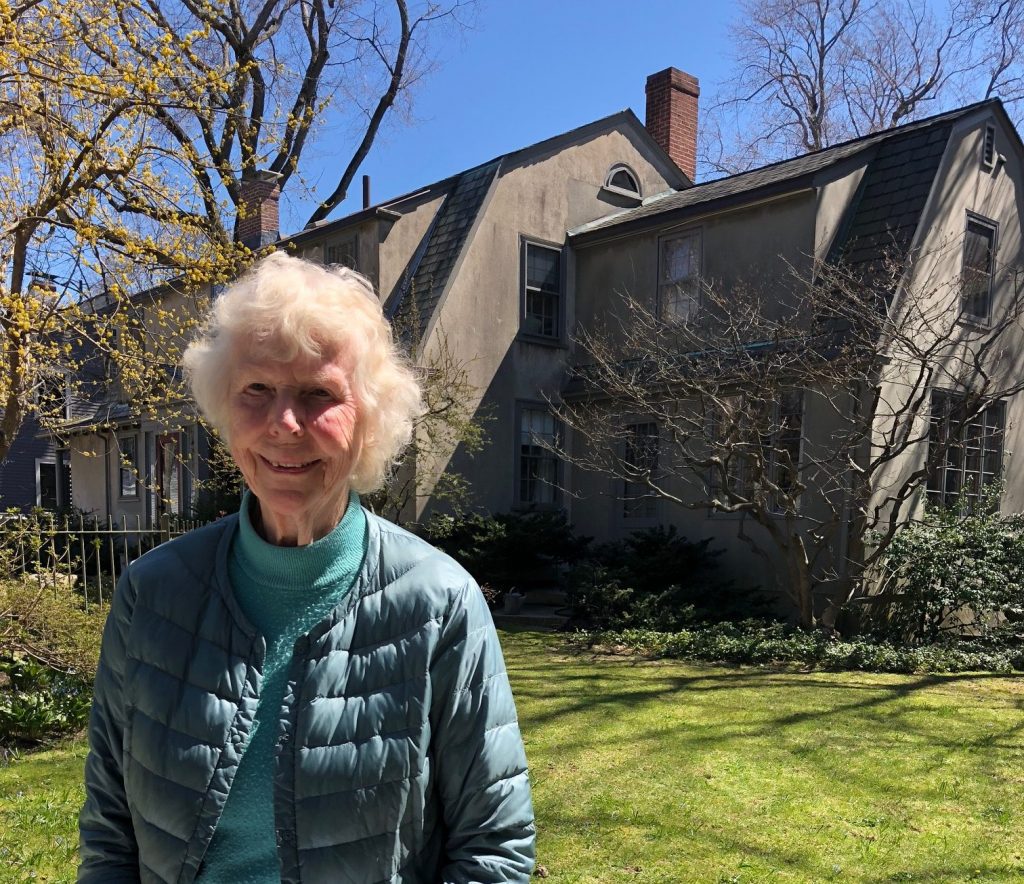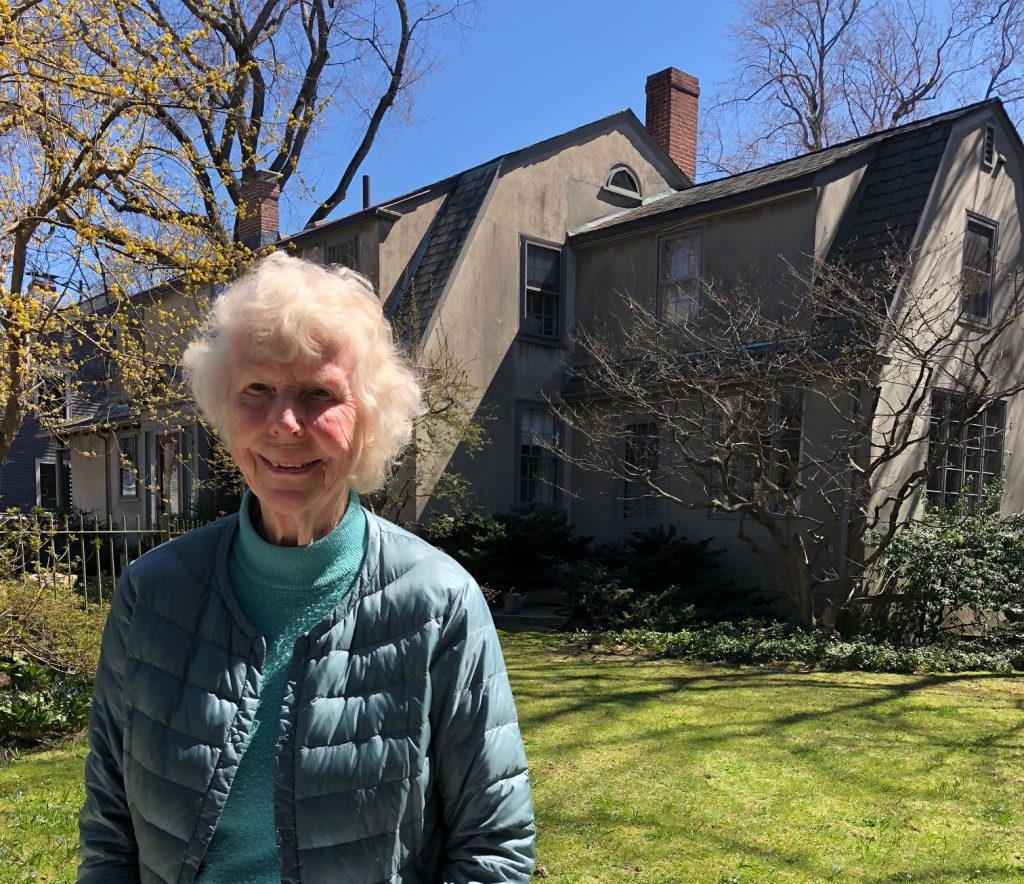 On May 16, at the age of 91, Patricia Ross Pratt, the Cambridge Community Foundation's President Emeritus, passed away due to pneumonia, leaving a legacy of community engagement and civic action that shaped Cambridge and the Cambridge Community Foundation as we know them today. 
To understand what Pat Pratt's dedication brought our community, look no further than the native meadows and trees of Fresh Pond Reservation; the vigor of the city's nonprofits and the active organization that the Cambridge Community Foundation has become; as well as the Patricia and Herbert Pratt Family Healing Garden at the Mount Auburn Hospital; and our city's cultural richness. 
A long-time supporter of the arts, last year Pat generously donated $10,000 in seed funding to create a Cultural Capital Fund at the Foundation, for immediate and long-term investments to support cultural richness in Cambridge. (The Cambridge Artist Relief Fund, which has supported more than 200 artists during the pandemic, was part of the effort.)  
Pat's energy, activism, and care for the world around her set her apart. 
"She was a shooting star, hard to keep up with," said her daughter Berit Pratt. "For someone like my mother, the English language doesn't do justice to the powerhouse, the energy field that she was. She set the bar extraordinarily high for the rest of us and mentored us to give back to our communities and to become better community members." 
Forging a new Foundation 
As CCF's first president and chair of the board of directors, Pat laid the groundwork for institutionalizing the Foundation. For 80 years a giving circle of residents collected funds and distributed them to the community. Pat put us on the path of moving away from distributing modest funds to becoming an institution that analyzed city needs and made investments that lead to impact for residents of the city. 
"We've taken Pat's spirit of civic leadership to heart to recruit a board and management team that is deeply engaged in the community, knows the community and is working with it in multiple ways. The combination of passion and action is part of the Foundation's core because of Pat," said Rick Harriman, chair of the board at CCF. 
Watch a video clip of Rick sharing his memory of Pat. 
A combination of passion and action 
It is said that more than one brilliant idea, nonprofit, and civic project was hatched in Pat's living room, where residents gathered to explore ways to better the city. For example, Cambridge At Home, now called Cambridge Neighbors, helps residents age in place at home. Pat was passionate about all things that embraced the city, had a contagious enthusiasm for people, and was a cheerleader with the result always in mind.  
"Pat often said "D.I.N.: Do It Now." She was a thinker and a great leader, but there was an urgency to her that was refreshing to work with in a community setting," said Rick Harriman, chair of the Cambridge Community Foundation Board of Directors. "Pat's characteristic passion and 'get it done' attitude inspire us all." 
Bob Hurlbut, who worked under Pat's leadership as Executive Director of the Foundation calls Pat "a quiet tower of strength and a civic and community builder." 
She served as a lifelong volunteer and board member to numerous organizations, including Mt. Auburn Hospital, the Museum of Fine Arts, Cambridge Art Association, Cambridge Conservation Commission, John F. Kennedy Memorial Park Committee, New England Wildflower Society, Cambridge Plant Club, Cambridge Plant and Garden Club, and Women's Action for Nuclear Disarmament (with whom she traveled the nation protesting radioactive waste and nuclear weapons). 
Greening Cambridge 
Pat was especially proud of the restoration of Fresh Pond Reservation. In the '60s she played a key role in the cleanup of Black's Nook, a small pond on the reservation, that, despite its proximity to Cambridge's water supply, was filled with refrigerators, tires, old cars, sofas, and more. Leading the Cambridge Plant & Garden Club, she convinced the city to clean up the site and created a plan to restore the pond and its environs, adding native plants, native trees, and wildflowers. She stayed involved in Fresh Pond throughout the decades, fighting to preserve public open space and playing a key role in raising funds and creating the naturalistic landscapes around Fresh Pond that we enjoy today. She also served on the committee that developed and implemented a master plan for Fresh Pond and was the first recipient of the first Fresh Pond Stewardship Award. 
When she sold her family's house at the corner of Craigie and Brattle Streets in West Cambridge in 1970, she and her siblings set aside part of the property to create a pocket park and fountain that today cools passersby on hot days. Pat was passionate about birds and pollinators and their habitats, leading her to encourage the city to use native tree species in its urban forestry program. Through her involvement in the city's urban tree planting efforts, she helped to grow our green canopy over the years. For the past 10 years, Pat was proud to maintain a colony of 60,000 honeybees in her Cambridge back yard. 
A long-time supporter of Mount Auburn Hospital, Pat became the lead donor of its long-talked about healing garden project. She played a key role in planning, design, and fundraising for the project, drawing on a 35–year career as a landscape designer and her love of gardens. The Healing Garden is slated to open this fall.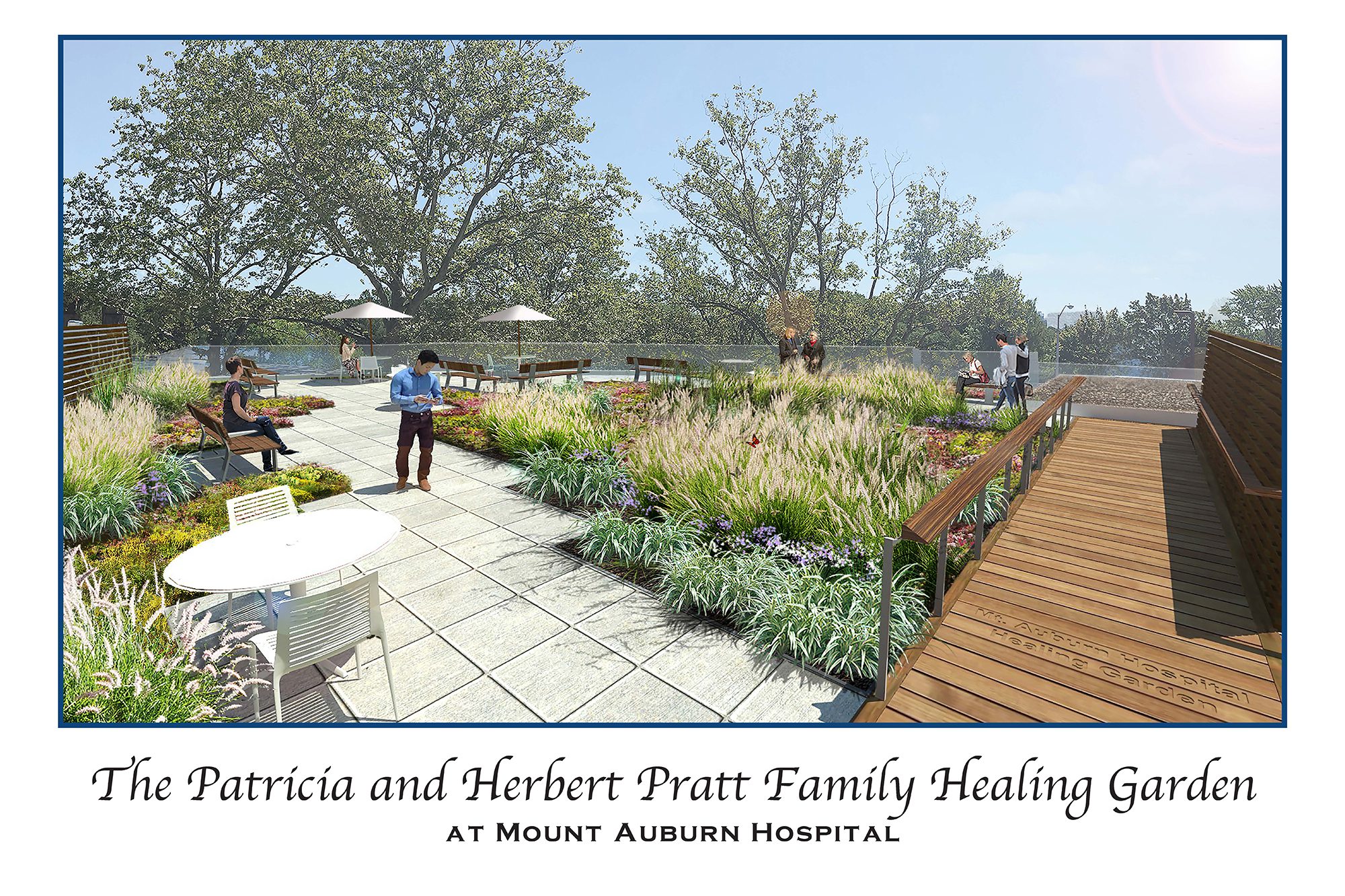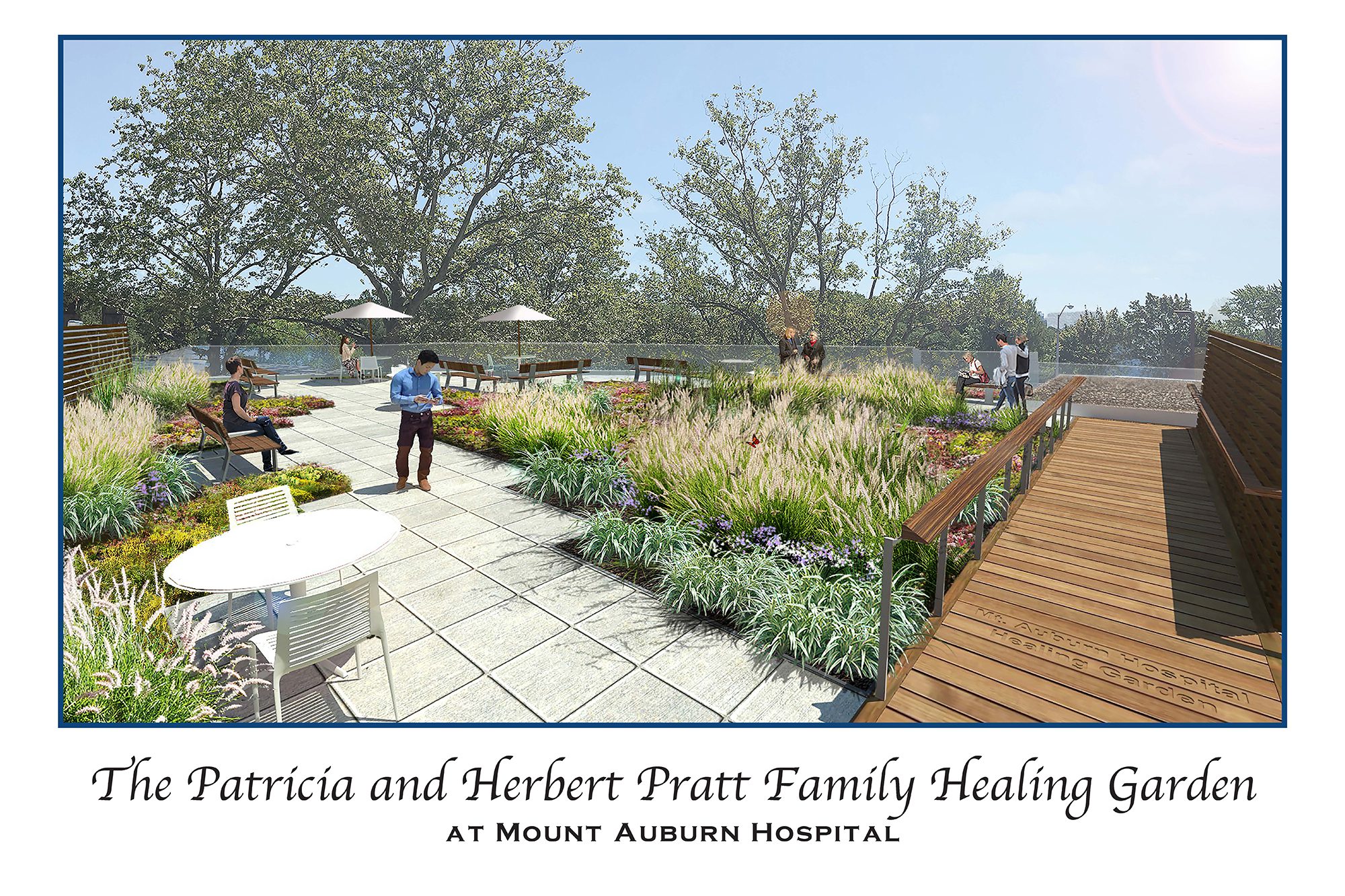 Rendering courtesy of Mount Auburn Hospital.
A lifelong love of local arts 
Born in 1929 and raised in Cambridge, Pat was educated at The Shady Hill School, The Winsor School, and Smith College and worked for two years at The Museum of Fine Arts in Boston as a secretary and research assistant to William G. Constable, curator of European Painting. She married Herbert W. Pratt in 1952 and pursued her love of art and art history, embarking on a biography of Denman Waldo Ross in 1967, for which she was appointed a scholar at The Radcliffe Institute (1969-70). The chronicle of her cousin's life–a contemporary of John Singer Sargent and Isabella Stewart Gardner–was a labor of love, researched and written while raising three children. It was a project she worked on for fifty years. She finally published the book The Best of Its Kind: The Life of Denman Waldo Ross: teacher, collector, painter writer 1853-1935, in 2020. Pat, herself, was a skilled watercolorist. In 2018 an art show & auction of her watercolors was held, and $60,000 was raised for the Prouts Neck Audubon Society. The funds will be used to support the educational & conservation work at the Phineas W. Sprague Sanctuary on Stratton and Bluff Islands. The islands provide critical nesting habitat for terns, herons and many other bird species.  
Inspiring change 
"Working with Pat made everything possible," said Louise Eastman Weed, who served with her on the Fresh Pond Masterplan Committee. "We're all beneficiaries of this amazing woman." 
As we think about our city's needs in the wake of this unprecedented global pandemic, we can all be inspired by Pat: Do It Now; celebrate and invest in the arts; preserve our gardens and public green spaces; and get involved in the community we enjoy, in part, because of Pat Pratt.