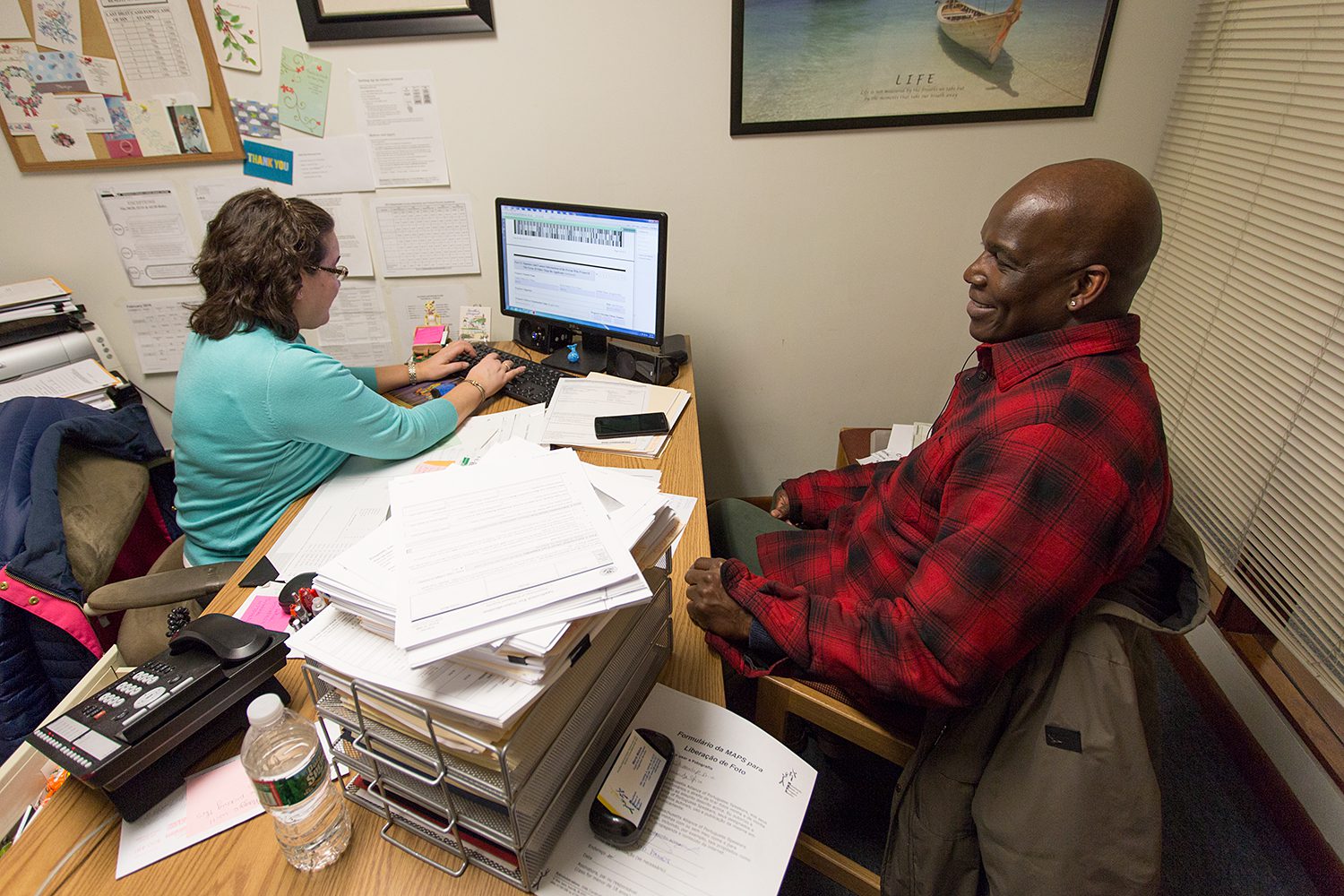 MAPS caseworker Maria Matos assists a client. Photo by MAPS.
February 7, 2023 | Cambridge, MA 
Recognizing the struggles families are facing in meeting basic needs this winter, the Cambridge Community Foundation distributed a total of $60,000 in surprise grants to 15 local nonprofits providing direct services. Scroll down for a list of grant recipients.
This marks the third consecutive winter that the Foundation has delivered needs-inspired grants outside of its regular grantmaking cycles to support local organizations helping families with essential needs, such as food, rent, and utility payments. The 15 organizations, including community centers, immigrant-serving organizations, and nonprofits supporting housing, received $4,000 each. The grants were made possible by several generous donations through the Foundation's Urgent Needs Fund. 
"So many families continue to struggle to meet their basic needs and we were able to respond with this latest round of needs-inspired grants thanks to the generosity our donors," said Christina Turner, director of programs and grantmaking at the Cambridge Community Foundation. "We're incredibly fortunate to have these 15 organizations as steadfast partners in meeting our community's needs and neighbors willing to help neighbors in these trying times." 
Bills for basic needs show a grim picture for many households. In 2022, the average rent for a one-bedroom apartment in Greater Boston went up 16 percent. Across Massachusetts heat and electricity costs have significantly risen this winter. Meanwhile, Greater Boston Food Bank reported that 32 percent of adults in the Commonwealth experienced food insecurity in 2021, in the face of the highest increase in the cost for food they've seen in 40 years. To respond to heightened needs, many Cambridge nonprofit organizations are looking for additional resources to increase the capacity and frequency of rental assistance programs, support for utilities payments, and food pantries or food gift card giveaways.  
Nonprofit spotlights
Since the pandemic, Cambridge-based family and children's services nonprofit Bridges Homeward has distributed grocery gift cards to clients as often as funding has allowed, including from several CCF- and State-funded grants. 
"As day-to-day expenses like food, gas, heat, and electricity continue to go up, many of the families we serve are facing these cost challenges," said Robert Gittens, executive director at Bridges Homeward. "We saw food insecurity as one area where we could be helpful – to try to lessen the burden on families so hopefully they won't have to make tough choices between food on the table or heating their home in winter." 
Gittens added that many participants in their programs, like the Families Moving Forward initiative in partnership with Just A Start and other Cambridge partners, report coping with impacts of the pandemic that are not just economic but include trauma and exacerbated behavioral issues in children.   
"For some families, their path to economic stability has gotten more complicated," he said. "But we're proud to see so many of them continue to engage in our training programs – they're working to make their way out of poverty." 
The Massachusetts Alliance of Portuguese Speakers (MAPS) has been providing emergency rental assistance to low-income individuals and families who can no longer afford rent and utilities.  
"Our immigrant communities are obviously very vulnerable right now," said MAPS CEO Paulo Pinto. "They're confronted with a variety of stresses and pressures, like high costs of living on top of low wages, learning English, and expensive health care. Grants like this allow us to at least help them pay rent for another month, buy food, or catch up with utilities." 
Recipients of their rental assistance program include working families with children and elders who can no longer work and are on the brink of homelessness. Many of their clients are undocumented immigrants and not eligible for government assistance. "These are people who have worked all their lives but unfortunately have no safety net," he said. MAPS also offers help to enroll in insurance through the Massachusetts Health Connector, as Pinto noted health care is another pressing and complicated need in the immigrant community. 
The Foundation is grateful to our local nonprofits for their critical role in supporting our community, year-round. 
The 15 grant recipients are: