Published On: May 9th, 2023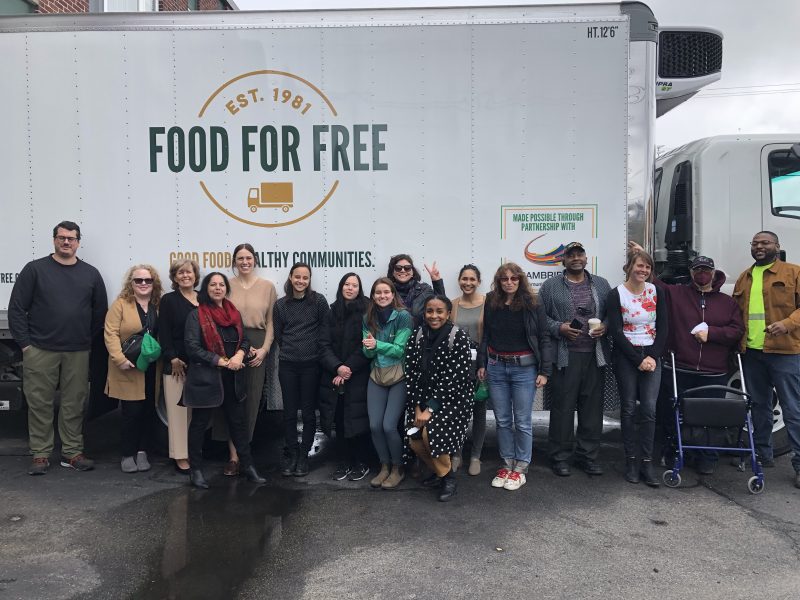 We joined Food For Free (FFF) on May 4 to celebrate the addition of a brand new, 22-foot refrigerated Isuzu box truck to FFF's fleet made possible by a grant from us thanks to a Massachusetts CDBG CV (CARES ACT) Food Insecurity Grant – a valued partnership with the Massachusetts Department of Housing and Community Development (DHCD).
The investment strengthens our shared fight against food insecurity in Cambridge and our surrounding communities. In Cambridge, one in eight residents is food insecure. The truck will help FFF deliver 1.25 million more meals each year to neighbors who need them in Cambridge, Somerville, and Medford.
"This reinforces why we need to work together, put our energies behind the work, and make sure our communities are taken care of," said Geeta Pradhan, president of CCF.
This $252,730 grant – one of our largest grants to date – also funded the purchase of a 48-foot refrigerated trailer and additional equipment like pallet jacks, that further enhance FFF's fleet and capacity to deliver more food safely and efficiently to the community. This partnership marks a deepening of the Foundation's strategic investments in food security.
"This work shows what can be done with collaboration and the community. It was 100% made possible with our friends at the Cambridge Community Foundation and has been a project we've worked hard on together for over a year," said Ben Engle, FFF's chief operations officer. "The truck is going to allow us to augment the amount of food that we deliver by about 27,000 pounds every single day. And because it's refrigerated, we can go anywhere in Cambridge, Somerville, Medford with food on it."
We're grateful to Food For Free and all our community partners who work persistently, passionately, and powerfully to ensure our neighbors don't go hungry.