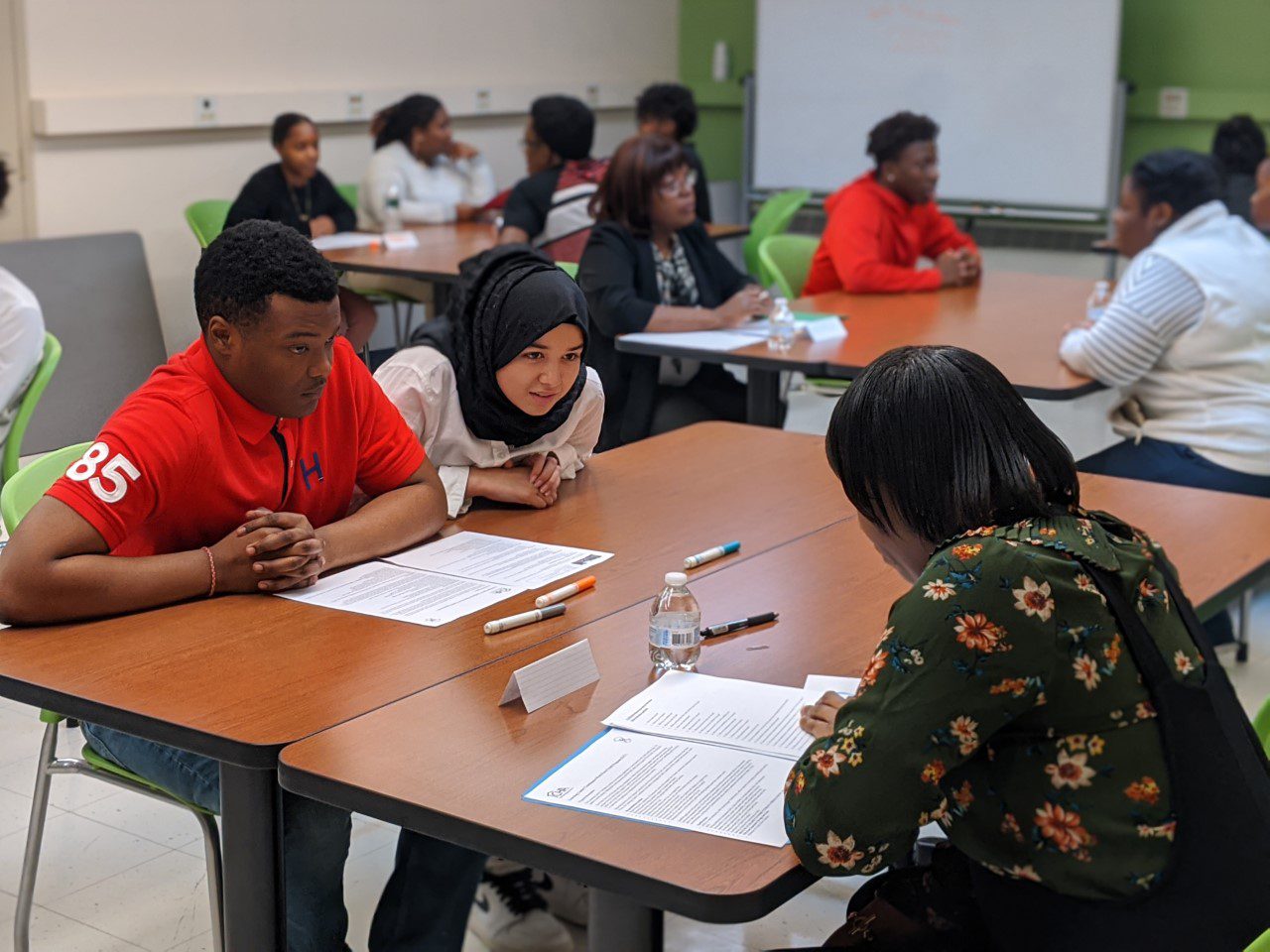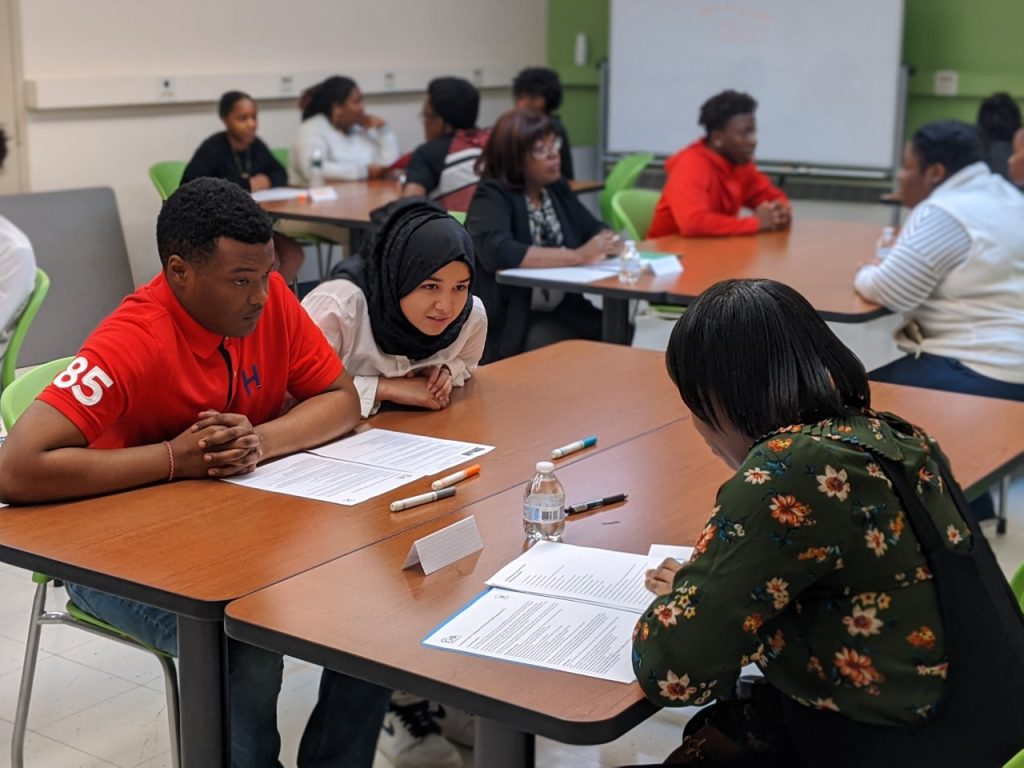 Two high school juniors participate in Work Force's annual mock interview event.
How do you break the cycle of intergenerational poverty? In Cambridge, there's one program with proven results that takes the approach of investing in and partnering with individual, low-income students to help them graduate on time, establish fulfilling careers, and lift themselves out of public housing.
The Cambridge Housing Authority (CHA) Work Force is a holistic, comprehensive, program that builds networks of learning and support for low-income students living in public housing. Work Force partners with 320 students through nine years of their education, from eighth grade through matriculating students' post-secondary education.
In Fall 2019, the Cambridge Community Foundation made a major investment in the shared prosperity of our city by committing funding of $150,000 over three years to support Work Force. The Work Force has been a nonprofit partner of the Foundation for over three decades, but this is the Foundation's most significant investment in the program to date.
Seeing students through high school and college success
The program has four core components: weekly afterschool workshops (social, educational, and vocational); a system of personalized adult support and case management; paid work experiences with public and private sector employers; and postsecondary support and persistence. The CHA Resident Services' Work Force dates to 1984, though the fourth component of postsecondary support is relatively new – it was integrated into the program in six years ago.
"It became clear to us that we had young people who were struggling to persist in college – academically, socially, financially," John Lindamood, director of CHA Resident Services, said. "We had to morph the model to start to ameliorate the situation."
"This aspect of the program is about helping first-generation college-goers complete college in a timely manner that is the least financially burdensome," said Kam Maali, deputy director of CHA Resident Services. Maali said postsecondary support on the one hand consists of a MATCH savings program in which Work Force donors match students' high school savings upon graduation up to a value of $1500 – making sure they head off to college with $3,000 for expenses like textbooks and laptops.
On the other hand, a key piece of Work Force's postsecondary support is an alumni coach. "This is intense one-on-one support during junior and senior years of high school and the first two years of postsecondary school," Maali said, adding that the alumni coach will typically continue to stay in touch until the student earns a college degree. The CHA's college persistence approach is one part of the City of Cambridge's larger College Success Initiative.
Building assets, breaking the cycle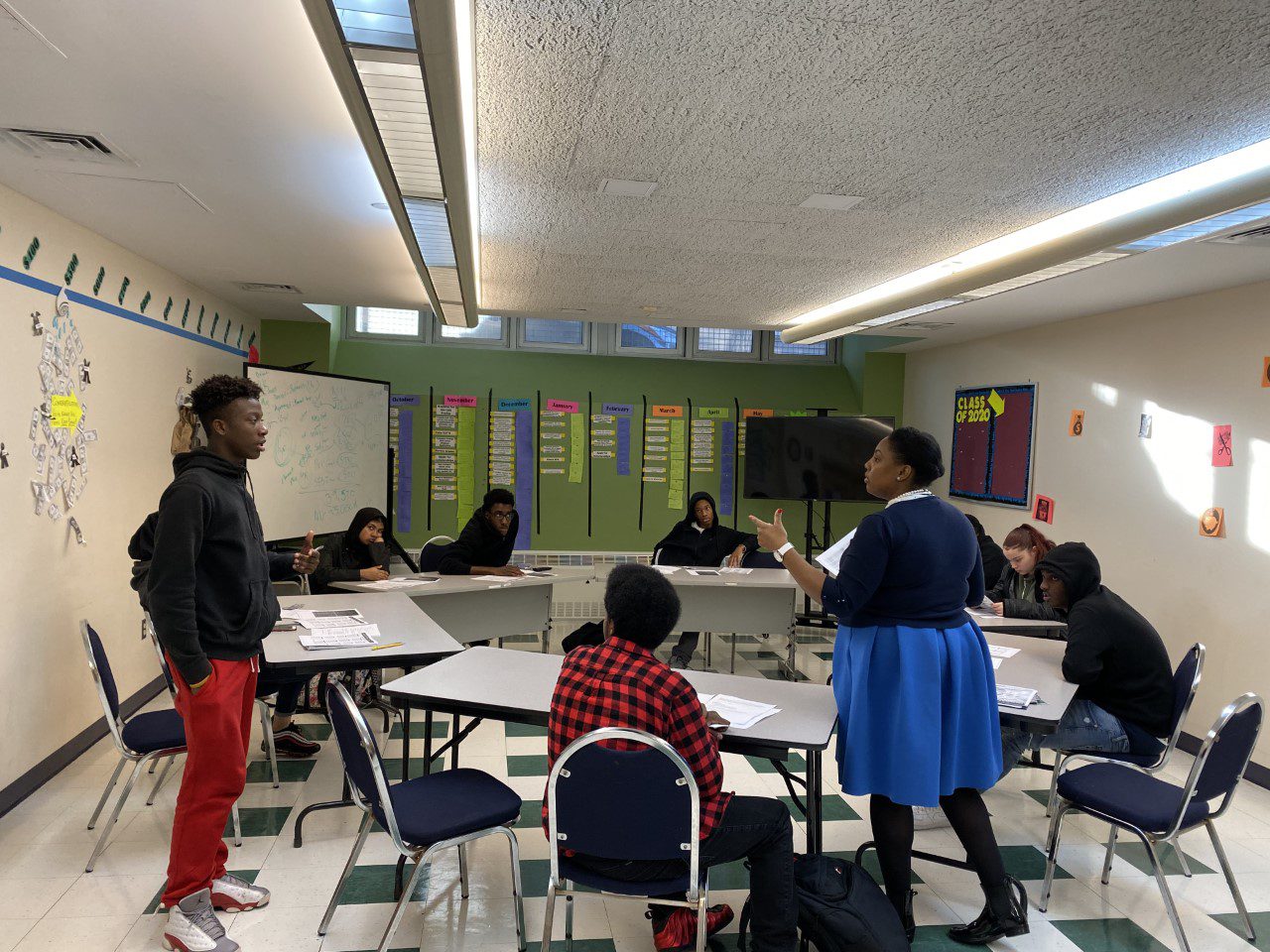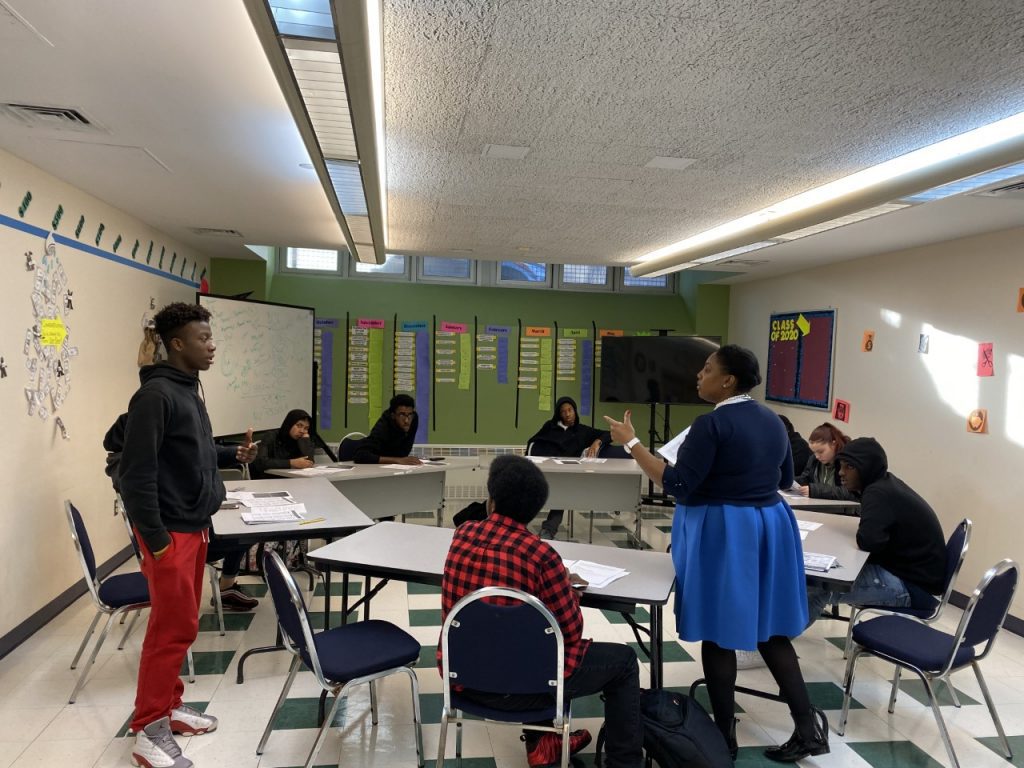 Senior Teacher-Counselor (and new Cambridge School Committee member), Ayesha Wilson leads a class on financial literacy.
Lindamood said Work Force has seen great success thanks to this "whole-person approach." Among the first cohort receiving full postsecondary support, "Fifty percent of our students are on track to graduate within four years, and 65-70% are on track to graduate within five years," Lindamood said.
That's astounding when you consider that nationally just 11 percent of students from the lowest income quartile earn bachelor's degrees within six years, according to The Pell Institute.
Lindamood said family engagement is a critical part of achieving these kinds of results. "We build trust with families over time, and when the time comes, we can help them have difficult conversations around a student's college and career decisions."
But what ultimately makes the CHA Work Force so successful at guiding students toward financially independent lives, postsecondary achievement, and motivating careers?
"We go deep and build relationships to peel all the layers of the onion," Kam Maali said. "The Work Force is like a second family." Maali added that quality over quantity and a low staff turnover rate are important factors in sustaining strong relationships.
According to Lindamood, students develop confidence, skills, and knowledge when they're in a culture of high expectations over a long period of time. "This is really an asset-building approach to breaking the cycle of poverty," he said.
And Work Force has made huge strides in achieving their ultimate goal of ending the cycle of poverty in Cambridge: two-thirds of program alumni no longer live in public housing.