CEOC: A Passionate Advocate With a Very Wide Reach
People carrying shopping bags line up early at the basement door of 11 Inman St. four days a week. What brings them here is the hope of taking home a box of free groceries to help feed their families for another few days.    
For some, the food pantry at the Cambridge Economic Opportunity Committee (CEOC) is the difference between having a meal that day or going to bed hungry. Volunteer Fernende Desir is very aware of the difference the small agency is making in the community every day as she prepares each food parcel with bread, fruits and vegetables, canned goods and maybe a carton of eggs or a pack of hot dogs.  
 "Oh, my God they are a blessing. I am blessed, blessed, blessed," said Desir, wearing a white apron, slipping a baguette into a plastic bag. "There are good people here with good hearts. They understand people's problems and they help." 
 The CEOC is a one-stop shop for Cambridge residents in need of immediate help, and assistance navigating the complicated web of federal and local social service programs available to them. For more than 50 years, the agency has provided a wide range of services to the community's most vulnerable residents, including the food pantry, tax preparation, educational programs and
assistance accessing health insurance, food stamp, and other programs. 
"We are a comprehensive program helping people look at all their needs," said Tina Alu, CEOC executive director. "We help support them in the many aspects of their life."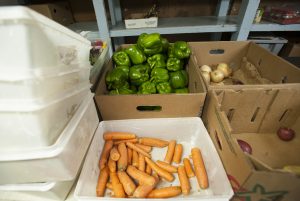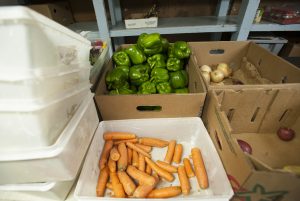 The agency services about 5,200 families a year. The needs of those clients change every day, and members of the staff have learned to be flexible and creative in addressing service challenges. For example, a client who is moving needed a deposit to secure an apartment. During that meeting, she asked if the agency helped with tax preparations: her refund could cover the cost of the deposit. 
"I said 'we can sit with you and help you do that,'" Alu said. "Then we had other people asking about that, and 15 years ago we became a free-tax preparation site with the IRS. Then credit card debt. People were worried about their credit report and those services really were limited, we looked at this and asked what training we [would] need to help clients with their questions." 
The Cambridge Community Foundation has helped support the CEOC for more than a decade with grants totaling $61,000 since 2006. This year the Foundation gave a CEOC a special grant of $4,000 to honor four Foundation board members who had recently stepped down. The money will be used to help families apply for Earned Income Tax Credits, navigate the college application and finance process, and receive financial coaching to help better manage debt and build wealth. 
"Cambridge has grown significantly in economic disparity, and we continue to have issues of poverty," said Geeta Pradhan, president and
chief executive officer of the Cambridge Community Foundation. "CEOC is a passionate advocate for people in poverty; [the organization] plays a very critical role in this community." 
Yemisrach Kibret —known as Yemi—is a community educator and advocate at the CEOC.
She speaks three languages and came to the
United States 13 years ago from Ethiopia. Kibret is one of several advocates who help clients apply for food stamps, find housing, heath services. She is also a certified tax preparer. 
"I'm a navigator for health insurance, I'm a tax preparer during tax season and when it comes to housing I'm an advocate," said Kibret. "I love working at CEOC because I understand where these people come from. Sometimes it's just someone coming in and asking me to read their mail for them. For me it's a simple task, but for them it is life changing." 
Fernende Desir is one of the thousands of lives touched by the kindness of the CEOC. The food pantry volunteer has also been a client at the agency, which helped her navigate her health insurance, social security and provide day care for one of her grandchildren.  
"The agency does very good work," said Desir. "Good things for people. People who need a job can come here. If they need food they can come here. If they need housing, they can come here, food stamps and any other help they need." 
— Jeffery Blackwell