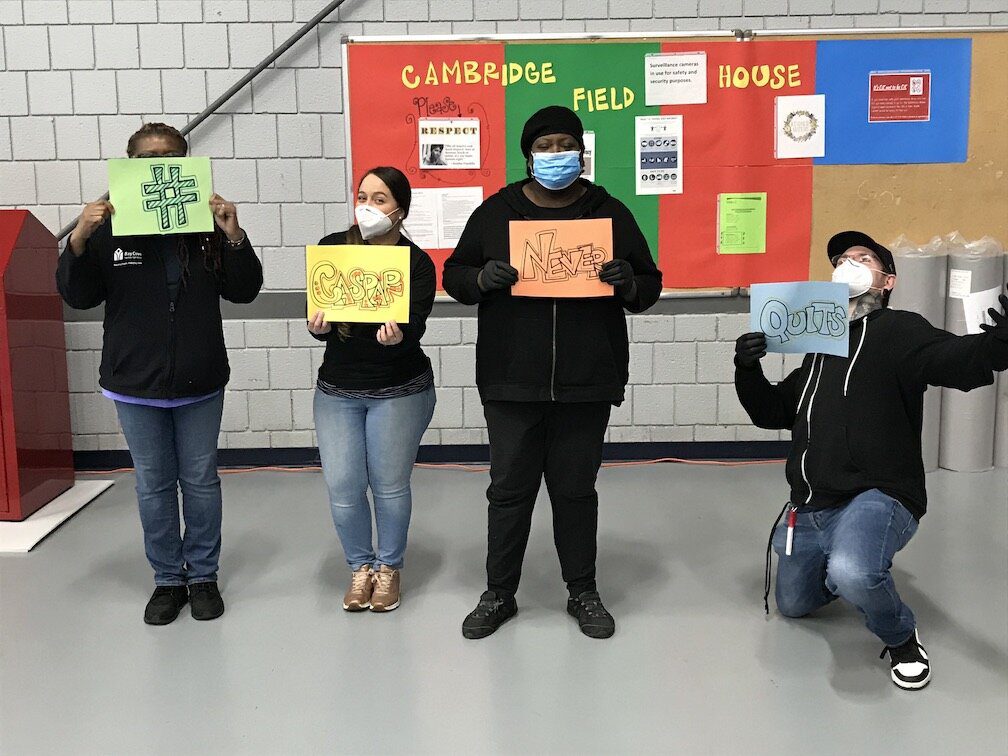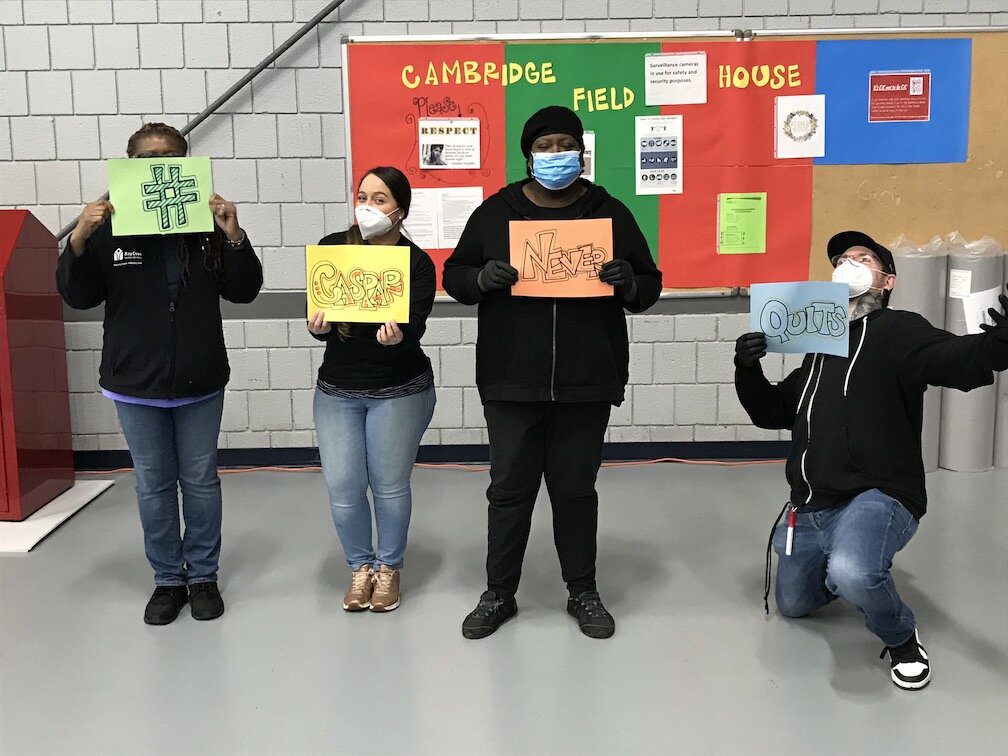 CASPAR staff at Cambridge Field House, a satellite shelter during the COVID-19 pandemic. Photo by CASPAR, Inc.
July 28, 2020 | Cambridge, MA—The Cambridge Community Foundation (CCF) has awarded $230,000 in new grants to nine nonprofits providing COVID-19 emergency relief, with a particular focus on supporting neighbors who are unhoused or at risk of becoming homeless in Cambridge, Somerville, and Medford.  
This latest grantmaking cycle, made possible by the Massachusetts COVID-19 Relief Fund, brings the Foundation's June-July investment in the relief work of nonprofits to $695,000. Earlier this month, the Foundation distributed a total of $465,000 to 14 nonprofits helping with food and housing insecurity, immigrant services, domestic violence and mental health needs – also in partnership with the Massachusetts COVID-19 Relief Fund. In addition, since March, the Foundation raised and awarded an additional $1,235,000 in grants, putting emergency funds directly into the hands of nearly 1,500 individuals and families who live, work, study, create or worship in Cambridge; 31 arts organizations and groups hard-hit by the pandemic; and 27 local nonprofits that gave cash support to their constituents. CCF also funded over 4,000 hot meals made by Cambridge restaurants and delivered to local hospital workers.  
Through these efforts, made possible in partnership with our generous donors, nonprofit partners, and with local and state support, the Cambridge Community Foundation has infused a total of $1,930,000 in COVID-19 relief funding into the community over four months. 
"Despite the recent housing eviction moratorium, a housing crisis is looming large as households run out of savings and unemployment insurance. It is of particular concern in high-cost cities such as Cambridge and surrounding communities, with sizeable Black and Brown and immigrant populations that are housing cost-burdened," said Geeta Pradhan, president of the Cambridge Community Foundation. "Solutions that range from immediate relief to longer term strategies that can keep people housed are urgently needed. We are incredibly grateful to the Massachusetts COVID-19 Relief Fund, for enabling us to partner with the nonprofits that are making the biggest difference for our most vulnerable residents, especially those who are housing insecure."
The Massachusetts COVID-19 Relief Fund supports those across the state most impacted by the COVID-19 health crisis, focusing on essential frontline workers and vulnerable populations including the homeless, immigrant populations, people with disabilities, and those facing food insecurity. The Fund works in concert with regional community foundations and nonprofit leaders who partner with local leaders to understand the response and relief landscape, strategically filling in where gaps are pronounced.  
In this latest round of grantmaking, a total of $230,000 was allocated among nine local nonprofits, including: 
Action for Boston Community Development: $25,000 to support food security needs of 220 Medford residents experiencing financial hardship due to the COVID-19 pandemic.  
CASPAR, Inc.: $20,000 to promote the health and wellbeing of Cambridge's homeless neighbors by providing essential food, clothing, and basic toiletries for unhoused people. 
HomeStart, Inc.: $50,000 to provide emergency assistance to households who would remain homeless or otherwise would become homeless. 
Massachusetts Alliance of Portuguese Speakers (MAPS): $25,000 to help low-income Portuguese-speaking immigrant households/families pay urgently needed rent or utilities for one month each. 
Metro Housing | Boston: $50,000 to prevent evictions by supplementing state emergency assistance funds with grant funds for 25 families in Cambridge. 
Somerville Community Corporation: $20,000 to provide rental assistance to low-income and vulnerable residents of Medford and Somerville.  
Somerville Hispanic Association for Community Development: $10,000 to support basic food needs of people who had lost their jobs due to the COVID-19 pandemic. 
Project SOUP (at Somerville Homeless Coalition): $10,000 to support the basic needs of Somerville families facing food insecurity. 
Transition House: $20,000 to support housing and the immediate basic needs of families who are escaping domestic violence. 
In Cambridge, CASPAR was an early partner in the City of Cambridge's effort to create a temporary emergency shelter at the Cambridge Rindge & Latin Field House to provide enough space to shelter local homeless guests while maintaining social distancing and other recommended safety measures. This year, the organization also doubled the number of people they supported through their street outreach program to up to 100 a day and reported an influx of residents from Boston.  
Thanks to efforts like this, there has not been a widespread outbreak of COVID-19 within the homeless population of Cambridge.  
"Stable housing is an essential basic need, and its presence or absence can pose significant ramifications for overall community health even under normal circumstances," said Jeff Landis of Metro Housing Boston, another nonprofit partner. "In this time of stay-at-home advisories and physical distancing, it is particularly vital that we as a society provide safe and stable refuge for people of all socioeconomic levels in order to limit the further spread of the virus."  
In the month of June, Metro Housing Boston distributed more than $1 million in Residential Assistance for Families in Transition (RAFT) funding to housing insecure families. This program and their new Emergency Rental and Mortgage Assistance (ERMA) program have helped over 1,500 families in need. Massachusetts COVID-19 Relief dollars will supplement RAFT and ERMA funds to keep families housed. 
The Cambridge Community Foundation is the local giving platform for Cambridge, supporting our city's shared prosperity, social equity, and cultural richness, with roots that go a century deep. Created in 1916 to serve as a vehicle for local giving and to address local needs, the Cambridge Community Foundation brings over a century of local grantmaking experience, deep community relationships, and first-hand knowledge of local nonprofits and partners – to address growing inequities in our community. The Cambridge Community Foundation distributes grants of all sizes each year—$1.5 to $2 million total—to 150 nonprofit organizations solving urgent problems and enriching the daily lives of the city's residents, especially the community's most vulnerable. The Foundation's nonprofit partners administer programs in human services, workforce training, housing, hunger, homelessness, elder services, youth and early childhood services, and the arts. The Foundation is a convener and catalyst for transformative change in Cambridge, supporting equity and opportunity in the city and surrounding communities.  
For more information on the Massachusetts COVID-19 Relief Fund, visit MACovid19ReliefFund.org.  
For more information on the Cambridge Community Foundation, visit cambridgecf.org.  
Contact:  
Lauren Marshall  
Director of Marketing and Civic Engagement  
[email protected]; 617-872-6543