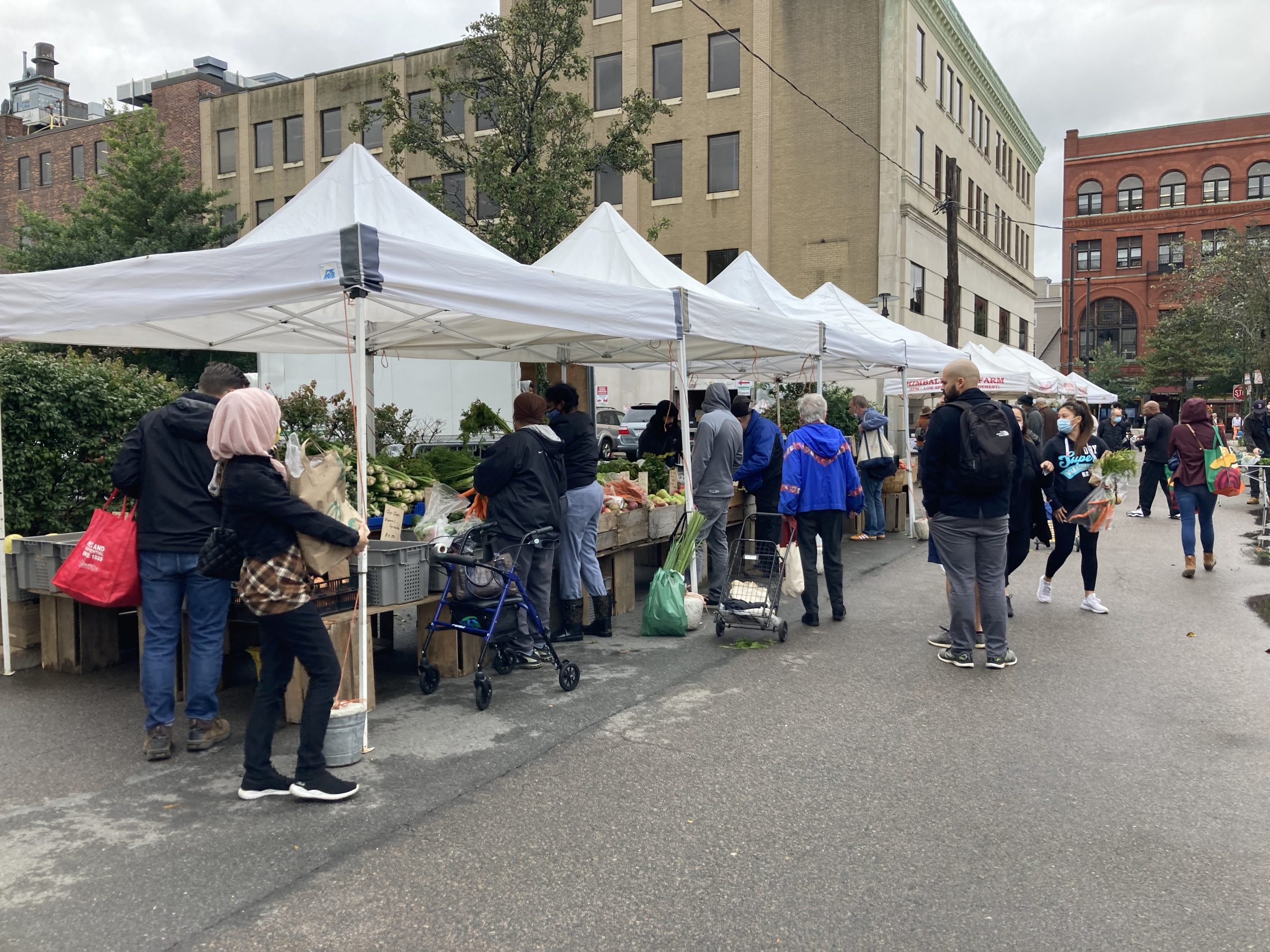 Central Square Farmers Market. Photo courtesy of Mass Farmers Markets, a spring Community Fund grant recipient.
April 28, 2022 | Cambridge, MA
The Cambridge Community Foundation has awarded a total of $516,000 to 73 community-serving nonprofits in Cambridge this spring, expanding the impact of the Community Fund grantmaking cycle with co-investments from fundholders who share the Foundation's concerns about the lingering effects of COVID-19 on families and supporting BIPOC communities in Cambridge.
"The ongoing struggles of our nonprofits and families still in scarcity mode pushed us to think creatively about how to meet pressing community needs," said Geeta Pradhan, president of the Cambridge Community Foundation. "With our generous donors, we can back the nonprofits that are steadfast in their support of Cambridge residents and the wellbeing of our city in these trying times."
This spring, the Foundation received a record 80 applications with grant requests totaling over $800,000, and had only $352,000 available through the Community Fund. The Foundation allocated an additional $164,000 from other Foundation funds, including special allocations from donor advised funds, to help address the need.
"Only a community foundation can engage donors with such a unique opportunity to co-invest in the best ideas solving community needs," said Beth Milkovits, a CCF Board member and Cambridge resident, who together with her husband Marty allocated $10,000 to help support Cambridge Economic Opportunity Committee and Compass Working Capital. "This is exactly why I have a donor advised fund at the Cambridge Community Foundation."
The Foundation funds more than 150 nonprofits each year through its bi-annual Community Fund grantmaking process. It supports organizations serving youth and families through educational programs, career readiness, and wealth creation efforts, and those helping residents struggling with the high costs of housing and food and who need social support to get by day-to-day. Additional grants go to nonprofits providing arts and culture programs and serving immigrant communities who contribute to the vibrancy of the city. These investments support our three visionary goals for Cambridge: shared prosperity, social equity, and cultural richness.
Supporting innovative community programs
The spring grants range from $1,000 to $25,000, and decisions were informed by a 15-member volunteer committee of local residents who reviewed each application. The Foundation also awarded three multi-year initiative grants to organizations offering innovative solutions to social problems.
One such organization is My Brother's Keeper (MBK) Cambridge, which received the first $50,000 installment of a three-year investment to support the growth of the organization. MBK Cambridge serves youth and their families through an empowerment program that includes topics like financial literacy, parent support, mental health, job skills, and civic engagement training to help youth and families advocate for their needs.
"Geeta and the Foundation know that our work is rooted in impact—you can see it, you can feel it, and you know it makes a difference," said Ty Bellitti, who leads My Brother's Keeper Cambridge with co-president Tony Clark. "Now, MBK is also seen and supported as we build capacity so that we can have the greatest possible impact for our youth and their families."
Nonprofit support through the Community Fund
Another grantee, the Central Square Farmers Market, run by the statewide nonprofit Mass Farmers Markets, continues to battle food-insecurity in Cambridge. Last year, the market and its vendors created access to more than $200,000 in local fresh food for residents using nutritional incentives such as SNAP, HIP, and WIC. Their new $10,000 grant will support the Market's work developing visual consumer guides to better educate shoppers on how to optimize their SNAP benefits at the Central Square market.
"At farmers markets, you engage with the people around you and there's that safe space in terms of learning about food, trying new things, and asking questions," said Edith Murnane, executive director of MFM. "It becomes a place where people can engage with food and with community in a really healthy, helpful way."
The Cambridge Jazz Foundation received a $5,000 grant to support musicians performing in person at its annual Cambridge Jazz Festival, to be held in person in the city for the first time in three years.
"Given what we've all gone through during the pandemic, we need healing – and music has the capacity to heal and help people go forward with hope," said Larry Ward, executive director. "People are looking for live music, and we're excited to be back out in the community."
A full list of nonprofits receiving support from the Cambridge Community Foundation follows.
Spring 2022 Initiatives
My Brother's Keeper Cambridge Task Force: $50,000 (first installment in a three-year, $150,000 commitment)
My Brother's Keeper Task Force (MBK Cambridge) is committed to disrupting and eradicating the chronic social, mental, economical, and educational barriers for youth, young adults, parents and caregivers. 
Philanthropy Massachusetts: $20,000
An annual contribution to Philanthropy Massachusetts' Summer Fund, which amplifies and redistributes the dollars to engaging summer experiences for Cambridge youth and children that prevent summer learning loss and foster social emotional health.
Cambridge Volunteer Clearinghouse: $20,000 (first installment in a five-year, $100,000 commitment)
CVC's mission is to strengthen civic life in Cambridge by championing local volunteer opportunities and supporting an effective and inclusive volunteer corps.
Spring 2022 Grants
EDUCATION & OUT-OF-SCHOOL TIME
Friends of the Community Learning Center: $15,000
The College Success Initiative Campus-Based Coaching Program provides individualized coaching support to CRLS and Community Learning Center students who enroll at Bunker Hill Community College or UMass Boston.
Cambridge Community Center: $15,000
The Strengthening Families Together Project is an ongoing effort to address social-emotional and mental health needs of Cambridge youth.
Reach Out and Read: $4,000
Providing books, training, quality assurance, technical support, and evaluation to its six sites in Cambridge.
Girls' LEAP: $2,500
Funding for a new School Day or Advanced LEAP programs serving 15-20 youth in Cambridge.
Phillips Brooks House Association: $3,500
Cambridge Youth Enrichment Program, a six-week, in-person summer camp, will leverage these funds to hire Cambridge youth as counselors and supply campers with home learning/wellness kits.
Boston Taekwondo Project: $2,500
Financial support to low- and mid-income families for movement arts education through the martial art of taekwondo.
Read to A Child: $1,000
The Read Aloud Mentoring Program at the King Open School in Cambridge gives over 25 students access to one-on-one mentoring and literacy support.
Discovering Justice: $1,500
In partnership with Cambridge Public Schools, Discovering Justice will provide a culturally responsive, rich, inquiry-based civics curriculum to all K-3 teachers and students in the district, that supports and enhances social studies, literacy, and social emotional instruction with an equity-centered, social justice lens.
Cambridge Center for Adult Education: $5,000
Support for Cambridge CCAE's priorities to: 1) enhance diversity, equity, and inclusion practices; 2) keep programs accessible by expanding our scholarship program; 3) renew and reinvigorate community partnerships that were interrupted by the pandemic.
Hale Reservation, Inc: $2,500
Reuniting stakeholders who were part of the Maria L. Baldwin School Equity Team and Outdoor Learning Design Team in School Year 2021-2022 to reflect on new learnings and next steps at a late summer/early fall 2022 retreat at Hale Education. 
Community Action Agency of Somerville (CAAS): $6,000
The purpose of the program is to formalize CAAS' commitment to training parent volunteers as substitutes in the classroom and to introduce them to early education and care as a viable career path.
STEAM/EDUCATION-INNOVATION GAP
The Young People's Project: $10,000
Programs offered to Cambridge students include YPP's Flagway League, Math & Computational Thinking Lab, Student-Designed Math Playbook, and Organizing and Building Capacity for Math Literacy Work.
Adbar Ethiopian Women's Alliance: $5,000
The Get Connected Clinic is a computer clinic that offers beginner-level and advanced training, and free refurbished, high-quality, donated computers for people who are experiencing homelessness, poverty, and other challenges such as language and cultural barriers or severe social isolation during COVID-19.
Tech Goes Home: $6,000
Tech Goes Home partners with local schools and community organizations to advance digital equity by offering Cambridge residents digital skills training, new computers, and if needed, one year of internet services.
Compass Working Capital: $8,000
Expanding access in Cambridge to the Compass Family Self-Sufficiency program in Cambridge, a voluntary program for families who live in federally subsidized housing to build financial stability and get ahead.
Found In Translation: $5,000
Their flagship Language Access Fellowship Program provides free Medical Interpreter Certificate training, direct job placement, and ongoing career development to low-income, bilingual women in Cambridge and Greater Boston.
Cambridge Economic Opportunity Committee: $25,000
General operating expenses including cash grants, housing/utility supports, language justice and other needs that come up during the year.
ENVIRONMENT/CLIMATE JUSTICE
Green Cambridge: $2,500
Operational support for the new Canopy Crew program that pays CRLS students to plant trees on private property and to the Wildlife Arts program that engages school-aged children in the local environment through art.
Massachusetts Audubon Society: $5,500
Free, drop-in nature programming for the Cambridge community at Magazine Beach Park. 
Community Servings: $6,000
Providing nutritious, home-delivered, medically tailored meals to Cambridge residents impacted by poverty and critical or chronic illnesses.
Lovin' Spoonfuls: $7,500
Lovin' Spoonfuls will use this grant to rescue fresh, healthy food and distribute it to families and individuals experiencing food insecurity in Cambridge.
Rescuing Leftover Cuisine: $5,000
Increasing necessary food assistance for people with zero or low income of all ages, races, cultures, religions, and backgrounds who are experiencing homelessness and food insecurity, as identified by service agencies and schools in Cambridge.
Mass Farmers Markets: $10,000
Growing food access and market operations for Cambridge residents through year-round access to the Central Square Farmers Market.
Harvard Square Churches Meal Program: $4,000
Preparing and serving a weekly evening meal while attempting to meet the growing daily needs of our guests.
About Fresh: $10,000
Increasing healthy food for Fresh Connect cardholders in Cambridge through retail partnership development and integration.
Project Manna: $5,000
Weekly meals from the soup kitchen and groceries via the food pantry.
The Outdoor Church of Cambridge: $1,000
Distributing sandwiches, drinks, snacks, socks, and other sundry items at least four times per week to approximately 300 unhoused, homeless, and low-income community people.
HOUSING SECURITY/HOMELESSNESS
Transition House: $10,000
High-quality, housing continuum services and community partnership programming for as many as 1,000 survivors of domestic violence and service-providers.
Furnishing Hope of Massachusetts: $2,500
The Cambridge Families Initiative provides families with the furniture, home goods, and moving services they need to create a safe and comfortable home as they transition from shelters into stable housing.
Heading Home: $5,000
Their mission is to enhance the outcomes of housing sustainability for families and individuals experiencing homelessness in Greater Boston.
Bridge Over Troubled Waters: $7,500
Engaging with homeless, runaway, and at-risk youth living on the streets to find a path home through Bridge's services.
Hildebrand Family Self-Help Center: $5,000
Hildebrand partners with children and families experiencing homelessness while they are in shelter, receiving supportive services, searching for new homes, and working to remain stably housed in permanent, supportive housing.
On The Rise: $6,500
Support for their day shelter (Safe Haven) and housing retention services (Keep The Keys) for women and trans/nonbinary individuals moving through and recovering from homelessness.
Metro Housing | Boston: $10,000
A colocation site serving Cambridge, Medford, and Somerville residents through Mount Auburn Hospital.
Y2Y Network: $6,500
The purpose of this award is twofold: (1) to build resilience for Y2Y Harvard Square amid the ongoing effects of COVID-19, and (2) to incorporate programmatic learnings from COVID and continue to build innovative and impactful programming.
Cambridge Neighborhood Apartment Housing Services: $7,500
Expanding access to key programs such as food security, housing stability, economic resiliency, and youth programming for all residents including an increase in access to translation/interpretation.
East End House: $25,000
The East End House provides essential and basic human services to under-resourced and vulnerable residents of Cambridge.
Second Chances: $2,500
Delivering free and empowering clothing, shoes, accessories, and gift cards to homeless and low-income community members.
Cradles to Crayons: $3,000
The Everyday Essentials program will provide at least 13,000 instances of service to children (birth-12) living at or below 200% of the FPL in Cambridge, through local service partners to mitigate clothing insecurity and to promote school readiness.
Cambridge Women's Center: $4,000
A free, low-barrier-to-access, drop-in respite, with emotional support, computer access, food, survival supplies, resource referrals, workshops, and community to women seeking support and connection.
Adolescent Consultation Services: $7,500
Direct, mental health services to children and their families who are involved with Cambridge Juvenile Court or at risk of becoming court-involved.
Emerge: A Men's Counseling Service on Domestic Violence: $4,000
The Covid-19 Counseling Scholarship Fund enables Emerge to increase capacity to serve unemployed and low-income men and women and to help them to address experienced domestic violence.
Horizons for Homeless Children: $3,000
Children living in Cambridge shelters have the opportunity to engage in vital developmental play and their parents receive the tools to help them learn.
Boston Area Rape Crisis Center: $5,000
Free, confidential services to over 80 Cambridge residents and training for approximately 200 people in Cambridge in sexual violence education and prevention each year.
Cambridge Health Alliance Foundation: $2,500
The Sibling Support Program addresses the mental health of the siblings of children who are admitted to a psychiatric facility.
Urbanity Dance: $1,500
Dance With Parkinson's Program at Youville House Assisted Living in Cambridge is a free, weekly class for residents living with Parkinson's Disease to engage in the joy of movement in a fun, welcoming, and safe environment.
VNA Care Network: $3,000
The program, Removing Barriers to Health for Cambridge Home Health Patients in Need, addresses social and economic concerns for vulnerable Cambridge home health care patients with characteristics that result in a disproportionately high disease burden such as inadequate insurance, low income, cultural/linguistic barriers, or housing instability.
SENIOR SERVICES
Somerville-Cambridge Elder Services: $10,000
To expand current transportation options for older adults and younger adults with disabilities; to offer free taxi rides to medical appointments and beyond, so that the population we serve can access veterinary appointments, grocery stores, meal sites, banks, hairdressers, and social engagements.
Veterans Legal Services: $3,500
Free, high-quality civil legal aid for economically disadvantaged military veterans in Cambridge.
Shelter Music Boston: $3,000
Supporting the performance, recording, livestream, and production costs for its classical music concert programming for men, women, and children who are homeless or affected by substance misuse.
Central Square Theater: $10,000
Funding will support the theater during an ongoing recovery period extended into Season 2022-23 which includes a Main Stage program of four productions; a community collaborative project; and a youth development touring program.
Multicultural Arts Center: $7,000
Learning from the COVID-19 era to rebuild and reshape the Multicultural Arts Center guided by the needs of the community, through accessible, inclusive, and antiracist visual and performing arts, and cultural experiences.
Jean Appolon Expressions: $15,000
High-quality, accessible dance, movement, literacy, and social justice education to the Cambridge community, especially for BIPOC and immigrant individuals and families.
The Dance Complex: $15,000
The Dance Complex seeks more efficacy and impact for our community, furthering its own journey as a more nimble and reimagined organization, as they continue to learn from the COVID-era, dialogue with our communities, and organization-wide antiracism work.
Midday Movement Series: $3,000
General operating funds for all programs: weekly dance classes; mentoring sessions and consultations for teachers and community members (free for BIPOC community dance artists); community assistance (connecting artists to resources and information); and local arts advocacy work.
Cambridge Children's Chorus: $3,000
Rebuilding impact, severely diminished by the COVID-19 pandemic.
José Mateo Ballet Theatre: $5,000
Ongoing programs in education, outreach, and presenting.
New School of Music: $1,500
To provide support for scholarships, performances, and COVID-19 supplies.
VLA Dance: $7,000
Operating support for VLA DANCE to pay administrators and company dancers while working towards a new dance theater epic at Hibernian Hall in September 2022; and to support the initiation of a new youth initiative spanning across Cambridge and Boston starting January 2023.
Boston Dance Alliance: $3,000
Operating expenses associated with outreach to artists and dance lover memberships which lapsed during COVID.
Global Arts Live: $7,500
Continuing to present outstanding and diverse music and dance from around the world in the most COVID- safe manner possible, supporting additional artists, and deepening community engagement efforts.
Boston Symphony Orchestra: $2,500
Eight Youth and Family Concerts at Symphony Hall, which will bring age-appropriate musical experiences with positive youth development messages to hundreds of Cambridge students and families.
Cambridge Jazz Foundation: $5,000
The annual Cambridge Jazz Festival returns in person this year and expands from a one-day event to a two-day.
Gallery 263: $2,000
Ongoing strategic planning work with a focus on expanding DEI initiatives, and to continue our process of updating our website to support staff workflow and visitor accessibility.
Brookline/Cambridge Community Center for the Arts: $1,500
Increased programming and community collaboration in 2022 and important upgrades to nonprofit software for institution, artist, educator, and student management, arts and culture programming, and collaboration.
Massachusetts Production Coalition: $1,000
Increasing professional and workforce development opportunities in the film, television, and media production industries.
Cambridge Bike Give Back: $5,000
Giving away free bikes to people who need them, while also promoting healthy, convenient, and affordable transportation options for people of color in Cambridge.
Cambridge Families of Color Coalition: $7,500
Community events for families of color that provide resources, skill-building opportunities, leadership opportunities, a sense of community, and social emotional support through spaces that are created by and for families of color in Cambridge.
Rian Immigrant Center: $10,000
Immigration legal services to Cambridge immigrant youth and families and education on navigating immigration policies for them and the educators and staff who work with them.
New England Bangladeshi American Foundation: $2,500
A new, special English for Speakers of Other Languages (ESOL) program designed for immigrant community members from Bangladesh and its neighboring countries.