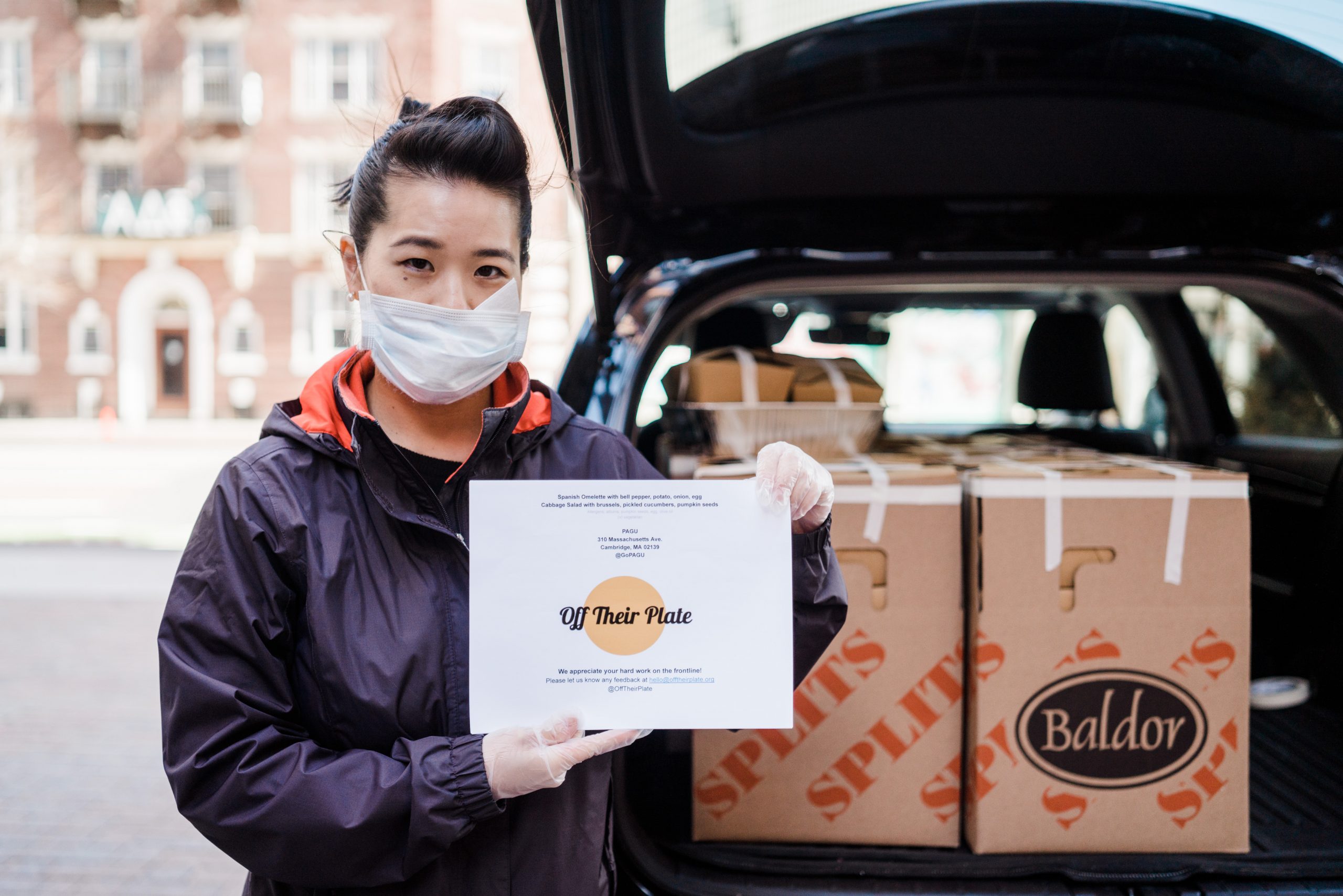 Tracy Chang, chef/owner of Cambridge's PAGU, delivers food. Courtesy of Off Their Plate.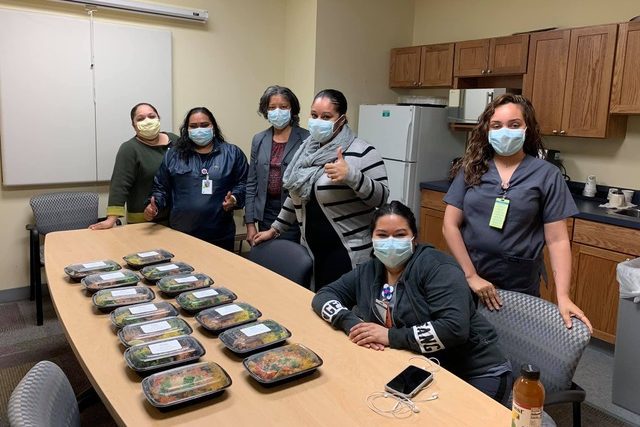 Cambridge Health Alliance Hospital staff enjoy a hot meal from Off Their Plate. Courtesy of CHA.
During the early days of self-isolation, Cambridge Community Foundation board member Marla Felcher wanted to figure out how she could best support her Cambridge neighbors. She called her sister, a Baltimore nurse, who told her about Square Meals, a new initiative that hired local restaurants to make meals for hospital staff working with COVID patients. Within an hour, Marla had interviewed Square Meals founder, Ellen Janes, about the program's nuts and bolts. Hanging up, Marla vowed to create a similar program in Cambridge. And she knew who she would ask for help — fellow CCF board member, Lori Lander. Lori's response: "I'm in." 
Scrolling through her Facebook feed the next morning, Marla saw a post by friend and Cambridge and Boston restaurateur Jody Adams (Rialto, Saloniki, Trade, Porto). One of Jody's employees was delivering dozens of meals to local hospital staff. Through a quick conversation with Jody, Marla learned of Harvard Medical School student Natalie Guo's grassroots start-up, Off Their Plate, a program with two goals: provide nutritious meals to hospital staff and provide economic relief to restaurant workers who have been affected by COVID.  Jody wasted no time setting up a Zoom call with Natalie, Lori, Marla, and a handful of potential Boston-area funders for later that afternoon.  
Here's what Natalie shared during that initial Zoom call. She'd been working in a surgery rotation at MGH when all med school students were told to "go home." While at home, Natalie read headlines about restaurants laying off staff, many of whom had no safety net. At the same time, hospital cafeterias were closing and restaurants around hospitals were closing. Staff were working 12- to 30-hour shifts and increasingly, there was nowhere to get food. Natalie connected with two Cambridge chef/restaurant owners Tracy Chang (PAGU) and Ken Ohringer (Little Donkey) and the idea for Off Their Plate was born. Jody Adams joined the team soon after. 
By the beginning of April, Off Their Plate had been operating for two weeks, enlisting the help of 50-60 volunteers. One hundred percent of the money Off Their Plate raises goes to restaurants, half of it directly into the pockets of their employees, the other half to buy the food, packaging, and protective wear for all staff. Starting with a pilot program at Brigham & Women's hospital, they had served 1,500 meals, enlisted the support of Chef Jose Andre's World Kitchen, and signed on another Cambridge chef Seizi Imura (Café Sushi) and Boston chefs Joanne Chang (Flour and Myers&Chang) and Irene Li (MeiMei) to create nutritious, $10 meals.  
Marla and Lori committed to bring this innovative model to Cambridge. To assess the need they spoke with Mary Cassesso, president of Cambridge Health Alliance Foundation and Chief Community Officer of CHA. Hundreds of Cambridge Health Alliance's staff – not only the doctors and nurses, but also administrative and janitorial staff, respiratory therapists – everyone putting their own health at risk desperately needed a source for nutritious meals. Feeding these employees two meals a day would cost at a minimum $20,000 per week. Adding Mt. Auburn Hospital would easily double that.  
Lori, who leads the CCF Program Committee, which awards over $1 million a year to local nonprofits, noted that a partnership with Off Their Plate to feed Cambridge healthcare workers dovetails perfectly with the CCF mission. Identify an unmet need in the community. Find innovative partners with proven best practices, and support them with money and in-depth knowledge of the Cambridge community. Geeta Pradhan, the Foundation's President, and Rick Harriman, Board Chair, enthusiastically endorsed this plan and committed $10,000, with an additional $16,000 raised from Foundation board members. That was the official launch of Feeding Our Hometown Heroes, a unique partnership with CCF, Off Their Plate, and three committed CCF Board members, who also contributed their own money to the project.  
Feeding Our Homeless Heroes plans to deliver 5,000 meals to Cambridge Health Alliance and Mt. Auburn Hospital staff, over the next couple of weeks (depending upon staffing levels and the length of the "peak."). Enough money has been raised to cover the first several days, but we would like to guarantee meals for at least two more weeks. If you'd like to help, you can make a donation here to Feed Our Hometown Heroes.  
Off Their Plate has proved such a successful model that it now is operating in nine cities across the country and fueled by a team of over 100 volunteers. Like Cambridge now, each community is fundraising to support meals for our local frontline workers.