Published On: July 8th, 2021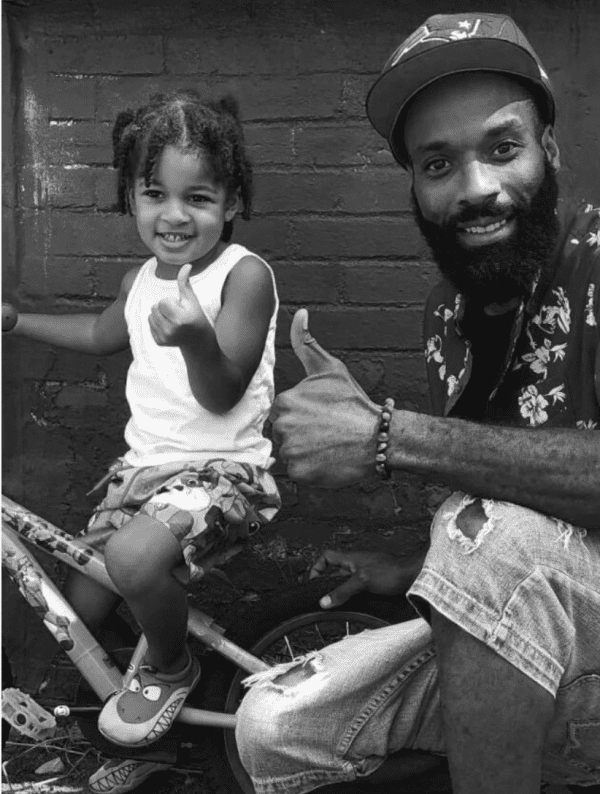 Photo by Cambridge Bike Give Back; co-founder Lonnell Wells at right.
Our new nonprofit partner gives free bikes, empowers neighbors.
Through the grease, rust, and sweat, there's a fuel that keeps Cambridge Bike Give Back (CBGB) going.
"We love to see the smiles when someone receives a bike," said Marc Roberts, a lead member of CBGB alongside Lonnell Wells and Jon Anjaria. The all-volunteer crew collects unwanted bikes, repairs and "brings them back to life," and redistributes them—free—to community members. It all started with Lonnell, a lifelong Cambridge resident who, at the height of the pandemic and following George Floyd's murder, wanted to do something good for his community.
In just over a year, CBGB has given out 120 bikes and counting to neighbors, thanks to bike donations from Harvard, MIT, Bikes Not Bombs, and many neighbors. Most bike recipients are kids, who need access to healthy diversion, but others are adults who commute, like one young man in Lonnell's neighborhood. Recently incarcerated and trying to get his life back on track, he didn't have money for the bus or train fare to get to job interviews. So CBGB gave him a bike. Now he rides to work.
"Mobility is freedom," Jon said. "When you give a bike to someone, you open up so many possibilities."
In our 105-year history, we've supported many emerging nonprofits with their first-ever grant. CBGB is one of them! Join us in supporting their important work. Contribute a bike, sign up for one, or learn more on their website.