We often look to schooling as the key to transformation and progress. When all children are educated equitably, our community fosters shared prosperity. In Cambridge, that aspiration of equity in education is becoming a reality, in part, through the important work of nonprofits and community leaders who support and implement innovative programs that help all children learn.
As a grantmaker, the Cambridge Community Foundation has a long history of investing in making education equitable for all residents, thereby paving a path for shared prosperity. In 2019, we funded more than 30 nonprofit partners and collaborative initiatives that are dedicated to expanding and deepening educational opportunities for our city's youth, from connecting them to higher education institutions and local bio-tech industry leaders to making sure in-school curriculum helps them build the skills they'll need to succeed in the knowledge economy later on.
The Foundation also manages several large funds that help grow educational equity, including the Parmenter Scholarship Fund, which supports scholarships for low-income students going to Harvard; the Falcon Pride Scholarship, which provides multi-year college scholarships for CRLS graduates who need financial support; and the Community Fund, which provides grants to nonprofits offering a range of academic and enrichment programs for young people.
With the new school year now underway, we want to say thank you to our nonprofit partners and community leaders for all you do for the schoolchildren of Cambridge. And to our donors, thank you for helping us do our part in supporting organizations that work outside the box to close achievement gaps.
Spotlighting seven of our education nonprofit partners
Demonstrating the power of learning through…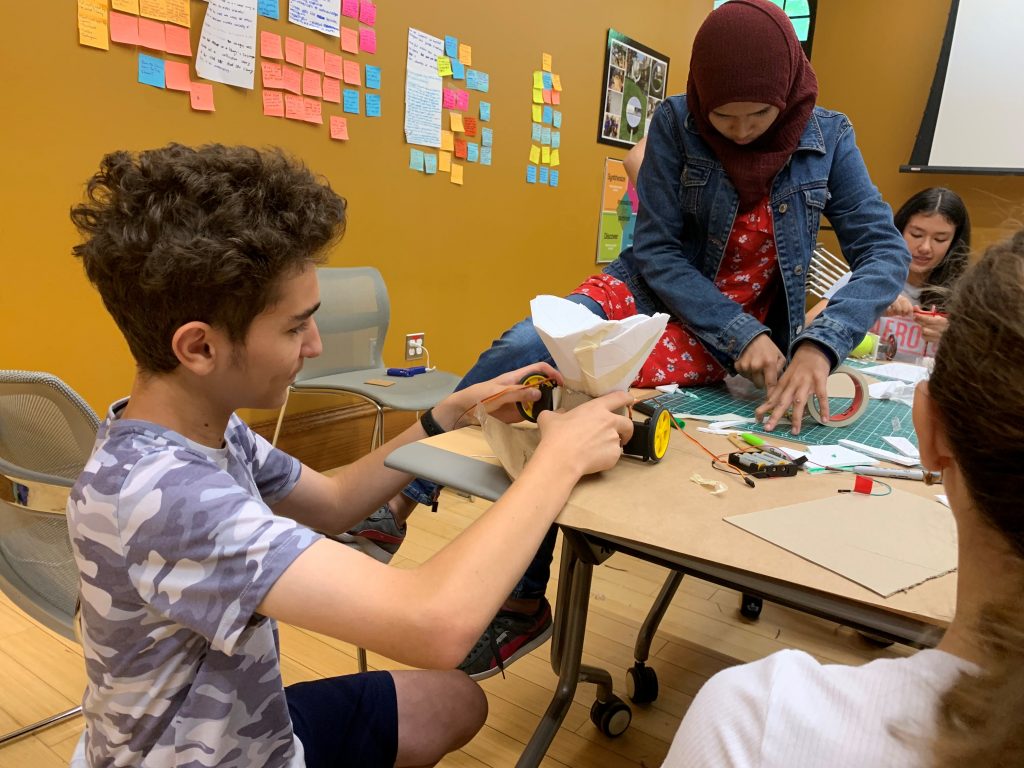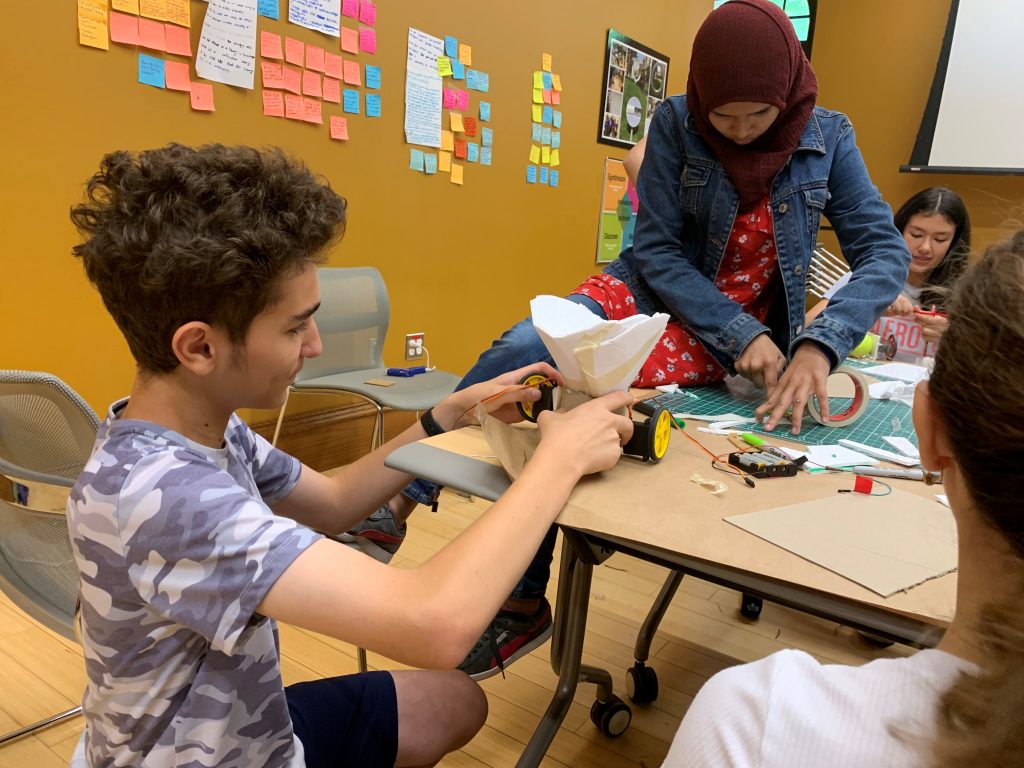 …purpose
InnovatorsforPurpose
"A few years ago we noticed (in a post course survey) that several students were saying that they wanted to be engineers and scientists. However, in that same survey, those same students with such high aspirations were also saying that they lacked confidence in math and science – an obvious disconnect. The following summer we added 10 two-hour, hands-on modules to address the underlying math and science principles in the project we were working on.  
"The math and science was above their grade level and relevant since it was directly related to the project. The goal wasn't to prepare them for a test, but to boost their confidence. One day they will face those same topics again in their academic careers and will remember the hands-on experiments that were conducted to validate those principles. We are very pleased that two students from that cohort are doubling up on math and science courses this year at CRLS." — Michael Dawson, CEO & Co-Founder
Powered by its 2019 CCF grant: InnovatorsforPurpose (iFp) is rewriting the playbook on how to engage non-traditional STEM learners in STEM subject matter. Their Learning by Doing: Creative Services and Experiential STEM program uses a hands-on multidisciplinary approach that integrates art, design, history and humanities with STEM fields. Learning by doing inspires students to aspire to become a part of the innovation economy, while building access to opportunity, networks and resources.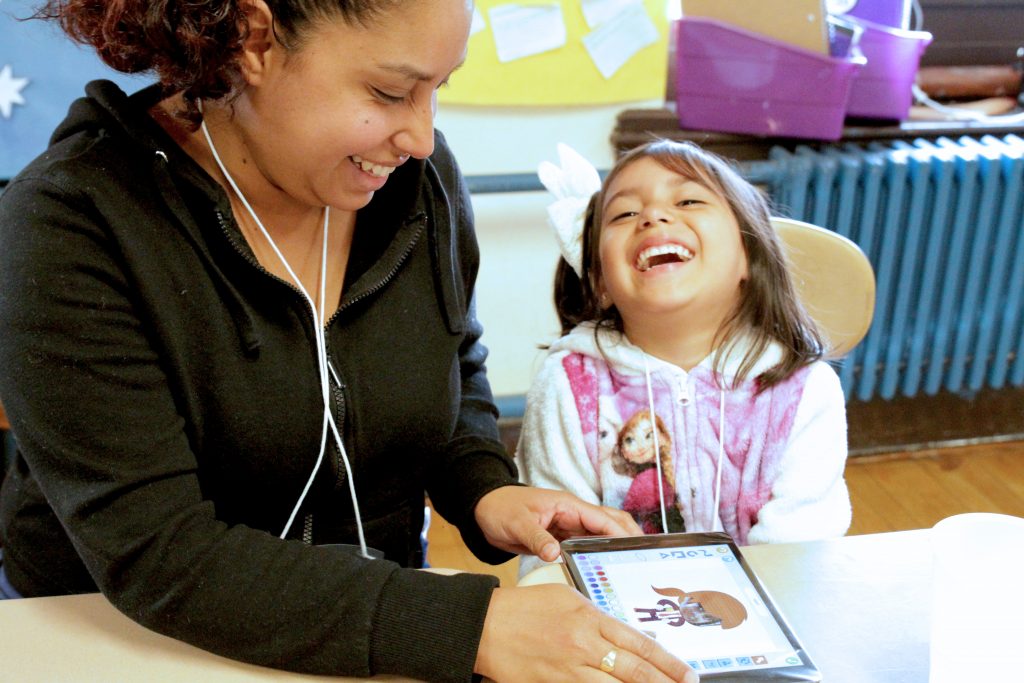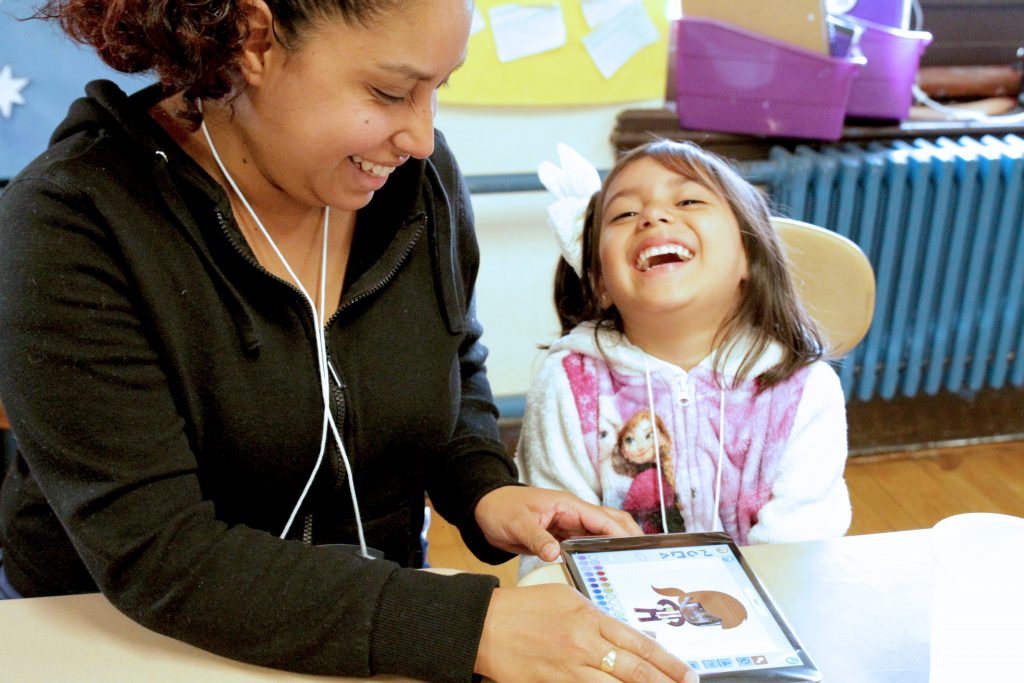 …plugging in
Tech Goes Home
"Tech Goes Home's mission is to get new computers, Internet access, and digital life skills training into the hands of those without so can kids can achieve academically. In 2018, because of TGH, 1,108 children improved their grades.
"Tech Goes Home's vision is to make Greater Boston the first metropolitan area in the country where technology and the opportunity it provides are accessible to all. By partnering with nearly 200 community sites to offer a great variety of TGH courses, we believe we are getting closer to achieving that goal." — Daniel Noyes, Co-Executive Director
Powered by its 2019 CCF grant: TGH's Digital Inclusion Programs work to bridge the digital divide by providing: free digital skills training, the opportunity to purchase Chromebook inexpensively, help securing low-cost, and high-quality internet.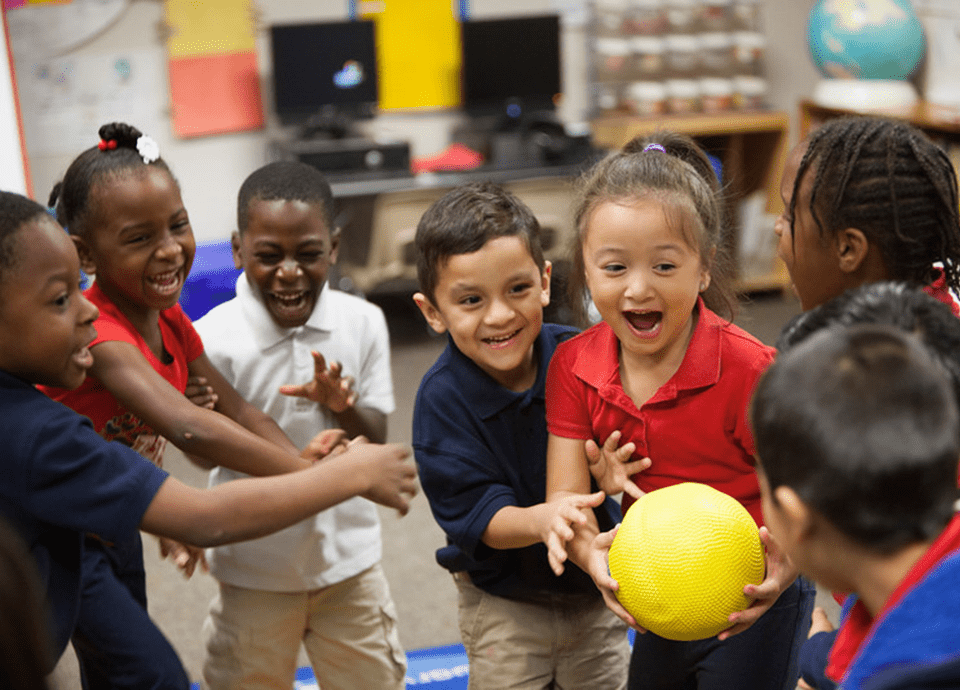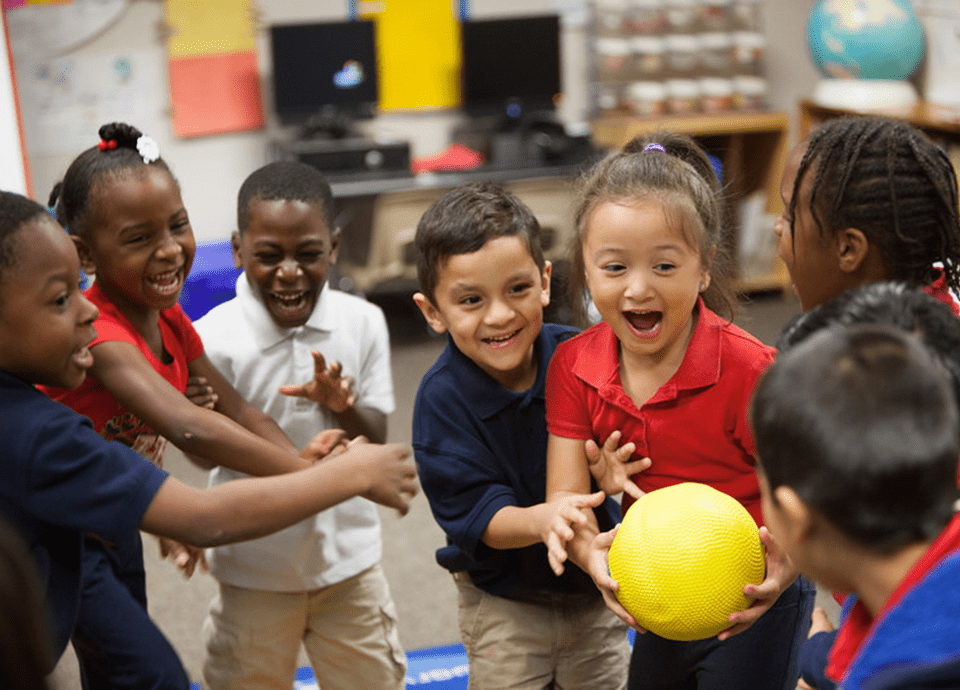 …play
Playworks New England 
"Every kid loves to play and the playground is our classroom. Playworks focuses on play and recess as means to teaching social-emotional skills while simultaneously improving school climate. Through play at recess children learn 21st–century skills, such as conflict resolution, teamwork, and creativity. Furthermore, play is brain building, a central part of healthy child development, a key to executive function skills, and a buffer against the negative impacts of stress. 
"A Harvard University research project case study of a local elementary school, which revamped its recess with the help of Playworks, revealed visible improvements in several key areas of childhood development. Teachers witnessed how a well-functioning recess could foster supportive relationships among students, decrease school-based bullying and teach conflict resolution and other life skills – making the learning environment more inclusive, respectful and conducive to learning.  
"Moreover, RAND Corporation found that Playworks is one of only seven elementary school SEL [social-emotional learning] interventions to meet the highest criteria for evidence of impact under the Every Student Succeeds Act (ESSA). We had a statistically significant impact on bullying, inclusiveness, student ownership of recess activities, student safety, student use of positive language." — Jonathan Gay, Executive Director, Playworks New England 
Powered by its 2019 CCF grant: Playworks Cambridge TeamUp Programming operated in 3 Cambridge Public Schools during the 2018-19 school year. Students at the Fletcher Maynard, Kennedy-Longfellow, and Baldwin benefited from TeamUp programming led by a Playworks site coordinator who consults with recess teams at 4 schools throughout the year to teach and model healthy play. 
…preparation for the future
Prospect Hill Academy
"While Prospect Hill Academy has always excelled at preparing students for success in college from Kindergarten onward, we are particularly proud to have pioneered the Collegiate Institute, a unique 11th– and 12th– grade program designed to prepare students for a successful transition to college, careers, and responsible living. By providing a balance of challenging, relevant coursework, and authentic learning experiences inside and outside the classroom, students actively engage in interdisciplinary studies, leadership opportunities, and restorative practices. Collegiate Institute scholars take ownership of their learning through advocacy, choice, and increased independence, graduating with the capacity to succeed both individually and collaboratively, and practice habits of mind that support the pursuit of lifelong learning and growth.  
"The results are clear: 95% of our students enroll in college and 72% of our alumni graduated college in 6 years (as opposed to the national average of 40% or 45% for black and Latino students, respectively)." — Anja Bresler, Director of Development & External Relations, Prospect Hill Academy Charter School 
Powered by its 2019 CCF grant: Prospect Hill Academy is improving its middle & high school robotics program with additional and more varied robotics equipment. This allows the program to serve more students and promote the development of key computer science and robotics skills, such as programming, problem solving, engineering design, building skills, and collaboration.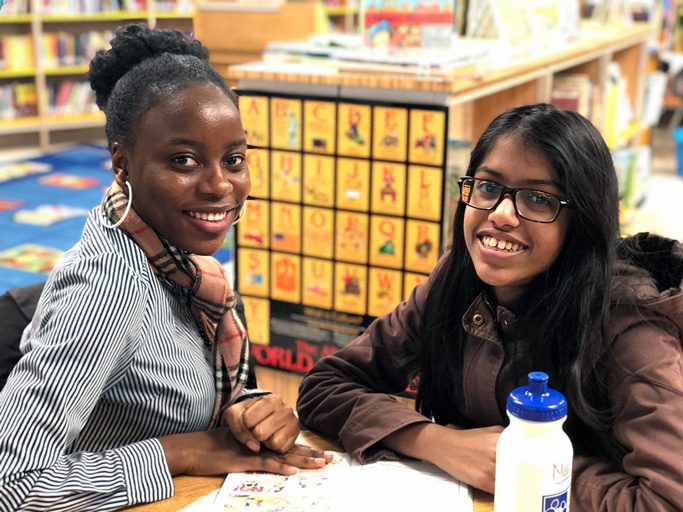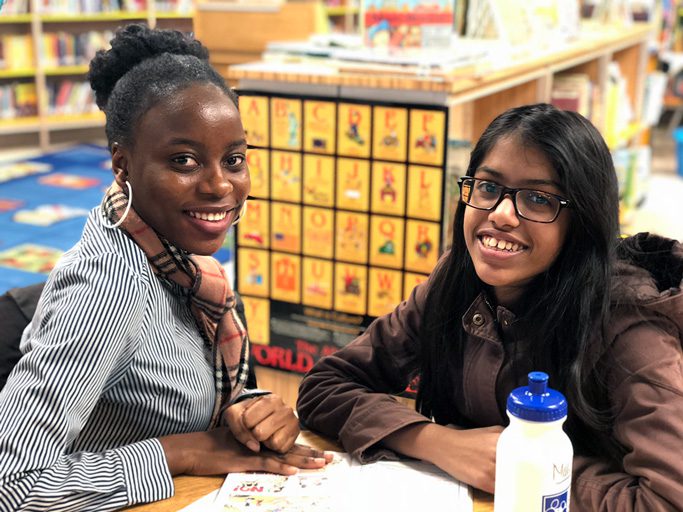 …pals
Cambridge School Volunteers
"Our programs are designed to provide academic support and enrichment to students, but relationships are at the heart of what we do. For some students, forming a bond with an adult who is neither their teacher nor their parent is particularly meaningful. Because our programs range from grades pre-K-12, we cover a lot of territory, including skill building, reading support, career awareness in STEM fields, and college readiness. During their time in the Cambridge Public Schools, a student will likely work with Cambridge School Volunteers multiple times.  
"Recently there was a student participating in our NetPals program—a mentoring program to inspire 7th graders to think about a career in STEM— who realized that his mentor had also been paired with him five years earlier in our Reading Buddies program. Another NetPals alum had a mentor from Vecna Robotics who inspired her to join the robotics team a few years later when she got to the high school. She ended up getting back in touch with her mentor at Vecna to support the CRLS robotics team. So we know we reach a lot of students, and although it isn't always easy to quantify, we see that our programs have a lasting impact on the students we serve." — Meg Ramsdell, Executive Director, Cambridge School Volunteers, Inc. 
Powered by its 2019 CCF grant: CSV's Director of High School Programs and new Director of NetPals to collaborate and develop new STEM internship opportunities for CRLS students among CSV's 15 corporate partners. Funding also supports professional development for three CSV staff members on Facilitative Leadership for Social Change.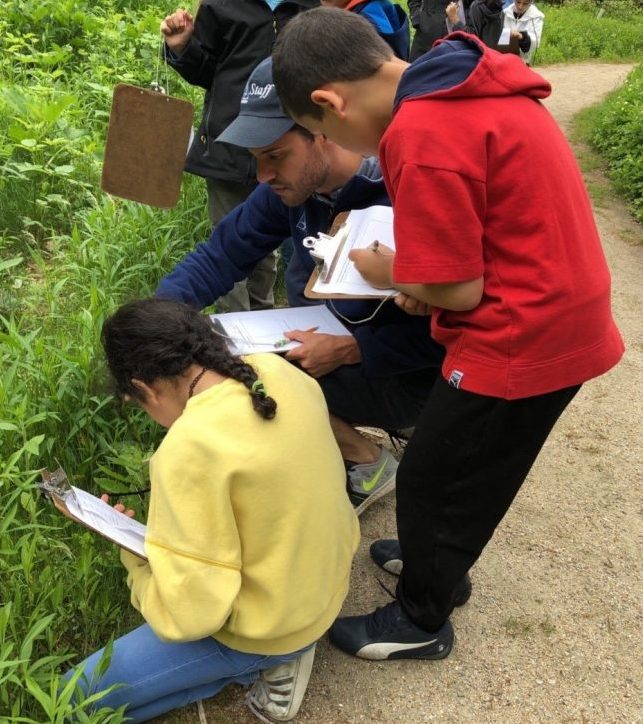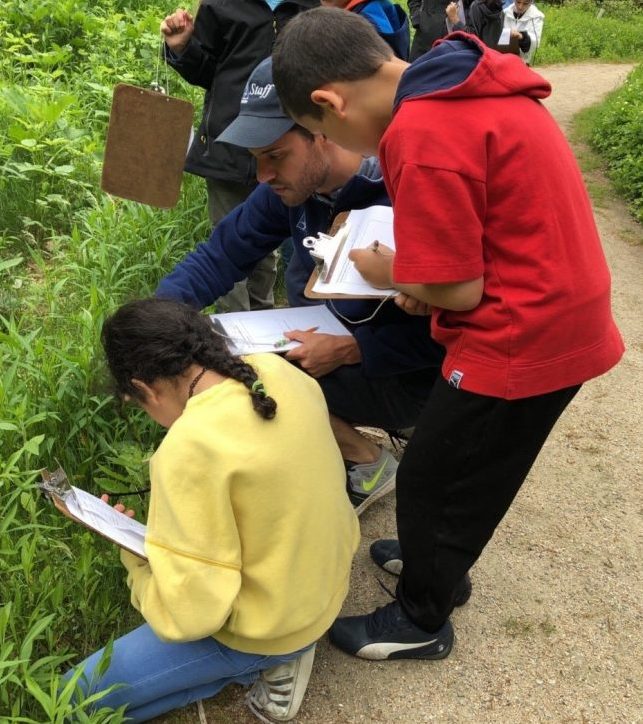 …parks
Mass Audubon's Habitat Education Center & Wildlife Sanctuary
"Our program increases student awareness of the natural world around them, erasing "nature blindness". During the guided walk, students observe and question their surroundings as they compare the different habitats found at Fresh Pond Alewife Reservation. This short discovery trip elevates their comfort level of being in nature, encouraging them to spend more time outside and value the natural world.
"Mass Audubon specializes in these informal environmental educations programs and can offer professional development to 'teach a teacher how to fish' and become confident to take their classes outside themselves." — Gary Clayton, President
Powered by its 2019 CCF grant: The Local Wildlife Project, which takes place at the CPS Maynard Ecology Center at Fresh Pond, served all 2nd-grade classrooms in Cambridge.
…participatory citizenship
Discovering Justice
"Discovering Justice teaches students that they play a critical role in the decisions that shape our history, and we ensure students view democratic citizenship as an important part of their identity by the time they reach high school.
"The results of the 2017-18 school year survey showed that 77% of students participating in Children Discovering Justice demonstrated moderate to strong gains in civic knowledge, and 55% demonstrated moderate to strong gains in civic dispositions (i.e. political attentiveness, understanding of participatory citizenship, social justice literacy and connection to the community). More than 75% of participating teachers feel better equipped to teach civics and current events to their students." — Ann Gogol, Chief Operating Officer
Powered by its 2019 CCF grant: The K-8 literacy-based, experiential curriculum in social studies and civics gives Cambridge students a deeper understanding of democracy.