At the Cambridge Community Foundation, we strive to uphold Cambridge as a beacon of cultural richness. We envision a city where diverse communities spark spiritual, social, and artistic exploration; where innovation thrives; and where connections between residents are deepened across neighborhoods, cultures, and backgrounds.
We believe that supporting the arts and culture in Cambridge will ensure that the unique character of our city continues to flourish and evolve. Paramount to this goal is galvanizing younger generations to contribute to the vibrant theater and film scenes, street art, and music that make the city a wonderful place to live and work.
Three of our nonprofit partners — Cambridge Community Television, the Loop Lab, and the Community Art Center — are doing just that.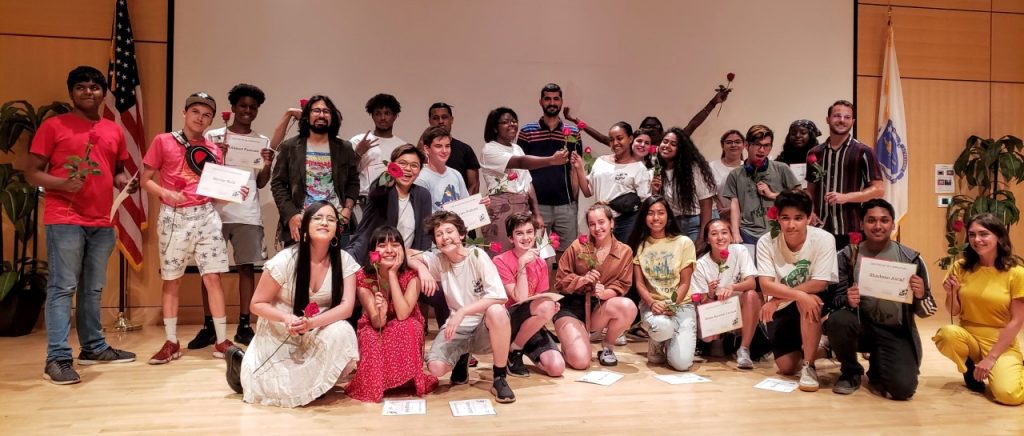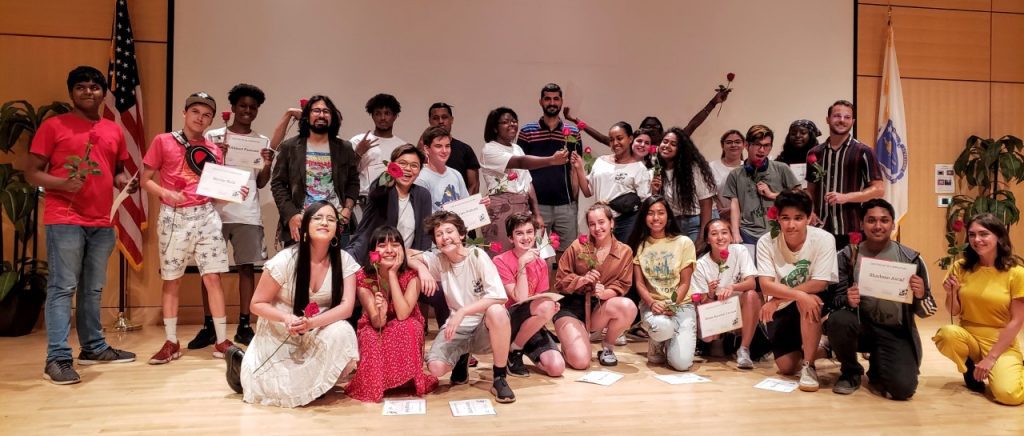 Cambridge Community Television's Youth Media Program
Cambridge Community Television (CCTV) nurtures a strong, equitable, and diverse community. CCTV provides tools and training to foster free speech, civic engagement, and creative expression while connecting people to collaboratively produce media that is responsive, relevant, and effective in a fast-changing technological environment.
With a Summer Media Institute and a School Year Production Program, CCTV's Youth Media Program allows young people in Cambridge to work as paid media artists, building vital career skills.
"The Youth Media Program primarily serves young people from under-resourced populations who are constantly bombarded by media that contain messages and assumptions about who they are and where they come from," said Xia Rondeau, the youth & immersive media coordinator at CCTV. "Young people know the power of media, and here they are able to harness it."
Catalyzed by the Cambridge Community Foundation: With a $15,000 grant in Spring 2019, CCTV's Youth Media Program used virtual reality to combat climate change. Students created 360º films illustrating the impact of climate change on various communities in and around Boston.
"Through this exploration, with the generous support of the Cambridge Community Foundation, CCTV was able to implement new and emerging technologies into our youth programming, facilitating personal connections with the devastating impact of climate change and the superheroes who are addressing it," Rondeau said.
"Our participants walked away knowing that they had produced a 360º movie, while also making a difference in their world," Rondeau said.
Each of the students' projects was screened for an audience of 100+ people at the Cambridge Public Library and continues to be shared on CCTV's online channels.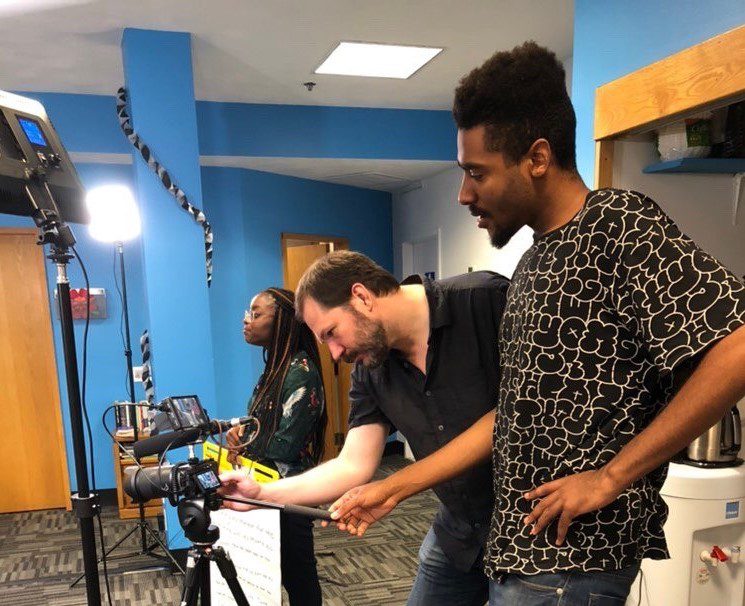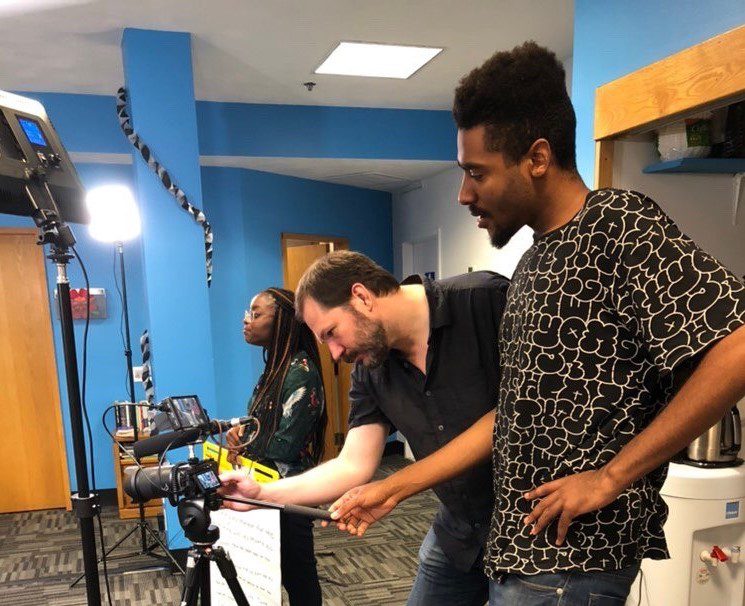 The Loop Lab is a nonprofit social enterprise specializing in media arts internships for youth and digital storytelling. Its mission is to empower young people of color in the media arts to develop careers in audio/video through employment training and job placement. The organization is committed to fighting inequality and racism through digital storytelling.
"Youth empowerment is about giving young adults tools to be self-sufficient and effective as they transition into adulthood. The Loop Lab addresses workforce development skills – audio video editing, video capturing – but also how to budget money, build communication skills, how to start a project and how to finish it," said Chris Hope, executive director at the Loop Lab.
"Our motto is workforce development equals human development," Hope said.
Catalyzed by the Cambridge Community Foundation: A grant of $10,000 in Fall 2019 helps The Loop Lab to prepare young adults for work in the digital economy. These contributions are vital to The Loop Lab's sponsorship of students in six months of technical skills training, 19 weeks of in-class training, and 200 hours in an internship with a local organization.
"We're ensuring our instructors have what they need to provide high-quality instruction for our students, and that students have what they need to be full human beings and learn," Hope said.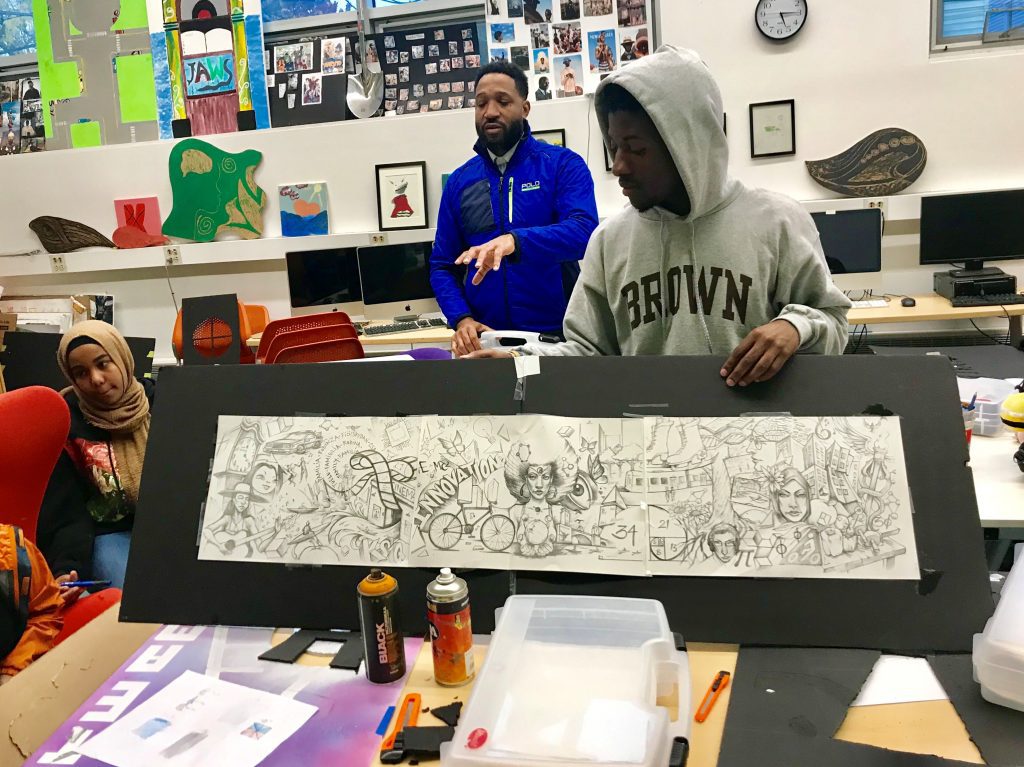 Founded in 1937, the Community Art Center is a neighborhood institution committed to cultivating an engaged community of youth in developing singular artistic voices that can transform their lives, their neighborhoods, and their worlds.
"Our cause is not just art…Art doesn't exist in a vacuum. Our cause is justice. Our cause is people. Our cause is families. Our cause is Cambridge," said Eryn Johnson, the Art Center's executive director.
The Community Art Center's programming illustrates the power of art for youth in our community. Through its Public Art Program, for example, one teen and thousands more people see her artwork on a public mural in Cambridge, every day. In the young artist's own words: "I didn't imagine I could do something like that. But when I saw it, I was like, 'Damn. That's really me.'"
Catalyzed by the Cambridge Community Foundation: The Art Center has been a Foundation nonprofit partner since 1977. With a $13,500 grant in Fall 2019, the Art Center received general operating expenses and for its Creative Careers Pipeline Initiative, which started as a pilot program last summer.
As of December 2019, teens and young adults can now learn about arts entrepreneurship by participating in weekly sessions hosted on Wednesdays and Saturdays. Allentza Michel, the Art Center's creative careers consultant, is designing and facilitating content for each of these sessions to help young people create their own arts business.
"The young people are learning a combination of skills in addition to the artistic of digital photography," said Michel. "These skills include critical thinking, leadership, public speaking, and business development. Our goal is that this mix of learning and engagement will enable the youth to have an early start in growing social business acumen."
Learn about the other nonprofits we support in arts and culture, youth empowerment, and much more here.