Published On: June 3rd, 2020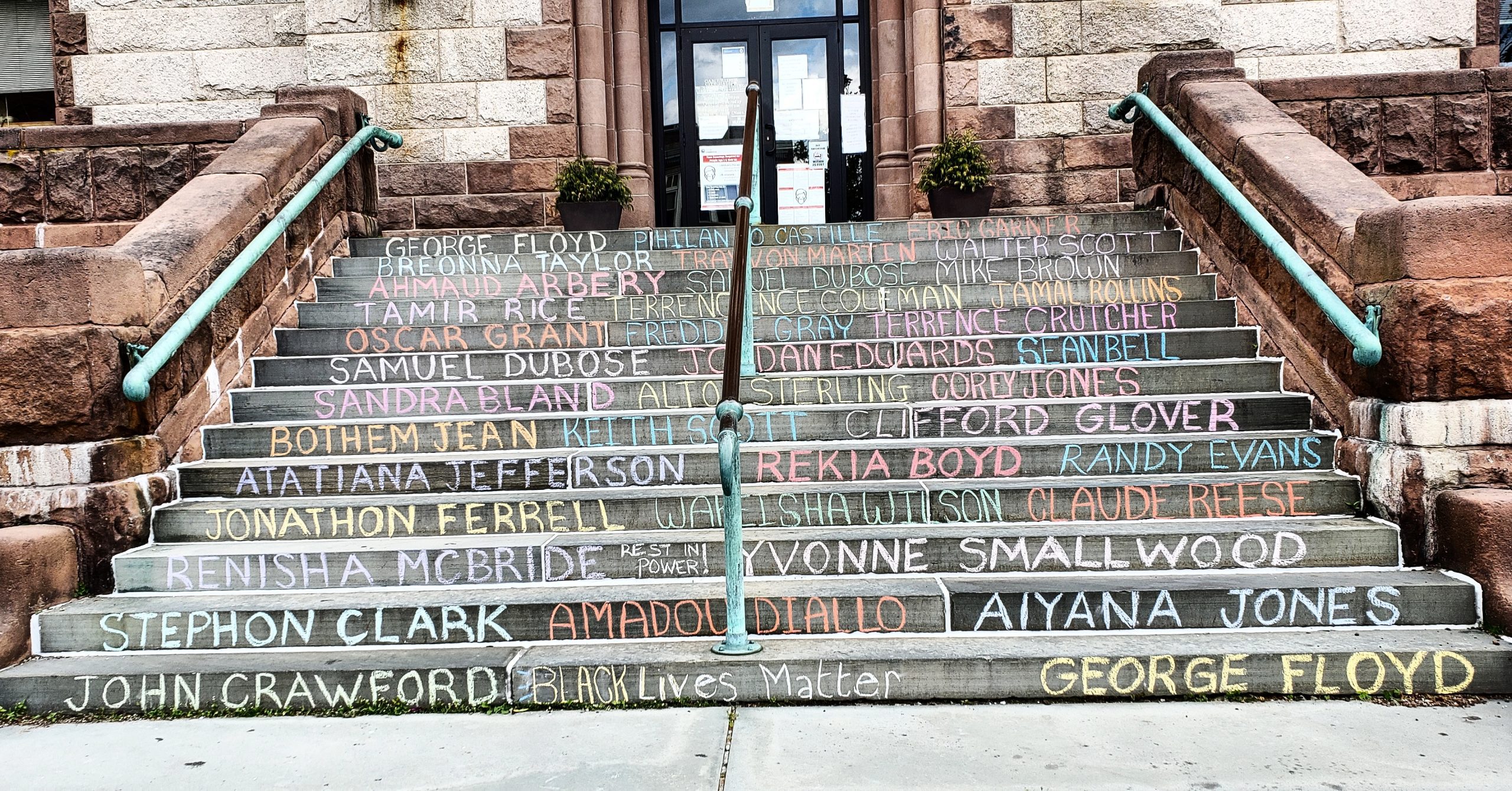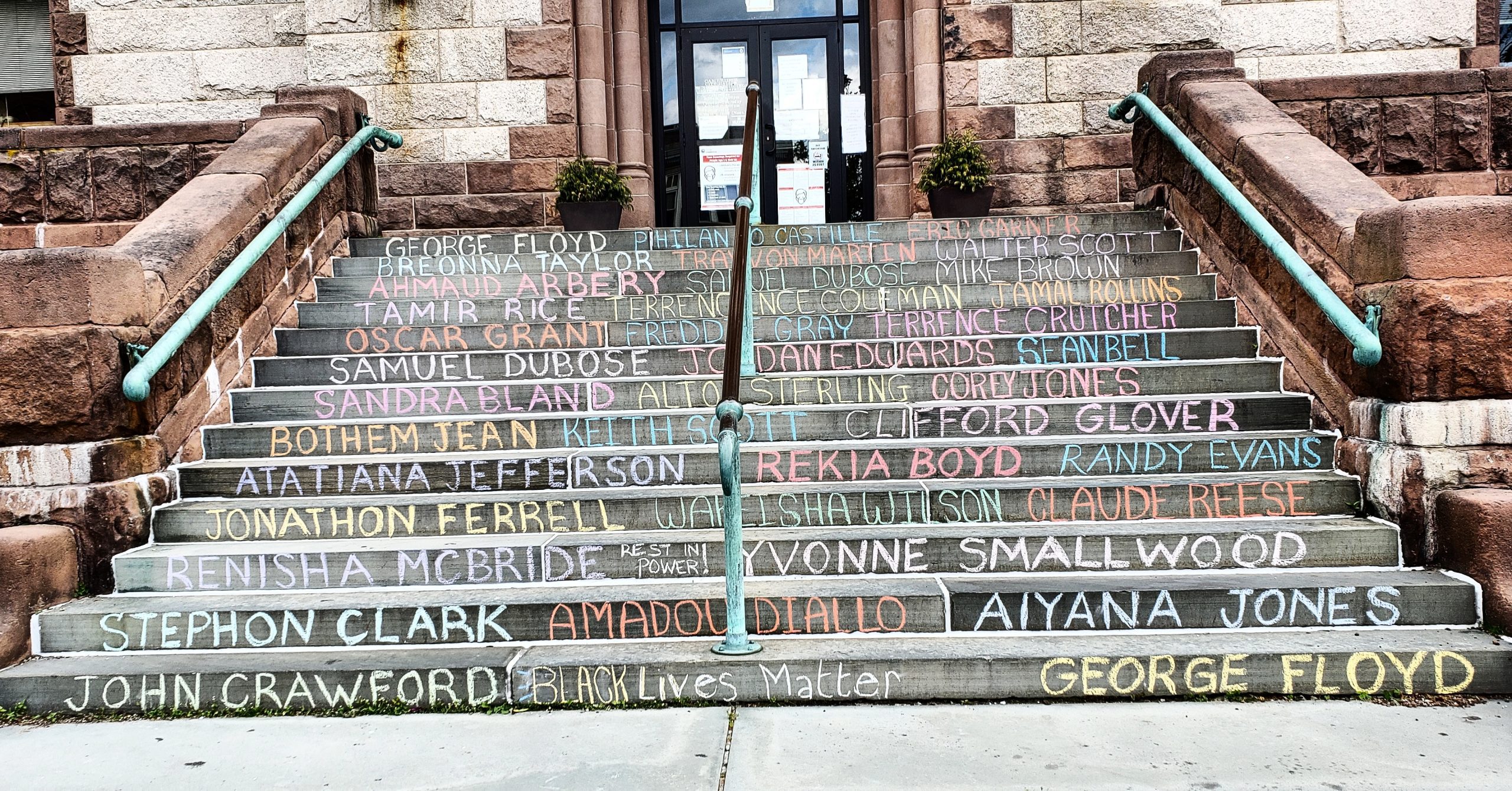 The steps of Cambridge City Hall on June 2, 2020. Photo by Only in Boston.
The Cambridge Community Foundation is deeply involved in many of the issues that intersect with racial equity, and we've pledged to undergo a deep introspection of ourselves and our work, with an intentional lens on racial equity. Read more in a letter from our president, Geeta Pradhan.
We invite you to join us by educating ourselves and one another, being proactive, lifting up leaders of color, and learning about and rallying behind the organizations supporting our Black and Brown neighbors. Here are some resources shared by our community that can help us all on our journey to educate ourselves and take action. Please share widely! 
Resources to l
earn about Social 
and Racial Justice
Langston Hughes' poem - Freedom's Plow 
Anti-racism Resources posted by activists Sarah Sophie Flicker and Alyssa Klein 
Bearing Witness: The Death of George Floyd (Facing History) 
75 Things White People Can do for Racial Justice 
How to Make this Moment the Turning Point for Real Change by Barack Obama 
Clairvoyance Installation #2: White People Read Reading List, curated by Diana Oh
Resources from the Politics of Race and Ethnicity Program at The Harvard Kennedy School 
White Privilege: Unpacking the Invisible Backpack by Peggy McIntosh 
How To Be An Anti-Racist (2019 NYT Best-Seller)
Confronting Prejudice: How to protect yourself and help others
 Ally or Accomplice? The Language of Activism 
Eyes on the Prize: American Civil Rights Movement 
The Anti-Racist Reading List by Ibram X. Kendi
Ibram X. Kendi's recommended reading list
The Case for Reparations (2014 article from The Atlantic)
White Fragility (2018 NYT Best-Seller)
89 Racial Equity Resources for Healthcare Workers, Educators, and More
The MSW@USC Diversity Toolkit: A Guide to Discussing Identity, Power, and Privilege
Local resources
Many Helping Hands 365 – Racial Justice Resources and resources about Dr. Martin Luther King, Jr. and his work
Building Equity Bridges – Cambridge Public Schools; Barriers to Equity in Cambridge Public Schools 
Many Voices Project: Poems by the People of Cambridge – Reflections on race, justice and equality after Ferguson and Staten Island– a 2015 Cambridge poetry project in response to the murders of Michael Brown and Eric Garner
To watch or listen:
13th
 (Netflix Documentary)
1619
 (2019 Podcast from The New York Times)
Just Mercy by Brian Stevenson. The film is free to rent in June on digital platforms including Amazon, iTunes, and Vudu.   
Five-Part Series on Black Cambridge and Covid-19, hosted by School Committee Vice-Chair Manikka Bowman and Former Mayor and City Councilor Denise Simmons. Watch the first session on Education. Subscribe for future sessions: [email protected] or [email protected] 
Especially for families and children:
On June 6 at 10am: CNN and Sesame Street will host a "town hall" addressing racism
Social Justice Solutions: A Parent's Guide to Discussing Racism
How to talk to your kids about race at any age
Support Social Justice organizations 
Sisters Unchained – Cambridge Community Foundation's 2019 Imagined in Cambridge Social Innovation Award winner 
blackyard – 2020 Imagined in Cambridge Social Innovation Award winner
CRLS Black Student Union – a 2019 Imagined in Cambridge Social Innovation Award winner
United Legal Defense Fund for Immigrants 
Black Visions Collective (Minneapolis) 
Ideas on w
ays to take action
Movement for Black Lives Week of Action 
Indivisible – Actions to Take for Racial Justice  
Help get co-sponsors for the Omar-Pressley Resolution condemning police violence 
Advocate for digital equity and Municipal Broadband. Write to the City Manager asking for action towards creating Municipal Broadband: Louis DiPasquale, City Manager [email protected] Learn more from Upgrade Cambridge.