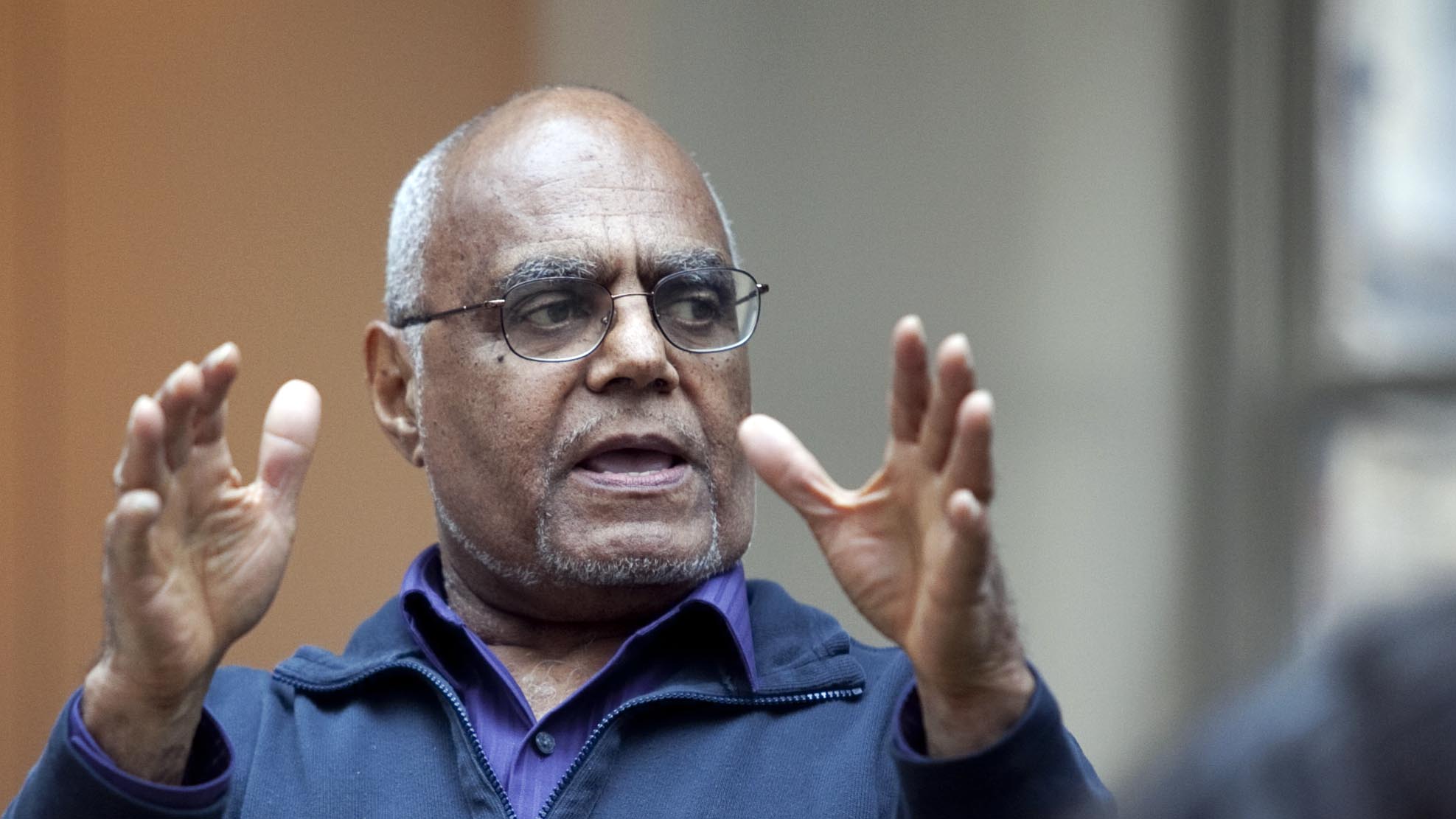 Cambridge, MA — March 15, 2023
As a young educator, Bob Moses and fellow civil rights activists risked their lives and joined sharecroppers and day workers in Mississippi to forge a historic movement to register Black people to vote. Their collective actions paved the way for the passage of the Civil Rights Act, and to Bob Moses' lifelong commitment to creating an equitable democracy and to ending the historical inequities and disparities of our country's educational system. In honor of his legacy and to advance his vision of a multi-racial democracy, the Moses family and the Cambridge Community Foundation have launched the Bob Moses Fund for Education and Organizing, designed to continue the extraordinary legacy of the inspirational educator, civil rights leader, mentor, father, and father-figure to many. 
"In honoring Bob's life, we seek to support established movement builders, like Jeremy and Derrick who are tackling the hard truths of the caste system that exists throughout our society, and emerging grassroots leaders, like Emmanuel and Deondre in Cambridge," said Dr. Janet Moses, Bob's widow, co-founder, and a program committee member for the fund. "Whether it's in the arts, education, or in supporting social justice movements, the fund is not simply a grantmaker, but a catalyst for a new generation of changemakers in Black, brown and Indigenous communities." 
"Supporting the people and ideas that Bob stood for and helping grow the movement for a truly equitable and just society, is a great honor for the Foundation," said Geeta Pradhan, Foundation president. "We are honored to collaborate on this fund with the Moses family, whose leadership and drive for social justice in this country is truly unparalleled." 
The fund launched with two inaugural grants of $75,000 to movement builders who embody the community-focused leadership and spirit of Bob Moses: Shinnecock artist, Jeremy Dennis, and Turkey Creek historian and preservationist, Derrick Evans. The fund also awarded two $15,000 grants to support the work of local grass-roots movement builders – Emmanuel Mervil, founder of Everybody Gotta Eat, and Deondre Starling, founder of Scholarships Before Athletes. 
Jeremy Dennis is a Shinnecock tribe member and award-winning contemporary fine art photographer who established Ma's House, a residence and communal art space for Black, Indigenous and people of color in Southampton, New York, in honor of his grandmother, Loretta A. Silva. 
"Ma's House is honored to uplift the spirit of Bob Moses by celebrating community and family, and by inspiring forthright dialogue around equity through the art we support and create," said Jeremy Dennis. "The Shinnecock Indian Nation, one of the oldest self-governing tribes in New York, is rooted in tradition and this grant will allow us to more deeply explore those traditions. We're very excited to nurture and elevate the artists in our community with the support of the Bob Moses Fund." 
Derrick Evans, a historian and former Boston school teacher, is leading a 20-year effort to preserve the land and history of Turkey Creek, Mississippi, land that was owned by former slaves and facing certain destruction due to development and coastal flooding driven by climate change. 
"The enlightened and self-determined community stewardship of living places and resources by socially, culturally, and environmentally vulnerable people can achieve authentic and lasting community justice, education, and healing like nothing else can. Claiming ownership of our 'whole place' and 'whole story' has been an enormous step forward in terms of respect, justice, and hope for Turkey Creek and many kindred communities beyond," said Derrick Evans. "We are very honored to have the Bob Moses Fund recognize and support this vision and mission." 
Emmanuel Mervil, a life-long Cambridge resident and former Algebra Project math literacy worker created Everybody Gotta Eat, an organization that provides a platform and outlet for emerging independent chefs in the Black community, through his curated menus for events and lifts up Black-owned restaurants on social media. Founded as a small community give back, today he runs a catering company, hosts large-scale cookouts and food festivals that bring Cambridge residents back to their neighborhoods and runs a food blog. He attributes his desire to help people to his mother, whom he thinks of as a modern-day Harriet Tubman, helping people from her native country, Haiti.    
"It's why I'm always helping people in my community. It's just in my blood, and I do it through good food." said Emmanuel Mervil. 
Deondre Starling is a Cambridge native, former Rindge basketball star, and rising entrepreneur. In 2023, he'll launch a new non-profit, Scholars Before Athletes, dedicated to creating the programs and pathways young athletes need to pursue both athletic and academic excellence. Through annual givebacks, scholarships, workshops, and tournaments, Scholars Before Athletes uses our shared love of the game to support and showcase the next generation of talent. 
"My dream is to never have to say no. I want to be able to touch the communities I'm a part of through sports. The opportunity to work with kids in my former neighborhood and beyond in a meaningful way energizes me." 
"The fund's mission is to amplify the gifts that Bob Moses gave to countless communities, and now it's uplifting the gifts that Jeremy, Dennis, Manny, Deondre are giving to their communities," said Omo Moses, Bob's son and co-founder of the fund. "We want to elevate organizations, initiatives, and individuals, whether artists or entrepreneurs, whose work embodies my dad's spirit and by its nature confronts and reimagines who we are and who we can become as a people and a country." 
In establishing the fund, the Moses family draws inspiration from Bob's experiences in the nascent civil rights movement of the 1960s, which played a pivotal role in bringing about the Civil Rights Act of 1964 and the Voting Rights Act of 1965. 
The fund serves three primary purposes: 
Invest

in people, organizations, and initiatives whose work embodies the spirit and work of Dr. Bob Moses.

 

Nurture

a living legacy that remains in dialogue with ideas and questions Bob raised for himself, young people, and America.

 

Grow

a network of organizations, initiatives, and people working in his spirit.

 
The fund also supports the Bob Moses Speaker Series curated by Dr. Janet Moses in partnership with MIT university and experts to further explore the impact of caste on three major systems in this country – education, voting, and incarceration. The first virtual conference, "Education: Insurgents and Insurgencies," was held in partnership with the Massachusetts Institute of Technology (MIT), the Cambridge Community Foundation, The Algebra Project, the Young People's Project, and the Cambridge NAACP in April of this year. The second Bob Moses Conference was held January 28-29, 2023, and focused on mass incarceration and voting disenfranchisement. 
The fund is led by the Moses family, including Dr. Janet Moses and Maisha Moses, who represent more than 50 years of experience in education and organizing, in partnership with the Cambridge Community Foundation. Working together with other visionaries in the field, they will guide the fund's grantmaking and programmatic vision to invest in people, organizations, and initiatives that embody the spirit and work of Bob Moses; to nurture a living legacy that remains in dialogue with ideas and questions Bob raised for himself, young people, and America; and to grow and nurture a new network of organizations and changemakers working in the spirit of Bob Moses.