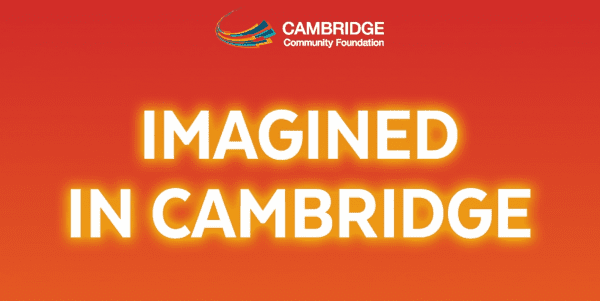 Through its first two cycles, our Imagined in Cambridge! Social Innovation Award identified 10 winning ideas offering innovative solutions to big social problems – but behind the scenes, we heard more than 100 creative project ideas, each deserving a chance to grow and help our community. 
That's why we recently launched the Imagined in Cambridge! Fund, a microgrant opportunity for all past award applicants that to date has awarded $14,000 to support 28 local, social innovators – 20 of which identify as BIPOC-led. Behind each $500 microgrant is a unique, creative person or group fueled by social justice, creativity, culture, building community, and more. Scroll down for a full list of microgrant recipients.
Innovators have put microgrant dollars to use, in a variety of ways, to help advance their project to "the next level". Cambridge resident Tony Clark, whose idea to launch a podcast called 'The People's Classroom' to engage more citizens in local civic life, used the funds to purchase podcast equipment. Classical musician Dana Ianculovici paid forward her microgrant to hire a local composer to workshop an original musical performance, The Wizard is Us!, which she hopes to present to the Cambridge community this fall. Other innovators leveraged funds to get the word out about their work by building a social media presence, covering print costs, or making website fixes. A few projects, including Good Bank, Kings Table, and Cambridge mutual aid network are turning around the dollars to give to community members through cash grants, intern stipends, or artist fees. 
We're incredibly grateful to Verizon and a Cambridge family whose founding generosity seeded this Fund to help advance burgeoning ideas that better our community. And we thank the many donors who, through the power of collective giving, continue to grow the fund with gifts of all sizes. 
"At Verizon, we care about helping people realize their potential," said Verizon Community Engagement Director Cathleen Finn. "Cambridge is known for innovation, and we're glad to support efforts like the Foundation's that help spur innovation at an early stage, when people really need support to develop or scale their ideas." 
Together with Verizon and all the Fund's supporters, we celebrate these extraordinary innovators and look forward to seeing their projects grow and thrive in Cambridge – and beyond. Look out as we spotlight more of their stories in the weeks to come. 
Donate to the Fund today: We invite you to help grow resources available to emerging, social entrepreneurs in our community.
Do you have an innovative idea to better the Cambridge community? Our 2021 Imagined in Cambridge! Social Innovation Award is now accepting applications.
28
projects supported by the 
Imagined in Cambridge! 
Fund, so far:
Anike

: Culture-in-Motion: finding ways to make local resources culturally relevant

 

Asian Women for Health

: bringing an antiracism PSA to Cambridge

 

Black History in Action for Cambridgeport

: an arts, humanities, and culture podcast series at St. Augustine's African Orthodox Church

 

Cambridge mutual aid network

: a network of volunteers providing resources and food to any neighbors in need

 

ClearVision

: live classical music for isolated senior home residents

 

Club Passim Global Roots Series

: giving voice and platform to artists from varying backgrounds and styles

 

The Connected Foundation

: engaging isolated seniors through technology

 

Exuberant Wake

: a live, musical performance in Central Square to celebrate community

 

Kings Table

: mentorship, academic goal setting for Black youth, using music to engage

 

MatriArts

: educational programs preserving traditional African diaspora art made by women for future generations

 

Mentorship by Patrick Planet

: providing undervalued resources to young Cambridge dancers and creatives – mentorship, inspiration, and accountability

 

Neighborhood Stories by We, Ceremony

: an interactive, public art project where Cambridge residents, in particular women of color, share their stories

 

New England Bangladeshi-American Foundation

: connecting new and young immigrants to local employment opportunities

 

The People's Classroom

: a podcast aimed to engage Cambridge's most civically disconnected citizens

 

Shepherd's Kitchen

: food home deliveries to elderly Cambridge residents

 

Soul on Wheels Boston

: community bike rides for people of color

 

Spreading Joy and Diversity through Reading, Writing, and Musical Composition

: a music and literacy project for Cambridge 3rd-5th graders

 

Tertulia Virtual

: an online space for artists to gather and perform

 

The Unstoppable Citizen Workshop: an opportunity for Cantabrigians to learn about how nervous systems inform civic engagement

The Wizard Is Us!

: an inspirational musical by Cambridge artists to share with the community

 

True Given

: digital tool facilitating cash distribution to community

 

Vernacular Architectural Study of Religious Spaces in Cambridge

: elevating history in art

 
including past award winners: 
blackyard

: a creative space where BIPOC youth and families feel empowered

 

The Black Student Union

: a coalition of student activist-leaders at Cambridge Rindge & Latin School

 

Good Bank

: cash microloans to community members who need a few dollars to get by

 

Kids Fete

: Caribbean Soca-inspired dance, free to Cambridge kids ages 5-12

 

Our Fire Collective

: community healing retreats for K-12 educators

 

South Asian Workers' Center

: culturally responsive resources to help families thrive