Published On: June 26th, 2020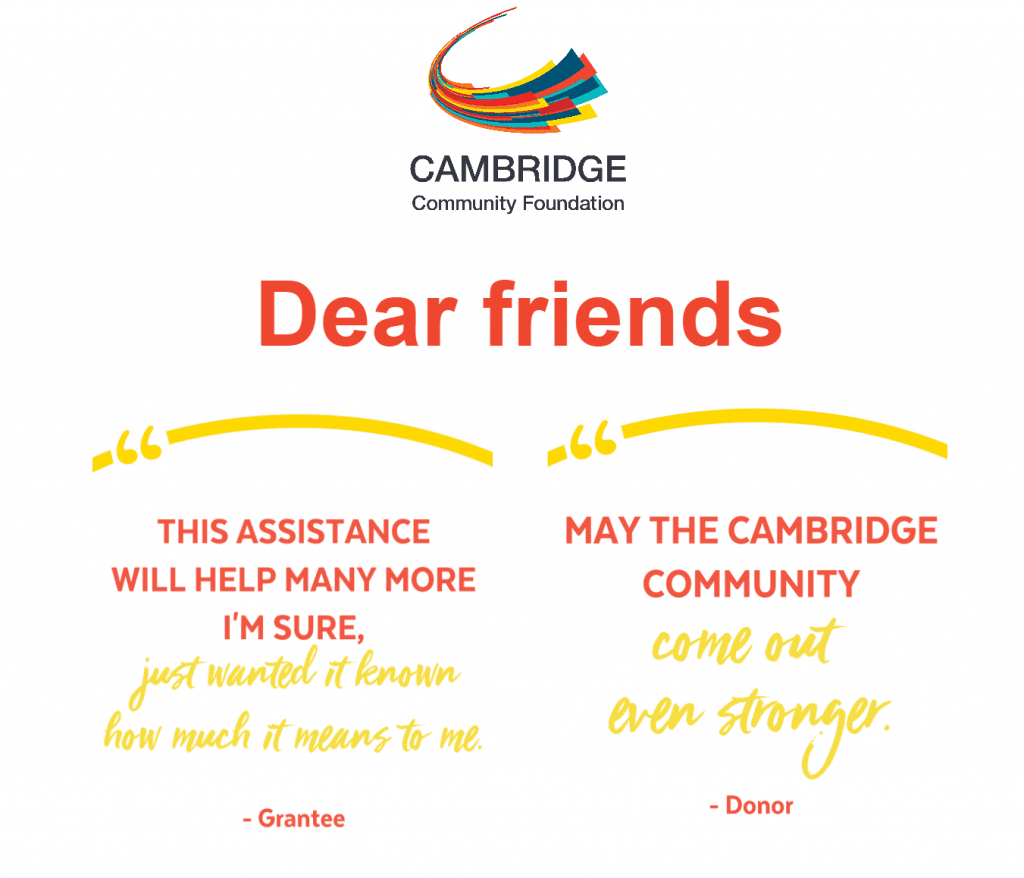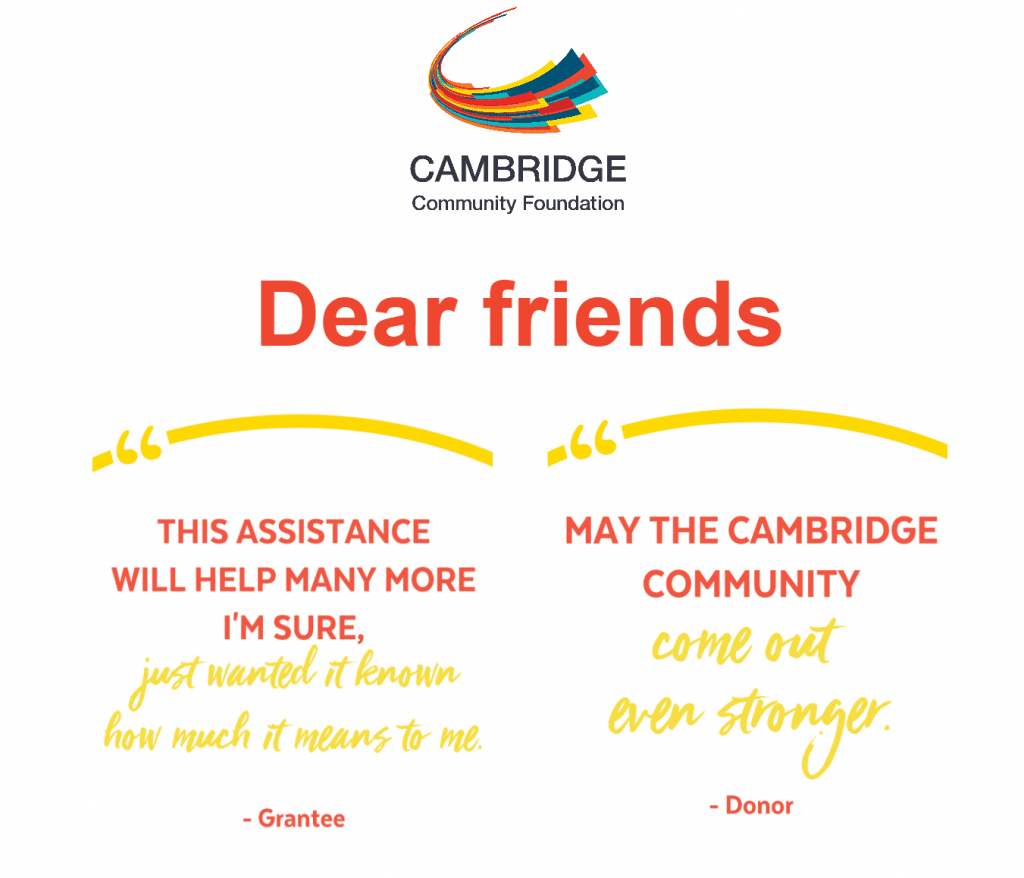 June 26, 2020 | Cambridge, MA
Relief…and recovery
Three months ago, we couldn't have predicted how widespread the pandemic's impact would be, but we, like so many of you, knew we needed to respond quickly.
For an organization that does its work squarely within the nonprofit sector, that meant stepping outside the box. We began awarding cash grants directly to individuals, families, and artists in crisis, while continuing to partner with nonprofits to give small grants to people in their circles. We also provided grants to arts organizations who took an enormous hit with the loss of audiences and early closures. The results are eye-opening.
A new point of view
The process has given us a fresh, first-hand view of our community and its needs. One of the biggest privileges of our COVID-19 relief work has been connecting with people from all corners of the city and hearing from them directly. We've also witnessed the incredible creativity and tenacity of our nonprofits, who met community needs despite their own financial pressures.
By the numbers
As of June 25, we allocated 1,162 cash grants to individuals, families, artists, and small businesses. We've also helped hundreds more through our support of 27 local nonprofits and 31 arts organizations and groups. Last week, because the need exceeded the funds available, we stopped accepting new grant applications to the Cambridge COVID-19 Emergency Fund and the Cambridge Artist Relief Fund, and we had to inform some applicants we couldn't fund them.
We're pleased to announce that thanks to a major donation from the Phillip and Susan Ragon Foundation yesterday, we'll be able to fund nearly 200 applications awaiting emergency relief as we wrap up our grantmaking to individuals and families and pivot our work to recovery. We're incredibly grateful for this source of support, which enables us to answer the call of every eligible applicant. The Ragons join over 400 donors of all sizes—from $5 to $100,000—who have made our emergency relief work possible and who inspire us as we take our next steps.
We stand ready to help our community in partnership with all of you, to affect change given the fragility we've seen of too many families in our community. While we know emergency relief will continue, we must also start to reimagine and rebuild for a more equitable and sustainable future—a resilient Cambridge!
As we conclude the individual grantmaking from our emergency funds and enter this new phase of community support focused on adjusting to a new normal and to recovery, we'll be working in deep partnership with our nonprofits and launching other creative ventures.
Join us on this journey
Please stay involved. Continue to engage in movements and organizations helping neighbors. Give to our nonprofits as they meet emergency needs and rebuild. Educate yourself and others about systemic racism and poverty. Buy from local and Black-owned businesses. Support our artists and arts organizations. Innovate solutions to our city's needs. Join conversations about Cambridge's recovery. And get involved in the Foundation and our civic leadership work—as a donor, an advocate, or a volunteer.
The past three months have shown that when we work together, our community is stronger.
Warmly,
Geeta Pradhan