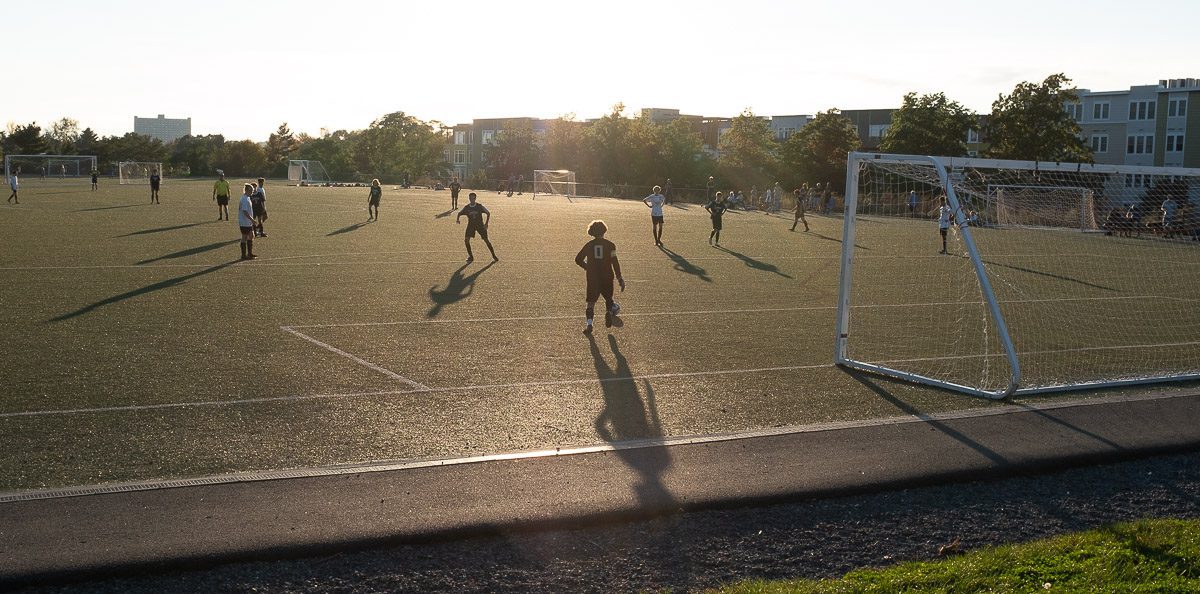 Photo by Cindy Weisbart.
Call for applications from

Cambridge coaches, young athletes, leaders of summer recreation programs driving equity and healthy living for Cambridge youth. 
CAMBRIDGE, MA | June 28, 2022 — The Cambridge Community Foundation (CCF) has announced a new pilot initiative CAMBRIDGE WINS, Sports Equity Grants aimed at empowering young athletes throughout the city and supporting summer programming that keeps Cambridge youth healthy and active. The announcement follows a major CCF forum earlier this month, featuring national education leaders addressing education equity and opportunity gaps for all Cambridge youth.  
According to the 2021 Cambridge Teen Health Survey, white and Latinx Cambridge Public Schools students are most likely to report being physically active five or more days a week, compared to just 20% of their Black and Asian peers and 6% of Native American students. The survey also found that nearly half of all CRLS students have suffered from poor mental health, reporting feeling tense, nervous, or worried every day for more than two weeks in a row.  
Created in partnership with Cambridge natives and sports enthusiasts, Joe Bradlee and Matt Meyersohn, the summer initiative will infuse $20,000 in CCF funds to help address these inequities and make healthy activities accessible to all youth, regardless of socio-economic status.  
"As we think about the wellbeing of our youth, the need for positive, enriching activities like summer sports is a top priority," said Mayor Sumbul Siddiqui. "I want to thank the Cambridge Community Foundation for listening to community members and for building on their investment in our city's young people." 
The Foundation is accepting grant applications from current coaches, athletes, and leaders of recreation programs across the city who are providing summer programming to youth who might not be able to participate due to financial or family constraints. Applications are due by July 8. Grants of up to $500 for individuals and $1,000 for nonprofits and city agencies will be distributed beginning in mid-July. 
"All of us are looking forward to using this pilot program to make a positive impact on young people in the City of Cambridge," said CCF Advisor, Joe Bradlee. "As a product of youth sports programs in this city I know firsthand how sports can bring people together from all walks of life, and I look forward to working with the CCF to make sure that kids across Cambridge have the access they need to sports and recreation programs that interest them." 
CCF Advisors Joe Bradlee and Matt Meyersohn will review applications and assess areas of need across the city with CCF's leadership. Bradlee is a third-generation Cantabrigian who has been working in the Boston Red Sox organization for 10 seasons and is currently the Vice President of Baseball Operations & Community Relations for the Worcester Red Sox, the Club's Triple-A Affiliate. Meyersohn, also a Cambridge native, currently serves as an Assistant Coach on the Men's Cambridge Rindge & Latin Basketball team and is the Senior Director of External Affairs at MENTOR. He also served the Boston Celtics as their Director of Community Relations & Player Development for seven years. 
"More than any other activity, sports crosses boundaries to bring people together from every corner of the city. This new initiative aligns with our commitment to be the community foundation of and for all of Cambridge," said CCF Chair Phil Johnson, who brought Bradlee and Meyersohn to CCF for the project. "We're excited to welcome Joe and Matt, two exceptional community members and products of the Cambridge sports scene. Their energy is infectious, and they bring a perspective and network of like-minded people to help guide CCF in finding and supporting sports programs with hyper-local impact."  
Through this grantmaking opportunity, the Foundation seeks to learn more about sports programs across the city at all levels that are underfunded, along with recreation programs that could use the Foundation's attention. 
To see grant eligibility and apply, please go to https://cambridgecf.org/cambridge-wins. 
For more information on the initiative, please contact Lauren Marshall at [email protected]