Published On: July 15th, 2021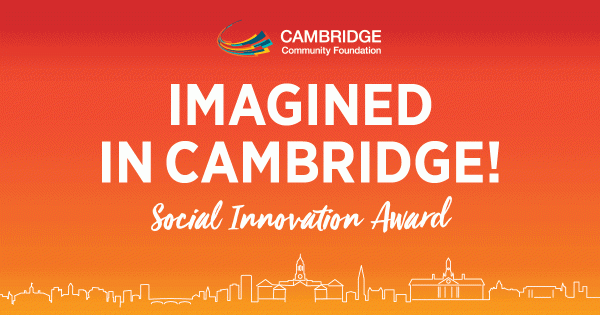 Help us find people working on innovative ideas in Cambridge
We're looking for original ideas that exhibit creativity, daring, and ambition. We value light touch interventions—programs that can be implemented with small resources and create big impact. Help us find them!
The Cambridge Community Foundation is excited to kickoff our third annual Imagined in Cambridge! Social Innovation Award competition. As a funder of Cambridge nonprofits for more than a century, we are deeply rooted in the community—yet we are confident there are local ideas we don't know about. Last year, we uncovered five award-winning ideas presenting innovative solutions to pressing social problems and we know there are more.
Throughout the pandemic, we've seen the power of grassroots solutions to meet intractable issues in our community. In an innovation hub like Cambridge, it's no surprise that original, creative, and daring ideas are emerging across our neighborhoods—from individuals, students, groups, entrepreneurs, burgeoning nonprofits. With small resources and light-touch interventions, these ideas can have a huge impact in Cambridge and beyond. Our mission is to find them and support them.
We invite grassroots innovators who are tackling community challenges and making a difference in the quality of life in Cambridge to apply for our Imagined in Cambridge! Social Innovation Award. In recognition of elevated need in our community, this year, $5,000 will be given to each winning project.
Do you have an idea to better the Cambridge community, or know someone who does? Apply or nominate someone now through September 13! Details below.
Eligibility criteria for the 2021 Award
Program serves Cambridge
Must fill out application by due date: Monday, September 13, 2021 (by 11:59pm)
Individuals, students, groups, entrepreneurs, emerging nonprofits encouraged to apply
501c3 status is NOT REQUIRED
Previous

CCF

 

Community

 

Fund

grant recipients are NOT eligible to apply
Panel of judges
Debbie Bonilla – Co-founder, Friday Night Hype; 2020 Imagined in Cambridge! Award winner
Alanna Mallon – Vice-Mayor, City of Cambridge
David Parker – CEO, Entrepreneurship for All
Erin Muirhead McCarty – Executive Director, Community Art Center
Niko Emack – Member, My Brother's Keeper Cambridge Taskforce
C.A. Webb – President, Kendall Square Association
Lori Lander – Founder, Many Helping Hands 365; Artist; CCF board member (non-voting judge)
To Apply
The 2021 application deadline has passed. Stay tuned to our Facebook page on October 15 as we announce this year's winners live!
Questions about Imagined in Cambridge? Please contact [email protected].