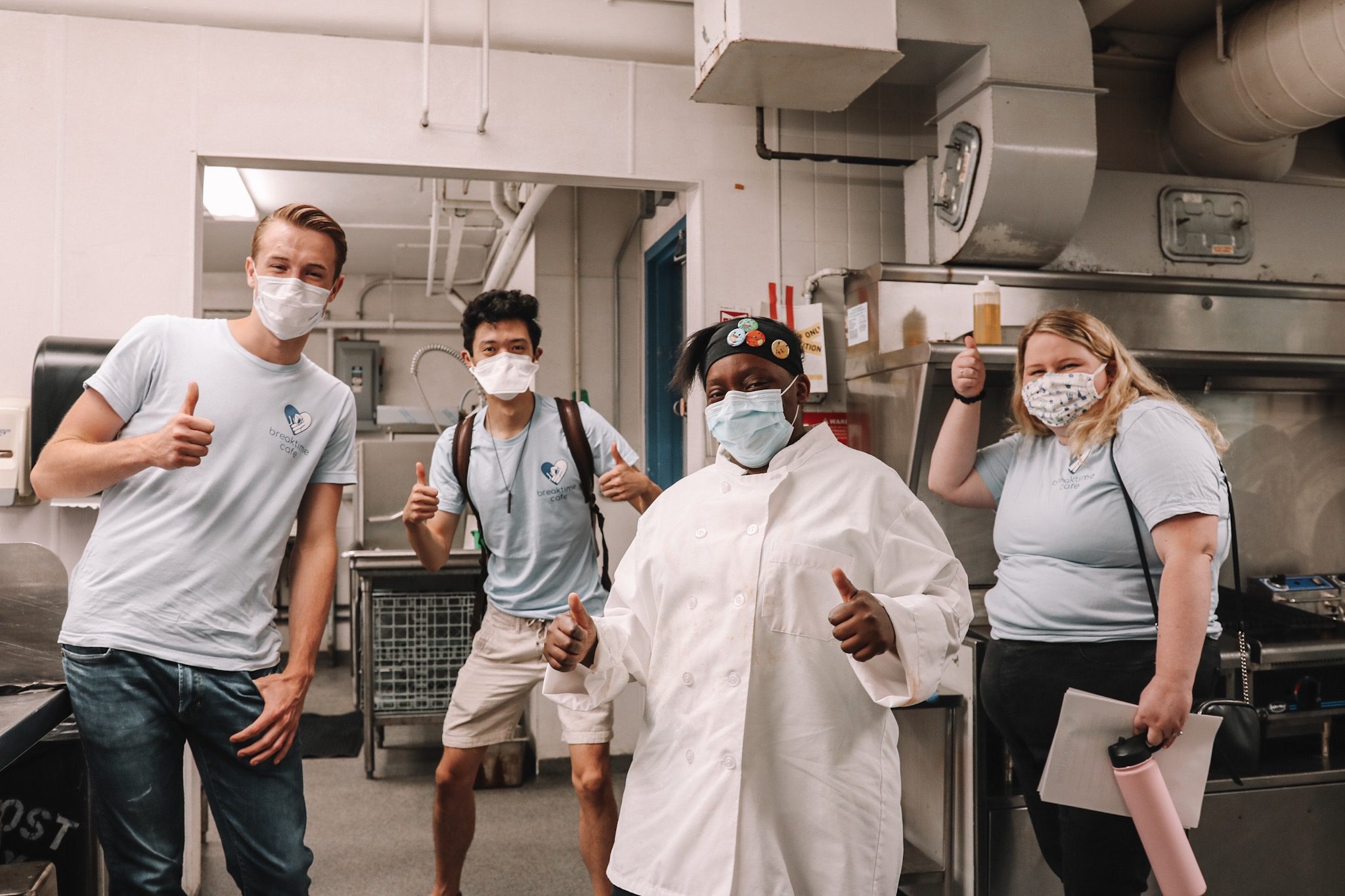 Photo of Breaktime, a nonprofit addressing youth homelessness.
December 13, 2021 | Cambridge, MA 
The Cambridge Community Foundation (CCF) has awarded $468,000 in grants to 66 community-based nonprofits to help the sector's ongoing support of the economic, social, and emotional wellbeing of residents, many of whom are still grappling with the pandemic's impact. 
The grant recipients in this fall cycle of the Foundation's biannual Community Fund grantmaking include longstanding nonprofit partners that the Foundation has supported for 25, 50, even 100 years as well as new partners addressing timely needs in Cambridge. Organizations focused on education and out-of-school time, urgent and basic needs, and economic security received approximately half of the total funding. Additional issue areas supported by the Community Fund include immigrant services, health and mental health, arts and culture, senior services, civic engagement, the education-innovation gap, and environmental and climate justice. Scroll down for a full list of grant recipients. 
"Pandemic recovery remains out of reach for too many of our residents and families and as they continue to struggle meeting basic needs, we must continue to support the essential nonprofits, big and small, that directly assist those who live in and rely on Cambridge," said Geeta Pradhan, Cambridge Community Foundation's president. "Nonprofits are the glue that hold our community together and we are thankful for their dedication to Cambridge." 
While the majority of funding came from the Community Fund, the Foundation partnered with several, generous fund holders to increase the total dollars distributed. 
Correction: In addition to the $468,000 in grants awarded, the Foundation awarded an additional $40,000 as part of a multiyear commitment to the work of the Cambridge Nonprofit Coalition. Our total grantmaking through the Community Fund this fall is $508,000 in 66 grants. We regret this error in our reporting.
A Glimpse at Nonprofits in Action: Tackling Housing Insecurity
Nonprofits like Greater Boston Legal Services (GBLS) have worked tirelessly throughout the pandemic to help residents with many urgent needs, including to prevent housing evictions and support tenants in precarious housing situations. In Cambridge strong collaborations between government and nonprofits helped stave off the evictions surge anticipated after the city's moratorium was lifted last summer.  
"What was really wonderful during the pandemic was everyone in the housing field jumped into high gear to keep people housed, pull together resources and information, work more collaboratively, and adapt processes to help as many people as we could," said Susan Hegel, an attorney at GBLS's Cambridge/Somerville office. Problem areas for housing security include rising construction costs that delay new affordable housing units; and immigrants previously employed in service jobs who remain unemployed, without benefits or federal subsidies.  
Breaktime, a three-year-old nonprofit, is also fighting housing insecurity by helping young adults experiencing homelessness find transitional employment and financial empowerment.   
"We call our model the Double Impact Initiative because we help young adults launch careers through purposeful transitional employment, at community-based nonprofits and LGBTQ+, Black- and Brown-owned small businesses, that support healthy, resilient communities," said Ryan McCarthy, Breaktime's strategy director.  
There has been an uptick in young people in the Boston area experiencing homelessness during the pandemic, according to McCarthy. Additionally, the increases in people needing help have put strains on the systems serving them – making wait times for mental health and housing services much longer for the young adults who need them.    
Cambridge Community Foundation Grantmaking at a Glance
Community Fund grant decisions are informed by a diverse committee of reviewers comprised of 20 community members and leaders from nonprofits, arts organizations, universities and schools, the CCF Board, and other sectors of our city. The review process is led by program committee co-chairs Lori Lander and Rev. Lorraine Thornhill.  
Through the Community Fund, the Foundation invests in 150+ local nonprofits each year as well as new and multi-year initiatives that align with the three pillars of the Foundation's mission: shared prosperity, social equity, and cultural richness. It also supports community-based organizations through urgent needs funds and field of interest funds.  
The Foundation awarded more than $3.5 million in grants during fiscal year 2021 in partnership with hundreds of generous donors, through the Community Fund's steadfast, biannual grantmaking, the Cambridge COVID-19 Emergency Fund and other direct pandemic response efforts, Imagined in Cambridge! Social Innovation Award and Fund, the United Legal Defense Fund for Immigrants, Cambridge Artist Relief Fund, and the Cultural Capital Fund, launched in partnership with the City of Cambridge and the Wagner Foundation.  
Just this fall, in addition to the $418,000 in Community Fund grants, the Foundation also awarded $25,000 to five emerging nonprofits through its third annual Imagined in Cambridge! Social Innovation Award; $32,500 in urgent grants to immigrant–serving nonprofits through its United Legal Defense Fund for Immigrants; and $44,000 to 11 local food efforts like neighborhood food pantries, community fridges, and grocery gift card giveaways last month. 
Fall FY22 Community Fund Grants
Arts and Culture
African Television Network of New England: $1,500
A weekly television program that addresses cultural, political, and practical issues, including proactive COVID-19 vaccine education and outreach activities help boost vaccination rates in Greater Boston.
Boston Comic Arts Foundation: $1,500
The Massachusetts Independent Comics Expo (MICE) and its associated Mini-Grants program annually support local cartoonists by providing a marketplace to build their audiences, grants to support the development of new work, and educational programming to grow a public awareness of the knowledge and skills behind every graphic work.
Brattle Film Foundation: $1,500
Year-round film programming at The Brattle Theatre celebrates film as a popular and fine art form with cultural and historic importance that excites, educates, and inspires community.
Cambridge Art Association: $2,000
CAA exhibits quality works of art and seeks to enrich lives and engage art enthusiasts and collectors. CAA also provides educational opportunities to its members and others to enhance their skills as artists and promote the appreciation of visual art.
Cambridge Community Chorus: $1,500
The chorus provides an opportunity for people of all ages, racial and social backgrounds, religions and political philosophies to sing together and to bring music to the entire Cambridge community.
Cambridge Symphony Orchestra: $2,000
The Cambridge Symphony Orchestra's mission is to make great music accessible to diverse audiences and to harness the power of music to forge lasting relationships with our community. The CSO's annual Family Concert will be performed on January 23, 2022.
ImprovBoston: $5,000
Comedy performances, community outreach programs, executive coaching, corporate trainings, comedy school, and youth programming, where students from all walks of life learn the power of "Yes, and…" while training in the theater's signature form of improv, stand-up, and sketch comedy. This funding is for high-school outreach programs.
JazzBoston: $1,500
A new Cambridge program, Jazz All Ways, is designed to deliver a true Jazz nightclub experience to new audience members who normally wouldn't have access to hear live Jazz.
Kendall Square Orchestra: $1,500
Kendall Square Orchestra (K2O) is a Cambridge, MA, based volunteer community orchestra founded in 2018 with a mission to connect science and technology professionals through music to spark innovation and support causes related to healthcare, education, and equity.
Longy School of Music of Bard College: $10,000
The School promotes vibrant and inclusive programs impacting Cambridge and beyond by providing music to vulnerable populations, partnering with professional arts organizations, and presenting high-quality, accessible arts experiences including free public concerts and academic programming.
Tunefoolery Music: $3,000
Free or low-cost music workshops, groups, and private lessons for Tunefoolery musicians in mental health recovery.
Civic Engagement
Cambridge Forum: $2,000
Cambridge Forum hosts free public discussions that inform and educate, so people can better explore the varied issues and ideas that shape our complex world, with an upcoming series highlighting Cambridge's Black history.
Cambridge Local First: $5,000
A nonprofit network of locally-owned, independent businesses in Cambridge with a focus on equitable support for minority- and women-owned businesses.
GenUnity: $1,500
Supporting 100 diverse adults to build civic engagement skills through our 3-month, 2-3 hour/week community leadership programs. Members then translate their learning into sustained action and systems change as part of our lifelong community of practice.
Economic Security/Jobs
Breaktime: $5,000
Working to end young adult homelessness through purposeful transitional employment and financial empowerment. This funding will help launch transitional employment partnerships with nonprofits in Cambridge.
Center for Women & Enterprise: $5,000
An inclusive economic empowerment organization helping women business owners and aspiring female entrepreneurs launch and grow their business by providing greater access to the resources, tools, and support they need.
Just A Start: $15,000
Education and training programs for low- to moderate-income youth and adults — Career Connect (Biomedical and IT Careers Program), YouthBuild, and the Financial Opportunity Program.
Self Esteem Boston Educational Institute: $3,000
"You're Worth It" at the CASPAR/Baycove Womanplace transitional residential recovery program in Cambridge helps clients build skills and confidence to foster a successful transition to employment and education/training programs.
South Asian Workers' Center – Boston: $4,000
Dedicated to the economic and social growth of immigrant communities in Boston, SAWC will use this grant for basic resource distribution (food drive, grocery gift cards) as well as to build a more robust organizational framework, increase marketing, and expand our educational sessions on mental health, technology, and income generation.
Women Of Color Entrepreneurs (WOCE): $6,000
Support for Cambridge-based women of color entrepreneurs who are building great businesses and want help to scale, by providing long-term mentorship combined with tailored programming, peer support, and curated access to potential lenders and investors.
Sustainable Business Network of Massachusetts: $5,000
Support for the Passport to Black-owned Businesses event in Cambridge and Somerville on Small Business Saturday, as well as to the administrative costs associated with building the capacity of the Cambridge-Somerville Black Business Network as it grows and provides more resources to its members.
The Loop Lab: $10,000
Empowering Womxn and People of Color in the media arts to develop careers in audio/video through job training and job placement. This grant supports the Loop Lab Media Arts Apprenticeship in 2022 for young people of color, with a focus on Cambridge residents.
Education/Out-Of-School Time
Agassiz Baldwin Community*: $7,500
*In process of changing name. Their scholarship program helps make afterschool programs (including their arts afterschool) and summer camp accessible to a diverse group of families.
Big Sister Association of Greater Boston: $3,000
Support for Little Sisters in their positive, one-to-one mentoring relationships with Big Sisters, to keep them engaged and connected during this isolating time.
Breakthrough Greater Boston: $25,000 (in partnership with the Diane Bushner Memorial Fund)  
Comprehensive programming that supports low-income students of color in Cambridge on their path to, and through, college.
Cambridge Camping Association: $20,000
Day and overnight summer camp, school-year programming and workshops for families and caregivers who work with children impacted by trauma or disability. This grant will help cover day camp costs and support scholarships for youngsters to attend overnight camps throughout New England.
Cambridge College: $5,000
Technology support to diverse, working adult students through the College's Laptop Loaner Program.
Cambridge School Volunteers: $7,500
This grant will support students who need academic support by providing them with a tutor in one or more areas, primarily: before-school drop-in math, the after-school Tutoring Center, the College & Career Mentor Program.
CitySprouts: $5,000
Expand afterschool and summer Young Leaders Program to a 3-year progressive leadership development experience, prioritizing the engagement of Cambridge youth ages 11-14 from historically marginalized and low-income communities.
Community Art Center: $13,500
Vital support services including childcare, education, food, and community development to families who live primarily in public housing in and around Cambridge's Port neighborhood.
Dance in the Schools: $4,500
An innovative resource committed to bringing dance-based education to all Cambridge Public Elementary School classrooms.
Fletcher Maynard Academy Parent-Teacher Organization: $3,000
Honoring and celebrating the stories and contributions of Black people throughout Black History Month by sending two books home to every scholar at Fletcher Maynard Academy in the month of February.
Playworks Education Energized: $5,000
The TeamUp program at the Fletcher Maynard Academy in Cambridge to support equitable access to play while building on the foundational health and social-emotional needs of vulnerable elementary school students, helping them heal from trauma, reconnect in school, and recover lost learning.
Tutoring Plus of Cambridge: $15,000
Free tutoring and mentoring programs as we support students and families during the COVID-19 recovery.
YWCA Cambridge: $7,500
The expansion of youth leadership programming, made up of the GOLD youth leadership development program and the Gender Expansive Youth focus group.
Environment/Climate Justice
Charles River Conservancy: $3,500
Connecting Cambridge community members to the natural resources along the Charles River through education and volunteer opportunities.
Navigation Games: $2,000
Educational and healthful outdoor experiential programs for children and families based on map navigation.
The Nature Connection: $2,500
The Nature Connection's mission is to improve the wellbeing of individuals and communities through the therapeutic use of nature. Goals are to improve participants' psychological and social wellbeing while fostering environmental responsibility and an understanding of the human-nature relationship.
Health/Mental Health
Cancer Education and Research Institute: $1,500
To ensure low-income cancer patients, immigrants and non-immigrants, receive high-quality care and effective cancer education through the CERI Personalized Patient Program and multi-language, simplified education programs.
Community Conversations: Sister to Sister Women's Health Initiative: $7,500
Engaging diverse stakeholders within the underserved Black community in creating ongoing, multigenerational cross-sector dialogue that transforms the healthcare conversation and explores innovative and sustainable change to improve health and health provision at the individual, family, and community level.
Community Dispute Settlement Center: $10,000
A mediation and training center dedicated to providing an alternative and affordable forum for resolving conflict that's accessible to the community.
Riverside Community Care: $7,500
Innovative and compassionate behavioral healthcare and human services, using technology to improve access to quality care and expand impact.
The Carroll Center for the Blind: $2,000
Vision services that empower the blind and visually impaired to lead independent, fulfilling lives.
Immigrant/Legal Services
De Novo Center for Justice and Healing: $12,500
Free civil legal assistance and affordable psychological counseling to low-income people.
Enroot: $15,000
Immigrant high school students at Cambridge Rindge and Latin School (CRLS) and high school graduates in the College Success Program benefit from mentoring, post-secondary planning, job readiness training, internship opportunities, leadership development seminars, college success coaching and tutoring, and social-emotional support in a robust, 4–7-year wraparound model.
Greater Boston Legal Services: $10,000
Prevent evictions during the ongoing public health crisis and to provide housing and financial stability for low-income families and individuals living in Cambridge and Somerville.
Massachusetts Alliance of Portuguese Speakers (MAPS): $9,000
Cambridge-based Immigrant Integration Services (IIS) and Elder Services Programs (Cambridge Senior Center).
Project Citizenship: $5,000
Free, high quality legal services to permanent residents in Cambridge to become U.S citizens.
Senior Services
Cambridge Neighbors: $3,000
A membership-driven organization dedicated to helping low- to moderate-income adults age 60 and older in Cambridge stay in the homes and neighborhoods they know and love for as long as they are able.
Paine Senior Services: $7,500
A wide range of high-quality, personalized services to Cambridge elders and their families, regardless of their financial means.
STEAM/Education-Innovation Gap
Innovators for Purpose: $10,000
A multifaceted program for high-potential young people, especially those from underrepresented groups, to discover their passions, develop innovative mindsets and cultivate the skills to solve the problems they care most about.
Prospect Hill Academy Charter School: $2,000
PHA's STEAM Saturday program seeks to close the opportunity gap by providing fun and engaging, out of school time, enrichment classes to over 250 K-8, under-resourced students.
Science Club for Girls: $8,000
Fostering excitement, confidence, and literacy in STEM for girls from underrepresented communities by providing free, experiential programs and by maximizing meaningful interactions with women-in-STEM mentors.
The Cambridge Math Circle: $2,500
Math enrichment for K-8 students, focused on the children of Cambridge from groups underrepresented in STEM, with a goal to encourage students to enjoy solving challenging problems, and to be able to go into STEM-related careers when they get older.
The Margaret Fuller Neighborhood House: $10,000
Integrated services to individuals and families to empower them to overcome challenges, reach their potential and achieve their goals. The funding will bring high-quality math enrichment to elementary and middle-school students in Cambridge from underrepresented groups.
Urgent/Basic Needs
Cambridge Family & Children's Service: $5,000
High-quality support and advocacy for children, adults, and families to develop and nurture safe, permanent relationships and maximize individual growth. Grant funds will support general operating costs related to our provision of social services to Cambridge residents, predominantly clients of our Developmental Disabilities program.
Casa Myrna: $2,000
Casa Myrna delivers solutions to end domestic and dating violence through intervention, awareness, and prevention. This grant is for emergency assistance to domestic violence survivors and their families in Cambridge who continue to experience negative impacts from the COVID-19 pandemic.
CASPAR: $15,000
The Emergency Services Programs provides lifesaving help and hope to the homeless residents of Cambridge.
Fenway Community Health Center (Youth on Fire): $7,000
Fenway Health advocates for and delivers innovative, equitable, accessible health care, supportive services, and transformative research and education. This grant's purpose is to assist Youth on Fire in providing services to homeless and unstably housed youth.
Food for Free: $15,000
Supporting access to healthy food for low-income Cambridge residents through programs that reach people directly as well as those that support existing community food programs.
HomeStart: $10,000
Housing support services for low-income Cambridge residents and families.
Homeowner's Rehab (HRI): $11,000
To preserve the homes of low to moderate homeowners to allow the restoration and renovation so families can remain in the communities they love and thrive.
Nananke: $2,000
With a mission to share in solving longstanding community problems using technology, Nananke aims to build micro houses and sustainable stationary housing using upcycled plastics and other recyclables.
Solutions at Work: $6,000
Breaking the cycle of poverty and homelessness by providing individuals and families with resources and opportunities to strengthen their self-confidence, achieve self-sufficiency, and participate in helping others. This grant supports their Children's Clothing Exchange.
Multiyear Commitments
Cambridge Nonprofit Coalition: $40,000 (third installment of a $120,000, three-year initiative grant)
The Cambridge Community Foundation helped create the Cambridge Nonprofit Coalition in 2015 with a mission to advance equity and justice in the community by strengthening the Cambridge nonprofit sector, building collective voice, and promoting collaboration.
The Work Force Program: $50,000 (third installment of a $150,000, three-year initiative grant)
Cambridge Housing Authority's nine-year, comprehensive after-school educational enrichment and work-readiness program for youth in Cambridge public housing.