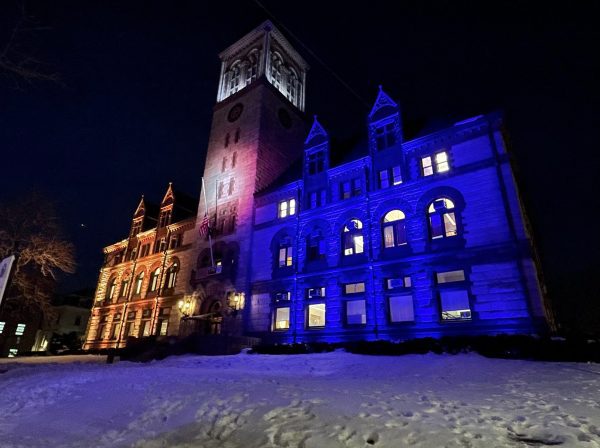 Photo courtesy of the Office of Mayor Sumbul Siddiqui.
How to send philanthropic support to Ukrainians in crisis.
The Cambridge community is not one to sit on the sidelines when there is a threat to justice, locally or globally. Sadly, the crisis in Ukraine is affecting millions of families and individuals. The UN High Commissioner for Refugees, Filippo Grandi, called it the fastest growing refugee crisis in Europe since World War II; two million people fled Ukraine in 12 days and the more than 40 million who remain face dire consequences.
We stand with Ukraine and our local families with friends and kin caught in this conflict. And we know our Cambridge donors want to help.
In response, José Mateo Ballet Theatre's Dance for World Community, ArtsBoston, Cambridge Arts, Cambridge Community Foundation, Cambridge Community Television, and Harvard Square Business Association, are collaborating to raise funds to support those affected by the war in Ukraine.
"Cambridge for Ukraine" is a free gathering and series of performances on Sunday, March 20, 5:30 to 7:30 pm at the Sanctuary Theatre, 400 Harvard Street to show solidarity. We welcome donations to the Cambridge for Ukraine Fund, which will distribute 100% of the dollars raised to nonprofits supporting humanitarian efforts in response to the Ukraine crisis.
We also consulted with our colleague Nick Deychakiwsky, a senior program officer at the Charles Stewart Mott Foundation, who advised on supporting efforts that reach people within the country, in addition to refugees. He lifted up the importance of community foundations in Ukraine, as they know better than anyone what's going on in their communities and what the needs are.
With gratitude to Nick, we share the following list of organizations providing relief during this humanitarian crisis, for those who wish to send philanthropic support: