Published On: January 10th, 2022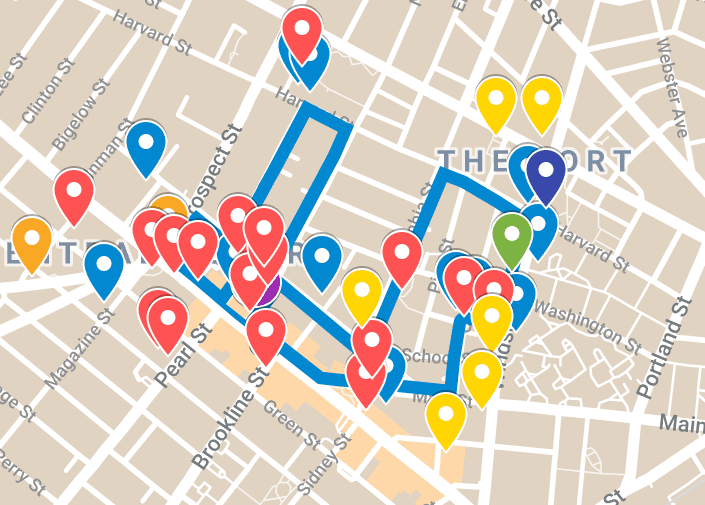 A map of the Jan. 17 community walk celebrating The Port's Black history.
If Dr. Martin Luther King, Jr. walked through Cambridge today, what would he observe and how would he challenge us to make our city a more racially just community?
On Monday, January 17, during the 12th annual MLK Day of Service, community members are invited to join a guided neighborhood tour to look at our city through Dr. King's eyes. Learn more and register here.
"This year we're organizing a walk through Central Square and The Port that celebrates our city's Black history and pays direct homage to Dr. King's legacy," said Niko Emack, one of the walk's coordinators. "But more importantly, it's an opportunity for residents to step out of their comfort zone, ask tough questions, and collectively reflect on all the ways King's dream has yet to be fully realized in Cambridge."
"Among other things, this walk pays tribute to the role played by local churches in the civil rights movement," added Paula Paris of the Cambridge Black History Project.
The 1.5 mile walk through The Port will start at 1pm at Starlight Square, with stops at public art and places like the Moses Youth Center, named in honor of Bob Moses and his family, who continue to fight against persistent educational inequities by lifting up STEM education as a civil right, as well as the St. Paul AME Church, a long-time supporter of social justice work.
Organized by Many Helping Hands 365 in collaboration with My Brother's Keeper Cambridge, YWCA Cambridge, Community Art Center, History Cambridge, Margaret Fuller House, and Moses Youth Center, the walk is one of several MLK Day of Service activities. At Starlight there will be hands-on, self-led service projects such as drop-offs of food, clothing, book, and diaper donations, and postcard writing for voting rights. If you can't make it in-person, check out virtual racial justice conversations happening January 17-20. Sign up for the 2022 MLK Day of Service.
We're grateful for civic opportunities like the MLK Day of Service that give us space to reflect on our city's past and join together for a more equitable future.