Published On: July 7th, 2022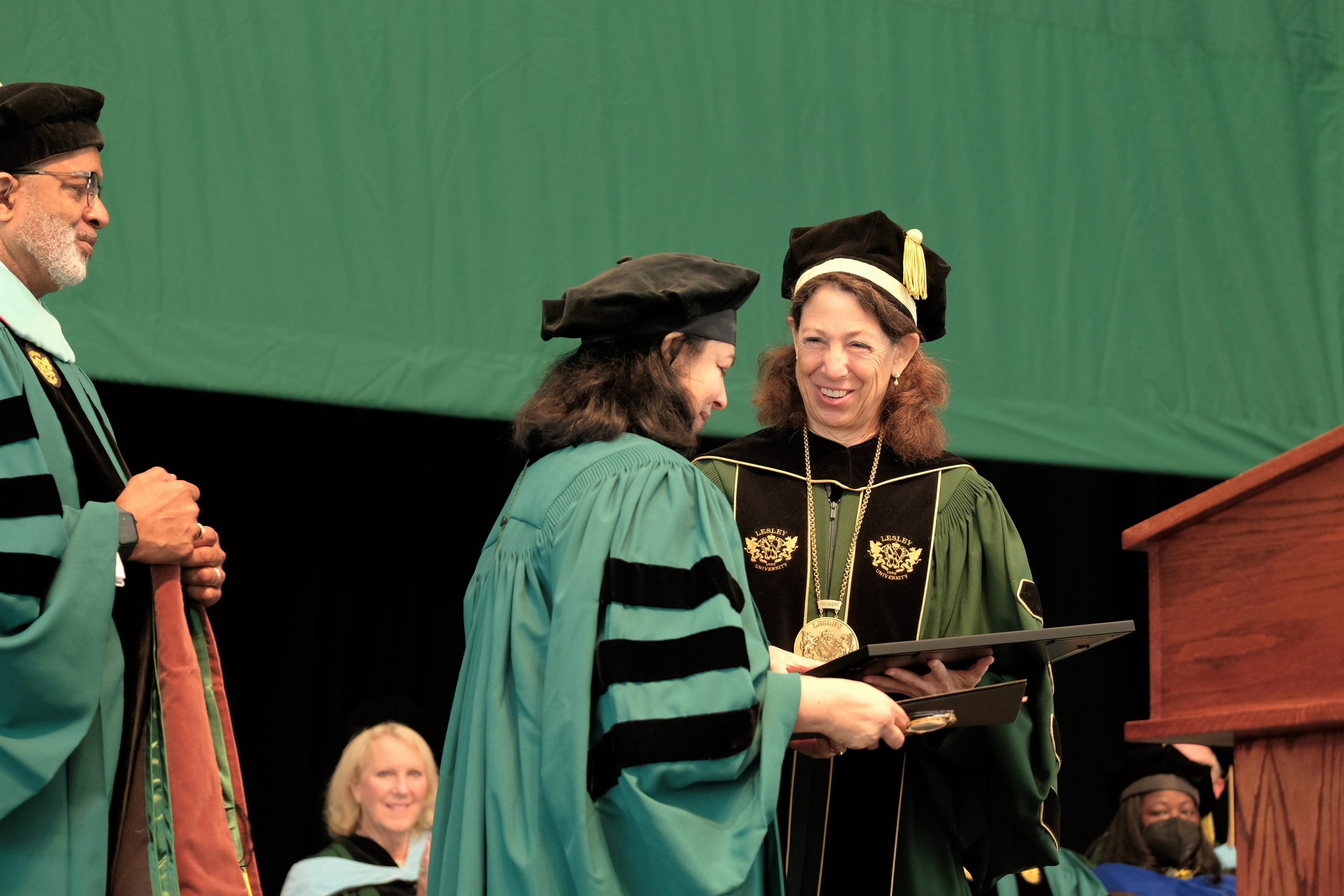 President Janet Steinmayer (right) pictured with Geeta Pradhan, CCF president, at Lesley University's 2022 Commencement.
July 7, 2022 | Cambridge, MA — The Cambridge Community Foundation's Board of Directors has appointed Janet Steinmayer, president of Lesley University, to the board, and named experienced board leader Lori Lander as vice chair, effective July 1, 2022. The 24-person board guides the work of the only foundation for all of Cambridge, supporting a vibrant, just, and equitable city today and into the future. 
As President of Lesley University, Steinmayer leads a dynamic learning environment that uniquely focuses on educating the next generation of teachers, artists, counselors, and social change makers. She has also grown meaningful connections in Cambridge during her three-year tenure. 
"Lesley University is an asset to Cambridge and, under Janet's leadership, has expanded its role as a major player in the life of the city," said Geeta Pradhan, CCF President. "We are delighted to welcome Janet to our board, and I look forward to working with her to deepen our partnership with Lesley and to think creatively about fostering solutions to the real-life issues our city faces." 
"I am honored to serve on CCF's board and look forward opportunities to foster and strengthen Lesley's partnership connections with the Cambridge community," said President Steinmayer. 
Lesley has a range of educational partnerships with local schools, community colleges, and nonprofit organizations. This year, Lesley and the Cambridge Public Schools launched a pilot Early College Program giving Cambridge Rindge and Latin students the opportunity to fulfill high school graduation requirements while also earning college credits. Lesley's para-professional master's degree program with CPSD, launched in 2021, offers district employees reduced tuition. And a new partnership with Riverside Community Care will bring an outpatient mental health center to Lesley's Doble Campus this summer. 
In addition to board changes, the Foundation has welcomed Christina Turner, director of programs and grantmaking, and Wen Lo, finance officer, to its staff to support the growth of the foundation as a civic leader.  
"Christina brings clarity, deliberate thinking, a problem-solving spirit, and a deep knowledge of the issues our community faces to the Foundation and Cambridge. She will help us build inroads to equity in all areas of our work," said Geeta Pradhan. "She and Wen are fabulous additions to our team." 
The Cambridge Community Foundation supports three visionary goals in the city: social equity, shared prosperity, and cultural richness through grantmaking, civic leadership, and philanthropic partnerships.  
The members of the CCF board serve a maximum of two, five-year terms. The Foundation thanks Vice Chair Rosemarie Johnson and Treasurer Liz Keating, two board members with extraordinary dedication to the Foundation's mission and the community, who completed their service to Cambridge. 
The CCF board is the ultimate authority for the work of the community foundation, the only foundation with all of Cambridge in its purview. This includes overseeing the Foundation's community impact and civic leadership agenda; approving biannual grantmaking that reaches 150+ local nonprofits organizations each year, and the response to urgent needs in Cambridge, Somerville, and Medford—which in the COVID-era resulted in over 5 million dollars of investment. CCF is an innovative organization supporting promising solutions to systemic issues, as seen in Cambridge RISE, a guaranteed basic income pilot spearheaded by the Mayor of Cambridge and the Foundation, and its support of emerging social innovators, through the Imagined in Cambridge! Social Innovation Award. CCF is home to 110 funds, including the ever-growing Cambridge Endowment, which protects the long-term wellbeing of our community.