On Friday, May 31, the Cambridge Community Foundation (CCF) announced the recipients of its first-ever Social Innovation Award during its Cambridge Community Foundation Salutes 150 Cambridge Nonprofits event.  Cambridge Mayor Marc C. McGovern named Sisters Unchained, a program supporting teenage daughters of incarcerated parents, as the first-place winner. The program, founded by three young women, two of whom are Cambridge Rindge and Latin School graduates, was awarded $5,000, and joined by four runners-up—The Black Student Union at Cambridge Rindge and Latin School; Cambridge Trades Task Force; the Good Bank; and the South Asian Worker's Center— each receiving $1,000.  The five award-winners offer innovative solutions to big social problems such as mass incarceration, systemic racism, lack of post-high school job training, high-interest payday loans, and barriers to economic mobility for low-income immigrant women.
The Cambridge Community Foundation created the Social Innovation Award to uncover young innovators trying to solve some of our most intractable social problems. The Foundation and Award judges sought out innovators with creative, light-touch ideas that inspire new models for improving the quality of life for people in Cambridge and hopefully the broader world.
"Our judges selected these organizations based on the strength of the idea, ability to have immediate impact in Cambridge as well as the potential to scale nationally," said Geeta Pradhan, President of the Cambridge Community Foundation.  "This is what we expect to see in a city known for innovation."
An epicenter of innovation with a booming economy, Cambridge still grapples with the unintended consequences of growth. As the city's community foundation—"of" and "for" the people—the 103-year old institution is a long-time investor in the anchor nonprofits serving Cambridge residents and a facilitator in the development of original, creative, and emerging social programs with impact in Cambridge and beyond.  This year, the Foundation awarded approximately $1.5 Million in grants to these organizations. The Salute event was the Foundation's way of saying "thank you" to the nonprofits it funds.
For Sisters Unchained, the recognition has immediate impact. It will help the group admit more Cambridge girls, ages 14 to 19, who want to join this summer's program for teenagers with an incarcerated parent.
"Women are really holding down our communities and are deeply affected by this issue and I know first-hand that daughters of incarcerated parents need a lot of support.  When my father was doing a sentence, my whole family was punished as well," said co-founder Ayana Aubourg. "There's an incredible need: one in 20 children have had experience with an incarcerated parent in Massachusetts.  I'm really moved by the vision of thinking about how we can keep our parents and their children together."
The Social Innovation Awards were selected by a judging panel including: Cambridge Mayor Marc C. McGovern; Mary Ann Bates, executive director of the Abdul Latif Jameel Poverty Action Lab (J-PAL) North America at MIT; Conan Harris, senior vice president of policy and external affairs at College Bound Dorchester;  Risa Mednick, the former director of Transition House; and Lori Lander, artist, founder of Many Helping Hands and CCF Board member. 
"We were blown away by the intention and innovation demonstrated by the winning applicants to support their communities," said Mayor McGovern. "I just think everyone should also know that behind the five grantees, we reviewed scores of other worthy proposals, which speaks to the creativity and thoughtfulness of our residents to address some of most difficult issues facing ours or any city."
Lori Lander added: "We had no idea about these projects until we launched this process and that's what's so exciting…we're connecting with organizations and programs that are nascent and lifting up the ideas and people taking on change right now. We have five award winners, and it's the beginning of new relationships and partnerships among many more."
About the 2019 Social Innovation Awardees
Young women fighting impact of mass incarceration on children
Sisters Unchained was founded by Ayana Aubourg, Meron Teklehaimanot, an alumna of the Cambridge Housing Authority's Work Force Program funded by CCF, and Vanessa Ly—three women of color who were directly affected by the criminal justice system and saw first-hand that the epidemic of mass incarceration of black and brown people affects entire families, especially women. The founders took it upon themselves to create healing and supportive spaces for daughters of incarcerated parents. This program has evolved from a summer pilot project in 2015 to a year-round program, offering workshops rooted in radical education to develop political and self-awareness, as well as an intentional space for healing, creative expression, and sisterhood for girls ages 14 to 19. The program will be including more young women in Sisters Unchained's summer program this year thanks to the award.
Black Student Union at Cambridge Rindge and Latin School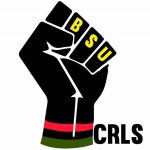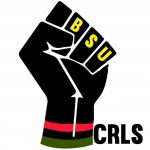 Students taking on anti-racism work
Systemic racism is still deeply embedded today, impacting the lives of youth within our Cambridge public school system, and the wider community. Two years ago, Cambridge Rindge and Latin School students decided to revive the Black Student Union (also named among the Scout Cambridge Magazine's "2018 Do-Gooders, Key Players, and Game Changes") to spearhead important anti-racism and Black empowerment equity work to better educate and progress our school system and community. The group proposes multiple solutions, including anti-racism curriculum and monthly staff trainings on anti-bias to address systemic and institutional racism and discrimination within CPSD, coupled with hosting speaker series on race, and a scholarship for graduating seniors, among other initiatives.
Cambridge Trades Task Force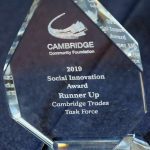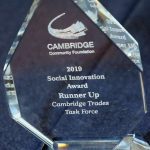 Union jobs for high school graduates
The Cambridge Trades Task Force aims to serve as a city-wide resource for Cambridge youth with a goal of increasing awareness of trades education and opportunities; trades careers should be a more readily available option for students. This new initiative was proposed by Lisette Williams, a graduate of Cambridge Rindge & Latin School, who works with youth at Just-A-Start, a long-time CCF nonprofit partner, and sees very few Cambridge youth prepared for trades careers. In addition, there seems to be a lack of available trades career training programs, employment opportunities, and educational resources in Cambridge that are dedicated to Cambridge youth – the Cambridge Trades Task Force aims to change this.  [email protected]
The Good Bank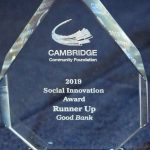 Anti-poverty solutions—micro-lending at home
Founded by Corinne Espinoza, the Good Bank will make small loans at 0% interest to people who need them. In a pilot program, Corinne made more than 300 loans ranging in size from $5 to $75, with a total of $1,000. Her idea is rooted in Black and Brown community solutions for economic support and informed by her own experience of living in poverty.
Strengthening communities of South Asian immigrant women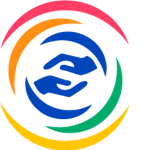 The South Asian Workers' Center is a Boston-based non-profit organization which provides a forum for low-income South Asian communities living in public housing in and around the Boston area. It is estimated that there are approximately 40 thousand people who fit this description. The work of SAWC since its inception in 2018 has focused on bringing together diverse South Asian groups within the public housing community under one umbrella, building connections between them, and identifying the major challenges they are facing as immigrants in the US.
Click the arrows on the far left and far right to scroll through the photos